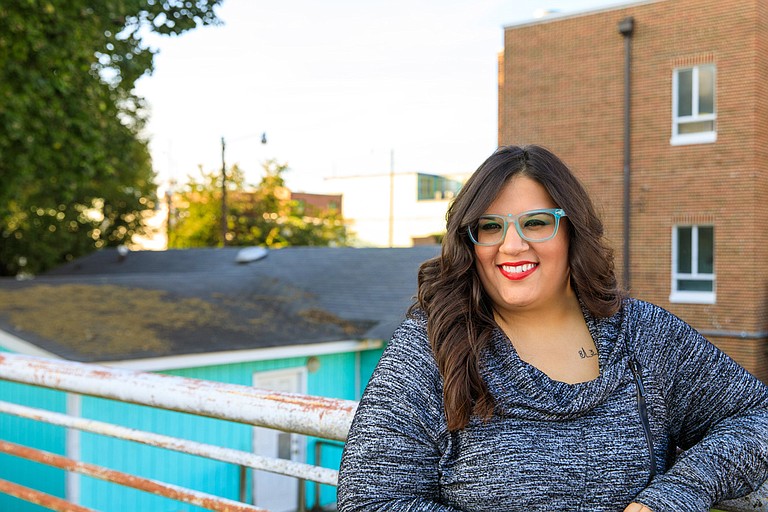 Wednesday, December 12, 2018
This year's Chicks We Love help our communities in many ways, from assisting burn victims and their families, to raising awareness about domestic violence, to using art as a medium to spark conversation on social issues, to helping people with speech therapy. We salute all women using their talents and their voices to make Jackson, and Mississippi, stronger.
Alka Ahuja
For seven years of her life, Alka Ahuja experienced domestic abuse. Going through that made her stronger, she now says.
"I spent seven years in that situation and will never do so again. Occasionally, I still look over my shoulder, but for the most part I don't have time to be worried," Ahuja says.
The experience led Ahuja to join 
Butterflies by Grace, Defined by Faith, which is a group of women who raise awareness about domestic violence.
Both of Ahuja's parents were born in India, making she and her brother, Akshay, first-generation Americans. Her father, Amar, and her mom, Kamini, moved to New York in 1984, and then North Carolina the same year. Ahuja was born there in 1989.
Ahuja's father purchased a clothing store in Forest, Miss., in 2005, and then she and her mom moved to Brandon in 2006.
Ahuja received an associate degree in business administration at Hinds Community College in 2010, a bachelor's degree in criminal justice from Jackson State University in 2013 and master's in the same subject from Arizona State University,
When studying criminal justice, she was fascinated by why people commit crimes.
"I want to know if they were born bad or just learned bad behavior," she says.
Ahuja's dream job is to work for the FBI in behavioral science or homeland security. Her criminal-justice students can allow her to work in any internal field in the FBI and the Mississippi Department of Criminal Justice, she says.
Right now, Ahuja, 28, is the manager for Aladdin Mediterranean Restaurant in Fondren and the catering manager for Kebab and Curry in Gluckstadt, and also an administrator in the cardiology department at the University of Mississippi Medical Center.
She started working at Aladdin in 2008 when owner Yoseph Ali, who knew her mother, offered her a server position. Ali asked her to manage the restaurant in 2010. She became the catering manager for Kebab & Curry in September.
Ahuja also volunteers for the Mississippi Heart Association Heart Walk, raising money and donating food to honor her mom, Kamini Ahuja, who passed away in 2011 from a heart attack. —Mike McDonald
Tippy Garner
Tippy Garner, who has served as executive director of Mississippi Opera since 2012, says she has always had a great love for classical music. She discovered the opera scene in Mississippi after meeting her husband's late sister-in-law, Linnie Garner, who was an opera singer.
"Linnie performed everywhere from Santa Fe to Houston to right here in Mississippi, and even spent time with an opera company in central Germany," Garner says. "Her son, Robert Garner, took after her and sings in the large chorus of the Metropolitan Opera in New York City. She was the one who helped me to learn about and appreciate opera, and after learning that we had our own opera right here in Jackson, it seemed only logical for me to come and offer my support for it."
As executive director, Garner is in charge of contacting Mississippi Opera's donors and sponsors, writing grants, and managing the opera's box office and fundraising.
Garner is a lifelong Jackson resident. She graduated from Callaway High School and went on to Hinds Community College in Raymond, where she received her associate's degree in general studies in 1972. She also enrolled at Belhaven University.
After leaving the school, she worked various manufacturing and hardware distributor jobs before she became a human-resources manager for what is now Tyson Foods in 1985. She remained there until 2001, leaving to become a corporate sponsorship manager for the Foundation for Public Broadcasting in Mississippi. In 2007, she took a job as events coordinator for the Ronald McDonald House in Jackson, and remained there until 2010.
In addition to her work with Mississippi Opera, Garner is also a member of the Mississippi Opera Guild, and organizes fundraisers and mailouts for the organization.
"I think opera is a wonderful musical genre, one I love both hearing and supporting in any way possible," Garner says. "I only wish more people would take advantage of everything we are so lucky to have here in Jackson.
"From opera or ballet to museums, anything you could want artistically is right here at our fingertips."
Garner and her husband, Bob Garner, have been married since 1973. He is a former television director for Mississippi Educational Television. She also has a love of bird watching and is the former chapter president of the Jackson Audubon Society. —Dustin Cardon
Andrea Crudup
Andrea Crudup, a 37-year-old mother of three, realized her passion for teaching home economics to young girls soon after she graduated from Jackson State University with a bachelor's degree in business management in 2003.
"I had friends and family members that were getting engaged but knew nothing about running a household and definitely didn't know how to cook for dinner parties that they wanted to have," Crudup says. "I figured this is something I could pass on to other young girls. I looked at my friends as little diamonds and pearls needing someone who could teach them simple homemaking tasks."
Crudup started teaching homemaking classes out of her home in 2007, and a year later, she moved them to her cosmetology shop, Finished Image Hair Studio, which is located on the New Horizon Center campus.
This year, the classes evolved into Diamonds & Pearls Girls Enrichment Program, which is for young women ages 10 to 17 and operates in the spring and fall.
Participants get hands-on instruction in areas such as basic modern-day home economics, gardening, table etiquette, food shopping, finance and budgeting, sewing, cooking, age-appropriate fashion selection and keeping an appropriate social media presence.
"I thought if I got young girls interested in homemaking at an early age, they would be equipped to raise families in the future without depending on fast-food meals," Crudup says.
In September, October and November, participants planned, shopped for and prepared a culturally Afrocentric holiday dinner as part of the program so that they would be able to offer their families a special holiday meal during the Thanksgiving and Christmas seasons, Crudup says.
When she is not working at Finished Image or with Diamonds & Pearls, Crudup likes to travel, write, read and spend quality time with her family. She is married to Ronnie Crudup Jr., the executive director of New Horizon Ministries, and they have three kids: Nya, 11, Robin, 7, and David, 5. — Brinda Fuller Willis
Brenda Hayes-Williams
Brenda Hayes-Williams enjoys the diversity of what a person can do with speech pathology, but also likes that it can help in people's rehabilitation process.
"You're helping," she says. "You're rehabilitating someone either back to their former self if they had a stroke or a car accident, some type of traumatic brain injury, and you're actually getting them back to talking again. They're eating again. They're speaking again. Communication is ... essential to life."
The Rayville, La., native had planned to study physical therapy but then learned more about speech pathology and audiology, and the fields intrigued her. Hayes-Williams, who met with a speech therapist as a child, decided to switch to that major.
Hayes-Williams graduated from Southern University with her master's degree in communication disorders in 1996 and moved to Jackson that same year so her husband, Bryman Williams, could attend school at Jackson State University. He graduated from JSU in 2002 with a doctorate degree in clinical psychology and is current the director of the doctorate program there.
Before starting her clinic, Brenda Hayes-Williams and Associates Therapy, in 1999, she worked as a speech pathologist in a nursing-home facility in Clinton. However, after the state cut funding for geriatric speech therapy around the time she started her private practice, she noticed a need for pediatric speech pathology, as well.
Though her private practice started out small, it now covers about six counties, including Meridian, Yazoo City, Jackson and Madison. She works with school districts, Head Start programs and other organizations.
"If you can't communicate with someone, ... how can you even survive in the world? We all have to have some form of communication, whether it's sign language or speech or something (else) to communicate. ... How do you express your wants and needs?" Hayes-Williams says.
Outside of her work, Hayes-Williams also serves on the board of Friends of Children's Hospital, is a member of the Junior League of Jackson, and will chair the 2019 Mistletoe Marketplace event. She has three kids: Jordan, Hayes and Bryman Jr.
In her free time, she and her family love to travel. This summer, she visited New York City, and the family have visited Spain, as well as Rome and Naples in Italy.
"(Travel is) kind of my outlet," she says. —Amber Helsel
Emmie King
Even when involved in New York City's art world, Emmie King, a daughter of Nandy's Candy founder Nancy King, still had one foot in the candy world.
While she was there, King would work at a candy store that belonged to a family friend on Saturdays and Sundays.
"You go away to do something that you love, but what supported me ... was going to the candy shop on Saturday and Sunday, and selling candy to customers," the Jackson native says.
King graduated from the University of Kansas in 1996 with a bachelor's degree in fine arts with a concentration on print-making. She decided to move to New York after college and began making art, eventually selling pieces for a gallery, as well.
She and her husband, Spencer Beard, returned to Mississippi after the 9/11 tragedy so he could go to law school at the University of Mississippi. From 2002 to 2005, King worked as a director of artist and estate development at David Lusk Gallery in Memphis, Tenn.
King then served as the gallery director at Millsaps College from December 2007 to January 2009 and then the director of development and marketing at the Mississippi Museum of Art from February 2009 to January 2010. She became the co-owner of Nandy's in December 2009, and after her mother got sick in January 2015, King took over the family business.
"All hands went into that Valentine's
(Day), and from then on, I've been 
running it," King says of the popular 
Maywood Mart candy store.
Nancy first opened the confectionery business in Colonial Mart in 1980. Nandy's Candy has now been in its current location for about 20 years, King says.
When she began helping her mother
run the business a few years ago, King says that one of her main focuses was getting Nandy's Candy on social media. One question she had to ask was, "How you do you run an older business through social-media platforms and let it evolve?"
She built a presence for Nandy's Candy on Instagram and Facebook, and also gave the business the capability to sell online.
"When I'm looking at marketing for smaller businesses, one thing I notice for me the most is that I don't want to look like the big-box store. ... We're making candy. I want you to see that it's really made here and know that it is," she says.
King sees the business as a way to 
provide a service to Jacksonians.
"It's serving a community with a product that brings joy," she says. "For me, that starts the moment you walk in the door."
King and her husband have two sons. In her spare time, she likes to read, hang out with friends and make art.
"The other times, I'm probably thinking about candy," she says.
For more information on Nandy's Candy
(1220 E. Northside Drive, Suite 380, 
601-362-9553), visit nandyscandy.com. —Amber Helsel
Jordan Butler
Jordan Butler, 32, spent 2009 to 2014 teaching middle school in the Arkansas Delta. During that time, she observed the effects of a food desert—an area that has a lack of affordable, good-quality foods but has an abundance of fast-food restaurants and other convenient foods.
"We criticize an obese individual for making poor personal food 
decisions, but we don't understand the choices available to that person," Butler says. "... Many people have forgotten how to cook real food."
Butler, who was born in Cincinnati, Ohio, moved to Jackson in the third grade to be closer to her mother's family. She graduated from Murrah High School in 2004 and attended Sewanee: The University of the South, graduating in 2008 with a bachelor's degree in art history.
However, after Butler realized that "culinary education and outreach is where her heart is," she says, she decided go for a master's degree in public health from the University of Arkansas for Medical Sciences and one in public service from the Clinton School, both of which she received in May 2017.
While in Little Rock, she taught hands-on cooking classes and gave 
grocery-store tours to middle-school children and their parents. After graduating with her master's degrees, Jordan was looking for the next step in her life. Family and friends son told her about an opportunity that was developing and she returned to Jackson in July 2017 to begin her work with Refill Cafe.
Butler is now the project leader. When it opens, Refill Cafe will be a 10-week paid workforce-training program for young adults ages 18 to 24. The training will include life skills and on-the-job training in operating a restaurant.
In her spare time, Butler is walking the Appalachian Trail in sections of about a month at a time.
"The Appalachian Trail is, simply put, my happy place," she says. "Through living in the woods for long periods of time, I learned how to live in a way that benefits me and those around me, by which contentedness comes easily, and appreciation of nature and people takes priority."
Butler has completed 1,300 miles already, from Georgia to New 
Jersey and hopes to get back to it soon. She has also climbed the highest peak of Mount Kilimanjaro in Tanzania. —Richard Coupe
Cathy Northington
When Mississippi Economic Council Chief Operating Officer Cathy Northington moved from Jackson's Virden Addition neighborhood to south central Los Angeles when she was in sixth grade, it was a culture shock, she says.
Before Northington left Jackson, where she lived with her grandmother, she went to school and church in the same area, and most of her family lived within three or four blocks of her house. Around the sixth grade, her mom, Florida Robinson, decided to move to L.A., and Northington went with her.
She lived there through sixth and seventh grade, and then returned to Jackson for eighth and ninth grade at Brinkley Middle School.
"Then, I was like, 'I want to go home. I hate it here,' but I wouldn't change those experiences I had in Los Angeles for anything in the world," Worthington says.
After her grandmother got sick, Northington had to return to California, where she attended high school and then junior college at El Camino College. She moved back to Jackson in 1997 to be closer to family and married in 2000.
In 2003, she started working as a temp for the Mississippi Economic Council. She stopped working at the business when she had her daughter, Jordan, in August 2005. In February 2006, MEC President Blake 
Wilson, who is retired now, asked Northington if she wanted to be the organization's event coordinator. She started working full-time in March 2006 and moved up in the ranks until she became the chief operating officer in March 2018.
Her first task with MEC was helping plan events for Leadership Mississippi, the second oldest statewide leadership program in the country. After Hurricane Katrina in 2005, the program was paused. In 2007, the director left, and after her replacement left, Wilson told Northington she needed to graduate the next class of the program's leaders and take over.
"I said, 'Nope. I don't want to do that. I am here to do the events, and I am not comfortable getting in front of these leaders, because they're leaders. I'm not a leader. I'm an event planner,'" she says.
Wilson decided to outsource the position. "Two weeks later, he said, 'Well, I thought about it. I want you to do it, and to do the events too, and I think it can be done. If you can't do it, I'm going to find somebody else that (can),'" she says.
Northington decided to take the position. In 2008, she was promoted to director of Leadership Mississippi, and in March 2018, she became the COO of MEC, though she's still in charge of the leadership program.
"A participant that went through the class maybe five years ago, he got up at a graduation, and he said, 'Cathy is like the mother to us all,'" she says. "I remember saying, 'Nope, I got three kids. Don't need to be a mother of 50 other business leaders around the state.' When I look back at it, I say, 'You know what, Cathy? If you can have some kind of impact on 50 classes in the past eight years, that's five (or) six hundred people, and they look at you in that way, and they're doing great things.' I'll take the role of mother."
Northington has three children: Jordan, Courtland and Shawn. —Amber Helsel
Sabrina Howard
Since Sabrina Howard can remember, art has been part of her life.
"I was always creating something," Howard says.
The Jackson native graduated from the Atlanta College of Art with a bachelor's degree in communication design and illustration in 1995. Since then, Howard has held jobs such as a web designer for IBM Interactive and a graphic artist for BellSouth Advertising and Publishing in Atlanta. She came back to Jackson in 2002.
From 2002 to 2010, she worked as a webmaster and graphic artist for Jackson State University's Mississippi Urban Research Center. From 2010 to 2016, she was an art and computer teacher, and a freelance graphic designer. In 2016, Howard began working full time at A to Z Printing as a graphic designer and pre-press person, making sure files are ready for final production.
She also focuses on her own artwork and commissions in her time at home, using paint on canvas, textiles and fabric to create three-dimensional pieces. One popular piece, "Obama Forever," features stacked canvases in a blue buttoned-down shirt draped in African fabric.
Howard uses her work to reflect on the current social climate, tackling issues such as gun violence between young black men as with her new series titled "The Flowers Are Beautiful." Howard says her art presents the perspective of African American women facing these problems.
"There is so much going on now and so much unspoken, and not that these things haven't been going on in the past," Howard says. "They just seem to be more frequent now—things such as mental health issues, domestic violence (and) the situation that's going on with our African American youth."
She says that she takes joy in hearing how her art has affected viewers.
"I enjoy showing, getting the feedback and seeing if it touched anybody enough or if it got the message across and most times from what I hear the message is heard loud and clear," she says.
In her spare time, Howard, who is a single mom to Chandler, Broderick, Henry and Heiress, also paints live during Synergy Nights at The Med Bar & Grill and paints for Prissy Paintbrush Studios.
Visit sabrinahowardart.com. —Torsheta Jackson
Jina Daniels
When Jina Daniels and husband Jason Daniels opened Jax-Zen Float in 2016, community and creativity were always key to her plans.
"Flotation therapy lends itself well to creativity because when you are in the tank, you strip away most of your senses, which lets you go within to your thoughts and subconscious," she says.
In 2017, the couple established what they called the Float Creations Project, which allows artists to receive flotation therapy sessions in exchange for creating art for Jax-Zen based on their experiences. Daniels recently set up a gallery in the building dedicated to that artwork.
"I'm passionate about sharing the creative process with others," Daniels says. "Going forward, I want to expand my efforts on creativity coaching and helping individuals and groups use art as a medium for self-discovery and creative wellbeing. I also want to facilitate collaborative art projects to help unite communities."
This summer, Daniels established a program called Kidi-Zen Multicultural Art Camp, in which children learned about the art, food and music of cultures around the world. She also operates the CommUNITY Canvas Project painting program and serves as a coach in the Creatively Fit program, which uses activities such as painting, journaling and meditation to promote creativity.
The couple moved to Jackson from Nashville, Tenn., in 2012. They have been married for 11 years and have an 8-year-old son named Jenner. Daniels has been a sales manager and business coach for Nationwide Insurance since 2012 but plans to retire at the end of the year to focus on the creative side of Jax-Zen.
Among Daniels' future plans are weekly painting and mindfulness workshops at Community Canvas. She is preparing to launch a series of donation-based community workshops called Mindful Midtown, in which she will lead workshops on yoga and meditation inside shops in Jackson's Midtown neighborhood. As part of those workshops, Daniels will also organizing Personal Retreat Days, in which she will lead groups of people in art and meditation sessions, as well as floatation therapy sessions at Jax-Zen Float. —Dustin Cardon
CORRECTION: In the original version of the Sabrina Howard story, we said she worked at Jackson State University from 2002 to 2016, and then A to Z Printing from 2016 to current. She actually worked at JSU until 2010 and started at A to Z in 2016.