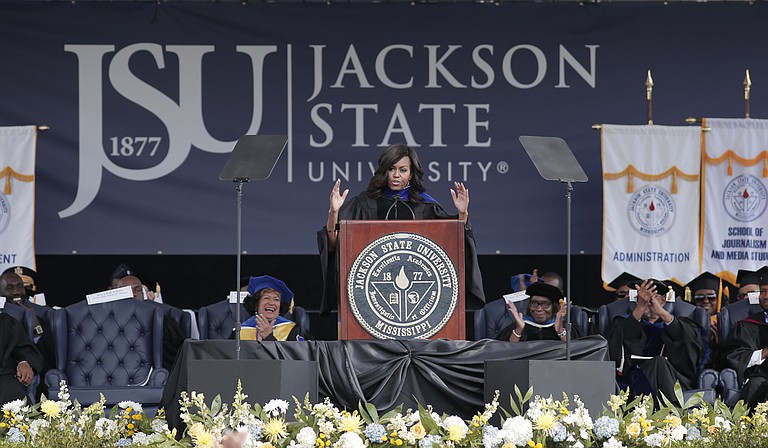 Wednesday, December 5, 2018
JACKSON — The Jackson Public School District named its Early College High School Program after former first lady Michelle Obama at its Dec. 4 board meeting. Tougaloo College, a historically black institution, hosts the program, which began this school year. Students, parents and leadership at Tougaloo College overwhelmingly voted to adopt Obama's name to the program.
"Because of her contributions to education, particularly when it comes to higher ed, which is something that we're really pushing for the students that are in Early College High School, we thought it would be more than befitting to name the program after former first lady Michelle Obama," said Laketia Marshall Thomas, an assistant superintendent for JPS.
Alongside a high-school degree, students at the Tougaloo program can walk away with an associate's degree or up to two years of credits toward a bachelor's degree. At minimum, all students are supposed to graduate prepared to take the SAT and ACT.
Michelle Obama visited two JPS elementary schools, Pecan Park and Brinkley, in 2010 as part of her "Let's Move!" initiative to support healthier lives for children and their families.
Throughout her tenure in the White House, she also encouraged college readiness through her "Reach Higher" initiative and National College Signing Day celebrations. She also supported President Barack Obama's North Star goal for America to have the highest proportion of college graduates in the world by 2020. She also openly stood up for international rights for girls to get an education through the "Let Girls Learn Initiative."
Obama's first memoir, "Becoming," debuted in November and is already the best-selling hardcover book of 2018.
This early-college program represents the second JPS entity named after the Obamas.
In October 2017, Davis Magnet IB Elementary School changed its name to Barack Obama Magnet IB Elementary School, shedding its ties to Jefferson Davis, president of the Confederacy. Students, parents and teachers led the process to change the school's name, too.
Jackson State University alumni Charles and Talamieka Brice unveiled a mural depicting former President Barack Obama this August. The husband-and-wife duo designed and painted the mural along the south wall of the elementary school.
JPS School board member Robert Luckett fully supported the notion of naming the school after Michelle Obama, but he was concerned about having two Obama schools in the district.
"I certainly appreciate the idea that we should definitely have a high school named for a woman in Jackson Public Schools—I'm with you 100 percent there," Luckett said via teleconference. "But I guess my question was whether or not the fact that we would have two Obama schools might pose some confusion, or just the fact that we have two schools that would be named for the Obamas within one school district."
Chinelo Evans, principal of the Early College High School program clarified that the students at Tougaloo are still linked to their original high schools, and that Michelle Obama's name is attached to a program and not an actual building like it was for Barack Obama Magnet.
No JPS high schools are currently named after women, but this program renaming comes closest.
Luckett, a historian at Jackson State University, also wanted a more community-led process, and said he also liked the second-place name, Daniel Hand. From the 1900s to the mid 1950s, an elementary school was named after Hand on Tougaloo's campus. He was a white merchant from Madison, Conn., who donated over $1 million of his fortune to the American Missionary Society to establish schools for African Americans in the South.
But with Michelle Obama reining in 87 percent of the vote, Hand's name will stay in the archives.
The early college program is accepting applications for the 2019-2020 school year until December 12, 2018, at noon. Complete the application at jackson.k12.ms.us or call 601-977-6160.
Email city reporter Ko Bragg at [email protected].