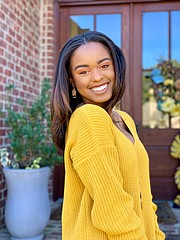 It's 9:53 p.m., almost three hours after the polls closed for the run-off for the Mississippi Senate seat on Nov. 27. My lights are off. A tear of disappointment falls on my phone screen, joining the sea that would follow as I finally face the cold, hard facts. I realize it's over. They've called the election.
I instantly start scrolling through my social-media timelines in search of reactions and a sense of understanding of the feeling of pure defeat that now weighs heavy on my heart. I can't be the only one who feels this way.
Then I see it all from across the country: "Mississippi is still Mississippi." "I can't wait to get out of this place." "Disappointed but not surprised."
Post after post are nothing but negativity and the defeated, hopeless attitude that Mississippi has achieved nothing. But instead of jumping on the easy bandwagon of trashing my home, I take a moment to reflect on my first real heartbreak. I'm finally having that face-to-face confrontation with the white supremacy others always warned me about. I'm now coming into the real world that teaches you that though you put in your all, it's not always enough.
Drowning in our sorrow is easy, but in Mike Espy's defeat, I am learning so much about the place I call home. I've learned why I should appreciate my surroundings and the people who occupy them, more than ever. And with that, I can see just how much Mississippi is not the one we once knew in the 1950s as outsiders like to popularize on their huge platforms.
We are not stuck in the past. We are just still fighting for our future. This "landmass between Louisiana and Alabama," as we see ourselves depicted in national media, is on a pedestal in a newfound wave of highlighting our deficiencies and reinforcing stereotypes based on the negatives of one election. It isn't fair.
Sorry to burst your bubble, but we don't all have that awfully imitated southern drawl you see in entertainment. We don't all believe that the Bible rules as the law of the land and anything that goes against it isn't tolerated. And as the astounding election results show, we do not all want Cindy Hyde-Smith to represent us in Washington.
But look on the bright side, they say, this is the first time Mississippi has sent a woman senator to Washington, D.C. I would like to bask in this supposed progress, but her election means nothing to me, as an African American woman. History was not made, it was repeated. She does not represent all women and their well-being; therefore, her election does nothing in favor of feminism or finally giving women a seat at the table.
Time and time again, minority woman are put on the back burner for the political gains of those who look nothing like them. Because as Hyde-Smith has stated time and time again, she is there to please and support President Donald Trump "100 percent." She's not there to do what's best for the people she is supposed to service.
Although it is easy to get discouraged and want to simply leave the problem behind and go elsewhere, ask yourself: If I don't, then who will? If not now, then when? It's very easy to stay determined and enthusiastic for change when the sun is rising in your favor. Your true test of commitment to change is when you're stuck grappling for reason to keep going in the shadow of hope.
We are reaching a tipping point of revolution in Mississippi that we did not know was possible. Politics has become an everybody issue, which it should have always been. Young people are fired up more for change than anyone right now. Our fire is even more ignited when we see candidates joke about hangings—which to us means lynchings—and voter suppression, and still manage to win. Those are things that are very real to us, and even hit home personally; I have an ancestor who was lynched by a white mob in 1898 in Scott County.
This election does not make me want to leave the place I've called home for my short 17 years. This election does not make me want to shame the place that has molded me into the person I am today. Mississippi is a new place exploding with new people and ideas. But change takes time. Every true revolution sees blood, tears and years of work that is done until there was even a tangible inch the fighters could claim as victory.
We can now use inch we gained on Nov. 27 as a mile marker for our future of true equality and liberation of all Mississippians. As author Austin Channing Brown puts it, "I stand in the legacy of all that Black Americans have already accomplished—in their resistance, in their teachings, in their voices, in their faith—and I work toward a world unseen, currently unimaginable."
America witnessed a Mississippi on Nov. 26 that many believe is unimaginable. But here we are, commenting on an election that will go down in history. Hyde-Smith's win is not a loss for Democrats. It's not a loss for young people. It's not a loss for Mississippi. It's a telltale of how far we have come, and how far we can go with just a little more time.
Maisie Brown is a junior at Murrah High School in Jackson, Miss. Watch her TedxJackson Women talk here and read her first column for the Jackson Free Press about the Mississippi flag, which she later was asked to read in front of both the Mississippi Capitol and the U.S. Capitol in Washington, D.C.