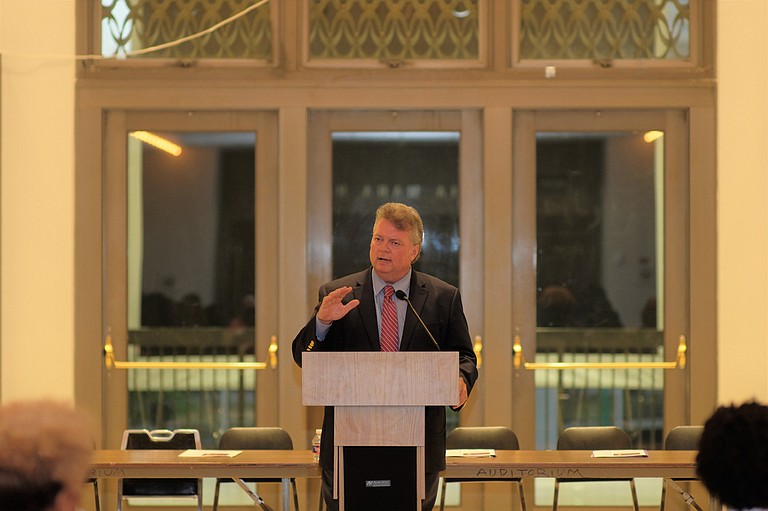 Thursday, August 30, 2018
JACKSON — Mississippi Attorney General Jim Hood was one of the only men in Thalia Mara Hall in downtown Jackson last night. Women for Progress of Mississippi hosted a women's issues forum called "She is Running," where Hood offered remarks about the role of women in his prosecutorial career. He also addressed his desire to run for governor once the leading woman in his life—his wife, Debbie—gives him the go-ahead.
"I've made my mind up to do it," Hood told the Jackson Free Press. "I'm going to give my wife another month to make sure she's OK with it. She's prayed about it. It's not something that for me that I ever intended to do. But I do see our state not moving and not helping the least among us—and we can."
Hood dotted his remarks with nods to the African American women, sometimes the first in their roles, he had hired over the years, in a clear nod to the majority of the attendees at the event.
"Mississippi, especially prosecutor's offices, should look like Mississippi does, and state offices as well," Hood said.
The attorney general attributed his rise to the women who have supported him, and said he hopes to see more in state leadership. "I'm honored to be here with this opportunity to encourage you ladies to seek public office," Hood said. "Lord knows we need more in our state."


Trump Expediting Women Candidates
Hood believes that women tend to care more about what works for families and the state by extension rather than partisanship. He also thinks that the current political climate in Washington, D.C., has inspired more women to get into politics.
"I think President Trump's election will expedite the impact of women in running for office and serving and helping others get elected," Hood told the Jackson Free Press.
Hood plowed through a series of topics and standout issues that could end up on his campaign website if he officially throws his hat in the ring. He talked about the recently ended special legislative session that resulted in a state lottery. He had hoped funding would go to education, he said.
The final version of the bill does not include an amendment that would have diverted $12 million to school supplies as Rep. David Baria, D-Pascagoula, wanted. Baria is running against incumbent Republican U.S. Sen. Roger Wicker in the Nov. 6 national midterms.
The attorney general also talked about the need for equal pay, Medicaid expansion and more mental-health care. After about a half hour, the event turned into a question-and-answer session, and one woman put Hood on the spot.
"One last question: when are you going to announce your candidacy?" she asked.
Hood smiled, and you could see the room get excited. He deferred again to waiting on his wife's blessing, and before he could finish thanking the women in the room for their encouragement, they began to chant: "Run, Jim, Run."
Women Taking the Reins, Voting for Women
Once Hood left the podium and took a few selfies with those who caught him before he took the escalator down to the street level and made his way out the door, the event turned into a panel discussion about women's issues in the upcoming midterm elections.
The discussion shifted from how women have supported Hood to how they could support themselves.
Felicia Brown-Williams, the Mississippi director of Planned Parenthood Southeast Advocates, said that the rise of Stacey Abrams in Georgia, who could become the first black woman governor in U.S. history, would have serious impact in Mississippi as well.
"I cannot think of anything that is more potentially impactful on this country and our young black women than to see that happen," Brown-Williams said. "And that may not feel like it's not local, but it is absolutely local in the impact it will have."
Jacqueline Amos, field director of the state Democratic Party, said that it is important for women to take the reins, but also to support one another.
"While women have to display leadership ... at the same time, our biggest issue is that there are women who will not vote for another woman," she said.
Vicki Slater, a 2015 gubernatorial candidate who lost the Democratic primary to an unknown male truck driver, agreed with Amos, adding that a lot of women were not socialized to support other women, nor were the generation of women before them.
"I think that this is a tremendous issue because ... if you talk to somebody who says 'I'm a woman, but I would never vote for another woman'—well, who told her that? A man," Slater said, as the room chuckled.
Senior Hinds County Circuit Court Judge Tomie Green, who is running for reelection, said that it is important not only to put the onus on women and girls, but also men and boys.
"If we teach our sons to respect women and we teach our daughters to be respected, then certainly we have a full package," Green said. "But I still see in families, even among strong women, that we teach our daughters, but we let our dads teach our sons—we have to do both."
Pam Shaw, a public-policy analyst, spoke with a booming voice and called on the women in the room to encourage people to get out to the polls this year and for future elections. She emphasized the organizing power present at Thalia Mara Hall that evening—something Hood was privy to.
"There's a reason why General Hood came here," she said. "He recognizes that the road to the governor's mansion comes through black women's yards."
CORRECTION: This story has been updated to reflect the proper title of Felicia Brown-Williams.
Email city reporter Ko Bragg at [email protected]. Read more about upcoming elections at jacksonfreepress.com/2018elections.