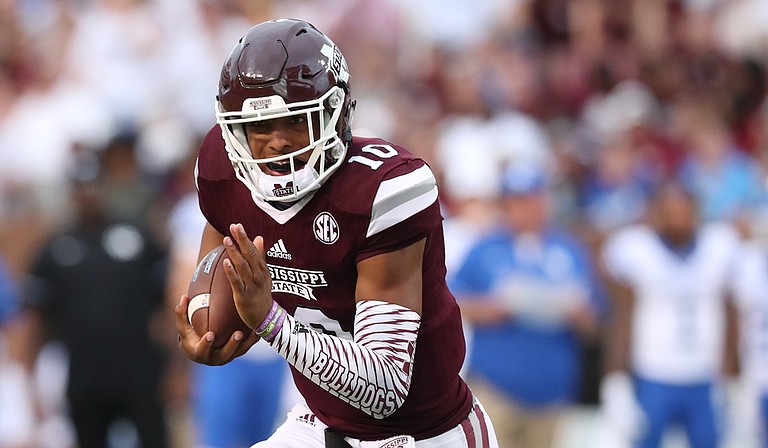 Thursday, August 30, 2018
Mississippi State University fans are still waiting to see if star athlete Nick Fitzgerald is fully healed following his ankle injury in last season's Egg Bowl. New head coach Joe Moorhead said on Monday, Aug. 27, that he suspended the senior quarterback from this Saturday's season opener against Stephen F. Austin University for a violation of team rules back in March 2018.
The pressure of starting the season will fall to sophomore quarterback Keytaon Thompson. The consensus four-star recruit out of Landry-Walker High School in New Orleans was the Louisiana Gatorade Player of the Year in 2016. He won three state championships with two titles in back-to-back seasons before coming to Mississippi State.
As a true freshman in 2017, Thompson played in only eight games before the Egg Bowl, when Fitzgerald's injury thrust him into action. He did not see any action against Texas A&M University, University of Massachusetts and University of Alabama. A major highlight in his pre-Egg Bowl games was his performance against the University of Kentucky, with two rushing touchdowns.
Thompson entered the Egg Bowl with the Bulldogs trailing 0-7 but helped the team to two first-half field goals, making it 6-10 at halftime. The University of Mississippi extended its lead with two touchdowns in the third quarter.
In the fourth quarter, he led the Bulldogs on a scoring drive, cutting the deficit to 13-24 with about nine minutes left in the game. UM scored less than a minute later, which put the Bulldogs in a 13-31 hole.
The MSU squad rallied over the final eight minutes, leading to two scoring drives and a two-point conversion that cut the Rebels' lead to 31-28 with more than a minute left to play. The Rebels ended the comeback effort by securing MSU's onside kick attempt.
Thompson ended the game with 13 of 27 completed passes for 195 yards, a touchdown and an interception. He also had 26 carries with 121 rushing yards and a touchdown. While the Egg Bowl was a baptism by fire, Thompson went into TaxSlayer Bowl against the University of Louisville knowing he would get to start.
In his first career college start, Thompson finished 11 for 20 on passes with 127 yards and an interception. The New Orleans native did his most damage against the Cardinals' defense on the ground, rushing for 147 yards on 27 carries and a career-high three touchdowns.
He brought the Bulldogs back from behind for a 31-27 win over Louisville, showing poise and promise as the game went long. The young quarterback scored the winning touchdown and managed to hold his own in a duel against Lamar Jackson, Louisville's former star quarterback who now plays for the Baltimore Ravens.
Thompson didn't have to do it all on his own, though, as the defense held Jackson to 171 yards, two touchdowns and 13 completions out of 31 pass attempts. The Bulldogs' defense harassed the Heisman Trophy winner into four interceptions, though Jackson did rush for 158 yards on 24 carries with a touchdown.
Before his Egg Bowl appearance, Thompson passed for 66 yards on eight completions in 19 pass attempts with one touchdown. He rushed for 178 yards on 22 attemps with a touchdown. While playing as the replacement for Fitzgerald, he completed 24 of 47 passes, throwing for 322 yards with one touchdown and two interceptions. On the ground, he added 268 rushing yards on 53 carries with four touchdowns.
Thompson learned that he would be starting this season's opener on Friday, Aug. 24, before Moorhead announced suspension on Monday. The first regular-season start for Thompson comes after he spent the spring working out with the starting unit while Fitzgerald recovered.
Moorhead praised Thompson's play during spring practice, as he began to install his offense. Thompson should have a good grasp of the new head coach's scheme, and has the athletic ability to use his arm and legs to get out of trouble during the growing pains of a season opener.
The Mississippi State Bulldogs kick off the season at 6:30 p.m. on Saturday, Sept. 1, against the Stephen F. Austin Lumberjacks, with ESPNU broadcasting the game.