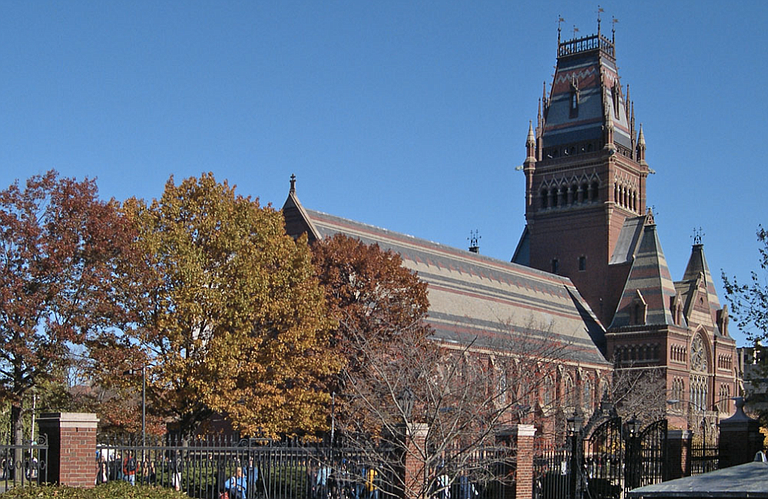 Thursday, August 30, 2018
WASHINGTON (AP) — In its latest push to end the use of race in college admissions, the Trump administration on Thursday accused Harvard University of "engaging in outright racial balancing" and sided with Asian-American students who allege the Ivy League school discriminated against them.
Harvard denied the bias claim and said it would defend the right to consider race as a factor in admissions.
The Justice Department weighed in on a lawsuit filed in 2014 by Students For Fair Admission, which argues that one of the world's most prestigious universities discriminates against academically strong Asian-American applicants in favor of others who may be less qualified.
The agency said in a "statement of interest" that Harvard has failed to demonstrate that it does not discriminate on the basis of race and that its use of personal qualities in determining worthy applicants "may be infected with racial bias."
The Supreme Court permits colleges and universities to consider race in admissions decisions, but says that must be done in a narrowly tailored way to promote diversity and should be limited in time. Schools also bear the burden of showing why their consideration of race is appropriate.
In Harvard's case, Justice Department officials said, the university hasn't explained how it uses race in admissions and has not adopted meaningful criteria to limit the use of race.
"No American should be denied admission to school because of their race," Attorney General Jeff Sessions said.
Sessions said Harvard's use of a "personal rating," which includes highly subjective factors such as being a "good person" or "likability," may be biased against Asian-Americans. Sessions said the school admits that it scores Asian-American applicants lower on personal rating than other students. Sessions also argued that Harvard admissions officers monitor and manipulate the racial makeup of incoming classes.
Harvard said it was disappointed that the department was "recycling the same misleading and hollow arguments that prove nothing more than the emptiness of the case against Harvard."
"Harvard does not discriminate against applicants from any group, and will continue to vigorously defend the legal right of every college and university to consider race as one factor among many in college admissions, which the Supreme Court has consistently upheld for more than 40 years," the university said in a statement. "Colleges and universities must have the freedom and flexibility to create the diverse communities that are vital to the learning experience of every student."
Edward Blum, president of the group that sued Harvard, hailed the administration's action. "We look forward to having the gravely troubling evidence that Harvard continues to keep redacted disclosed to the American public in the near future," he said.
The department's court filing opposes Harvard's request to dismiss the suit before trial.
"Harvard's failure to provide meaningful criteria to cabin its voluntary use of race, its use of a personal rating that significantly harms Asian-American applicants' chances of admission and may be infected with racial bias, and the substantial evidence that Harvard is engaging in outright racial balancing each warrant denial" of Harvard's request, the department said.
The department is separately investigating Harvard's admissions policies.
There was no immediate comment on the move from the Education Department.
The filing follows a July decision by the those departments to abandon Obama-era guidelines that instructed universities to consider race in their admissions process to make the student body more diverse. Democrats said the Trump administration was taking away protections for minorities.
The Center for Equal Opportunity, a conservative think tank, cited Harvard's own analysis of its admissions data and said it "demonstrates that being African American, Native American, or Hispanic was a 'plus' factor in the competition for admission, but being Asian American proved to be a 'minus.'"
But Kristen Clarke, president of the Lawyers' Committee for Civil Rights Under Law, criticized the Justice Department for "signaling abandonment of the agency's long-standing historical mission of working to address racial discrimination and promote diversity."
She said the department's filing "ignores the well-documented racial bias embedded in grades and standardized test scores."
Shaun Harper, head of the Race and Equity Center at the University of Southern California, said that grades and test scores alone should not be the only factors when deciding whether to admit a student.
"Is the DOJ saying that it is in favor of Harvard being 100 percent Asian-American because if we are looking just at GPAs and test scores, it could very well be that those with the absolute higher scores would be Asian-Americans," Harper said. "Is this what the DOJ is saying it wants?
Several other groups also filed court documents siding with Harvard.
More than 500 scholars who study college access and Asian-American studies asserted that the suit has failed to present any evidence of racial discrimination.
Also siding with Harvard were more than a dozen prominent economics professors from various colleges who defended a study Harvard presented finding no evidence of discrimination. A separate brief supporting Harvard was filed by the Asian American Legal Defense and Education Fund and 20 other Asian-American groups.