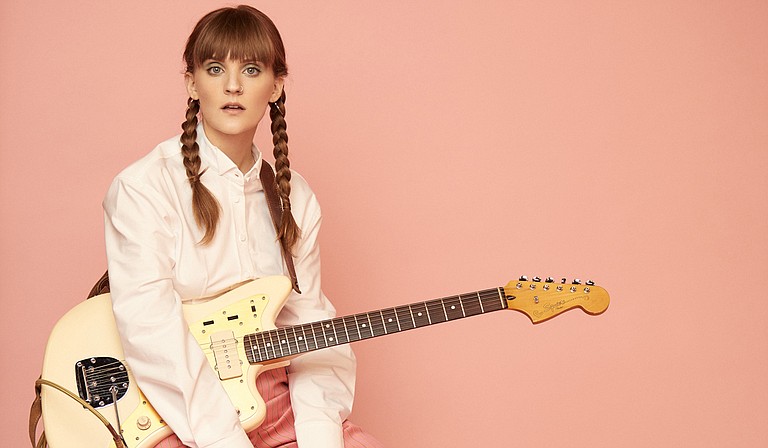 Wednesday, August 22, 2018
When singer-songwriter Liza Odachowski, whom fans know as Liza Anne, selected a studio for her third album, "Fine But Dying," her choice revolved around atmosphere rather than equipment.
For that, the Georgia native, now based in Nashville, Tenn., looked back on a viewing of "Look at What the Light Did Now," a 2010 documentary about the making of Feist's album "The Reminder" in France at La Frette Studios, near Paris.
She and creative partner Zachary Dyke watched the film around the time they made Liza Anne's debut album, 2014's "The Colder Months."
"I'm rarely really blown away by some gear thing," she says. "Like, truly, I think music can be made wherever the human being is. But some of my favorite records were made in that studio (La Frette), and it kind of changed the way I viewed a studio space, whereas certain studios in Nashville, I understand they're notable, but they didn't seem alive."
Odachowski says that she felt there was something different about La Frette. The studio was a part of the music. At one point, Feist stomped on the stairs for percussion, using the space as an instrument.
"It just seemed like the house itself that La Frette is inside of was just a living, breathing force that I really wanted to invite into my creative process," she says. "... I was like, 'Zach, one day, we're going to go here and make a record,' and he was like, 'Yeah, OK.' We did it! It's crazy."
Recording in her dream studio did not mean that making "Fine But Dying" was a dream scenario, though.
After flying to Paris, they had only a week to track the live instrumentation, including drums, bass, guitars and vocals, all while fighting off jetlag and trying not to get sick, Odachowski says. They then completed the album over the course of about three months after returning to Nashville.
"It was amazing. I mean, you know, it was seven days only, so honestly, the entire thing is a bit blurry," she says. "In my head, it's just like we got there and immediately had to start working on things. The timing was pretty gruesome. But ... Zach and I have now made three records together, so making 'Fine But Dying,' I think if I had new people involved, it would've been stressful, but it's like an extension, like another arm on my body to work with him anyway, so it was really good."
While she says that she likely won't make a record that quickly again, this was an experience she would live a million and one more times. She also plans on returning to La Frette next year, albeit with more time set aside for experimenting with the songs.
Although "Fine But Dying" steers more into indie-rock territory, Odachowski says the album is a natural growth from her previous work on "The Colder Months" and 2015's "Two." That applies not just to the sound but also to the type of stories she shares.
"I think that art, really, is a pretty continual movement deeper into self, maybe, if you do it consistently, which is what I've been doing over the last six years with those three records," she says.
"So yeah, I approached it the only way I could approach it after making those other two records. ... It felt like I was being a bit more direct, but I wouldn't have had that sense of directness if I didn't make the other two records first."
"Fine But Dying" tackles topics such as the difficulties of human connection and growing out of relationships, but Odachowski says she aimed for the album to be energetic and approachable despite its sometimes-painful subject matter.
"I wanted to talk about things that were very difficult but not lose people in the process of doing that," she says. "I kind of realized through touring 'Two' and 'The Colder Months' that the moments within the set when I felt like there was like a fire in the room, this energy that people gravitated towards, I kind of mentally marked those moments and was like, 'How do I write about things that are a little more—I don't know—disgusting and hard to swallow, but then dress them up as something else?' So yeah, kind of presenting that duality of happy/sad, all at the same time."
Liza Anne performs as part of Red Brick Roads Music & Arts Fest, which takes place Friday, Aug. 24, from 6 p.m. to 10 p.m. and Saturday, Aug. 25, from 3 p.m. to 10 p.m. in Olde Towne Clinton. Admission is $20 for a two-day pass, or $15 for Saturday and $10 for Friday. Visit redbrickroads.com.