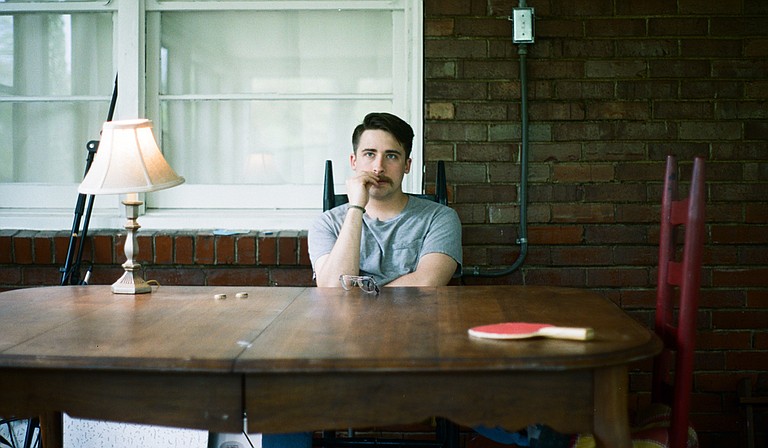 Clayton Waller could see the signs. 
During his senior year at Mississippi State University in 2013, he and the friends in his college rock trio, Wolf Cove, began discussing plans for the future. One person was going to move to Denver. The other was getting married and going to medical school. The band, on the other hand, was going nowhere.
"After I saw the ending coming on, I knew I wanted to do music, and actually, through Wolf Cove—I've always really loved music, etcetera—but it kind of showed me the possibility of really doing music, trying to do it as a full-time thing," Waller, a Jackson native, says.
Throughout that semester, he began developing songs for a new solo project, Rock Eupora, including four tracks that he originally wrote for Wolf Cove. Then, over the 2013 Christmas break, he holed up in his house in Starkville for two weeks. He was going to make an album.
"I didn't really know how long it would take," he says of his solo debut. "This was my first time kind of working with Pro Tools (recording software). We did the Wolf Cove EP with GarageBand. So I had home-recording experience before, but yeah, this was like a big learning experience to say the least. I was actually kind of going crazy because I was by myself in this house, trying to learn Pro Tools to try to record. Looking back, I treasure that time, but it was kind of crazy."
That cold weekend in Starkville yielded Waller's first solo album, "Blanks," and its release in April 2014 marked the official start of his career as Rock Eupora. He graduated from Mississippi State with a bachelor's degree in marketing and management a month later. That summer, he made the decision to move to Nashville to study music business through an accelerated graduate-degree program at Belmont University.
"That was kind of my landing ground in Nashville, but then also, bigger picture, I knew I wanted—well, looking back, it's kind of hard," he says. "It hasn't been that long ago, but it feels like a long time. I think I was kind of still struggling with going all in with being a recording artist."
Waller says he knew that he wanted to be in the music industry but was on the fence as to whether that would be on the artist side or the business side. Through his one-year graduate program, he interned at an independent record label, Dualtone, he realized that industry work wasn't for him.
"They were a great company and everything, but just being an intern and seeing what it takes to run a label, it's tough," he says. "I think you really have to be kind of called to that kind of thing. You have to really want to work in the music industry because you're not going to get paid much, and it's a lot of hard work. ... I just quickly realized, 'I don't want to put in this work for another artist. I'm passionate about writing and making music, and sharing it with people.'"
After completing his gradaute program in August 2015, he began pursuing Rock Eupora full. Since then, he has released two albums, including 2016's "Soon the Sun Will Come" and his self-titled record, which came out Aug. 3 of this year. Rock Eupora, which tours with a full band, is currently on tour to promote the new release and will perform in Jackson on Friday, Aug. 17, for a hometown release show.
While Waller still wrote all the music and played every instrument on his latest album, this is the first Rock Eupora project that he did not record in his own home studio.
"I wanted to have an engineer and use nice equipment because, with the first two, I did the DIY thing where it was just me in there," he says. "I had my laptop and had just some cheap mics and the student version of Pro Tools. It was very DIY, which is great. I love those records and wouldn't change anything about them, and honestly will probably go back to that world eventually. But this one, I knew I wanted to do a studio album."
For that he turned to engineer and fellow MSU alumnus Dylan Alldredge, who had recently moved into a home in east Nashville with a built-in studio. Alldredge also served as the mixing engineer on the project, eventually passing it along to John Baldwin for mastering.
"The timing just worked out. He had this cool space all of the sudden, and I had known Dylan for a while," Waller says. "He's just a brilliant engineer. He knows exactly what mics to use, and we work really well together."
The two men recorded the album in only eight days, but not out of a lack of time, Waller says. During the pre-production process for the record, he home-recorded every song in the same way he did for "Blanks" and "Soon the Sun Will Come." The demos were almost full recordings of the songs, he says, and could have been released as such, but he wanted to go one more step and re-track them in a recording-studio setting.
"Honestly, it was just so big to not worry about pressing the play button and like editing and stuff," Waller says. "It just freed my mind to be sporadically creative and not worry about what mic I was going to use here and mic placements. (Alldredge) even had like tons of guitars and pedals, and would recommend using different things. I could describe the kind of sound I wanted, and he'd say, 'You should use this guitar and try this pedal.'"
More than that, Waller says, it was a different experience just having another person to bounce ideas off of during the recording process. As to why he ultimately decided to make this a self-titled album, he says it came naturally.
"Honestly, it was a really easy choice, which is what I think it should be," he says. "I just felt really good about this one. I think there has always been a 'Rock Eupora sound' to a degree, and I do think part of that is my sound has genres pushing in different directions.
"The first two albums, they're kind of a little bit everywhere in a cool way, I think. But they're very (exploratory), and you can hear two different directions being tugged back and forth. I think, finally, with this one, I found the sound, I guess. It came together and was like, 'Oh. This is what I sound like.'"
Rock Eupora's album-release show is at 8 p.m., Friday, Aug. 17, at Duling Hall (622 Duling Ave.). TW!NS, Flywalker and Newscast also perform. Doors open at 7 p.m. Admission is $7 in advance or $10 on the day of the show. For more information, visit rockeupora.com.