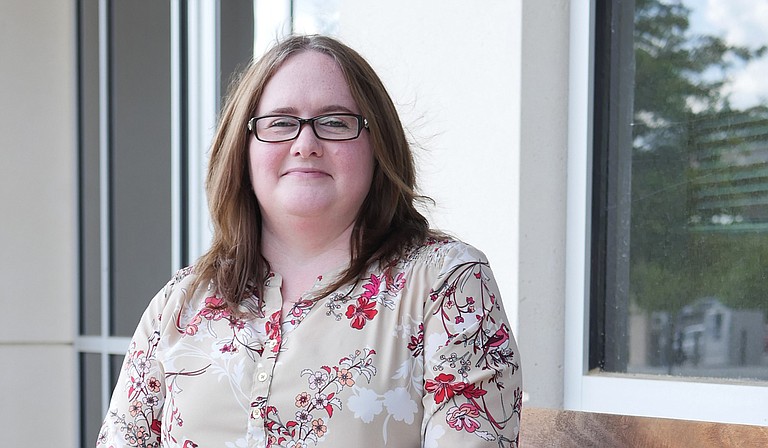 Wednesday, August 8, 2018
Tina Brooks, 43, says she enjoys working behind the scenes. Between her full-time job at Ross & Yerger Insurance and assisting her husband, Will Brooks, with his business, JellyDonut Studio, she has her hands full, but she says she finds purpose in helping others.
Tina Brooks, who was born and raised in Yazoo City, earned an associate's degree in office systems from Hinds Community College in 1997.
She was introduced to the insurance field that same year when she began working for The Bottrell Agency, first in the mailroom, eventually working her way up to transcriber and then account assistant.
In 2006, she joined Ross & Yerger Insurance and now holds the title of commercial account representative on the business' energy team. Brooks says her favorite part of her job is her co-workers and the close-knit community.
"It's like being in a big family," she says.
When she is not at Ross & Yerger, she is usually helping her husband at JellyDonut Studio, a midtown business that specializes in print design and logo creation, often with a pop-culture emphasis. Brooks says she enjoys spending time at the studio because of the artistic neighborhood.
"It gets us out and meeting new people," she says.
But Will isn't the only person in the family who enjoys creating artwork. Brooks says she dabbles in painting and loves to attend painting classes at places like Easely Amused.
"It's mostly something I do to relax," she says. "I like to paint angels and crosses. It is therapeutic, and I like to share my paintings with my family."
Much like her day job, Brooks says that the best thing about the capital city is the people who form it.
"I like the diversity of the people who live in Jackson, the people that come together to make art happen, the creative people and all the different events," she says. "People who say that nothing happens in Jackson are people who don't look."
Tina and Will have been married for 15 years and have two cats, Zoe and Edgar.