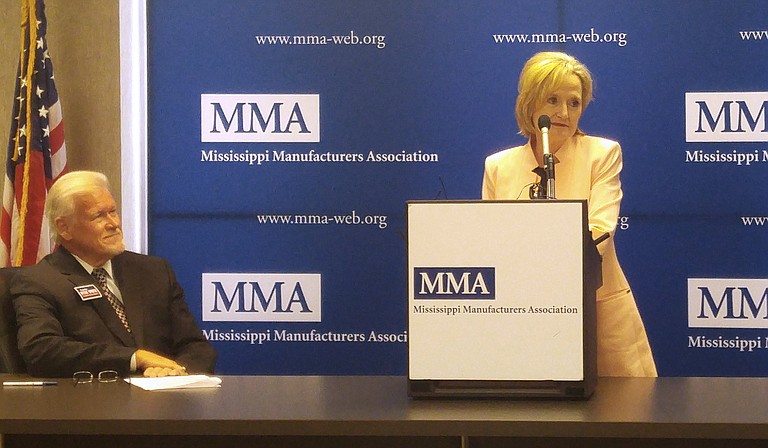 JACKSON — The Mississippi Manufacturers Association endorsed United States Sen. Cindy Hyde-Smith for election to the U.S. Senate seat she is holds temporarily. Gov. Phil Bryant appointed Hyde-Smith to the Senate after long-time Sen. Thad Cochran retired because of health issues on April 1.
A special election on Nov. 6 will determine who will serve in the Senate until 2021, the remainder of Cochran's term.
"I'm especially pleased to be here today to announce the unanimous decision by the board of directors for the Mississippi Manufacturers Association to endorse Cindy Hyde-Smith as the next senator," Chairman Earl Walker said at the press conference Monday.
Hyde-Smith thanked MMA for the endorsement and spoke about how she wants to help Mississippians.
"I tell everybody I'm running for two reasons," she said. "One is more jobs, and less government. Those are the two reasons that I stand before you today."
She said she has a record she can stand on, which proves she supports manufacturers and other Mississippians. She is the only senator currently serving who voted with President Donald Trump 100 percent of the time, FiveThirtyEight reported.
"Senator Hyde-Smith has been a friend of industry for many years," President and CEO Jay Moon said at the press conference Monday. "She has proven to be a prominent supporter of manufacturers by being vocal on issues that impact our members."
Hyde-Smith has been in the Senate for just over four months, which is part of the reason she is the only senator to vote with Trump 100 percent of the time. "It's because that I like what he's doing, and I feel like that's what's best for Mississippi," she said.
A Mississippi state senator from 2000 to 2012, Hyde-Smith she switched from the Democratic Party to become a Republican. She was the first woman elected as the Mississippi commissioner of agriculture and commerce and now is the first woman to represent Mississippi in the U.S. Senate.
She is running against Republican State Sen. Chris McDaniel and Democrats Mike Espy and Tobey Bartee. Last week at the Neshoba County Fair, Hyde-Smith faced a tough crowd from within her own party who were there on behalf of McDaniel.
One candidate must receive 51 percent of the vote. If no one does, a run-off will be held Nov. 27.
Read more about 2018 political campaigns in Mississippi at jfp.ms/2018elections.