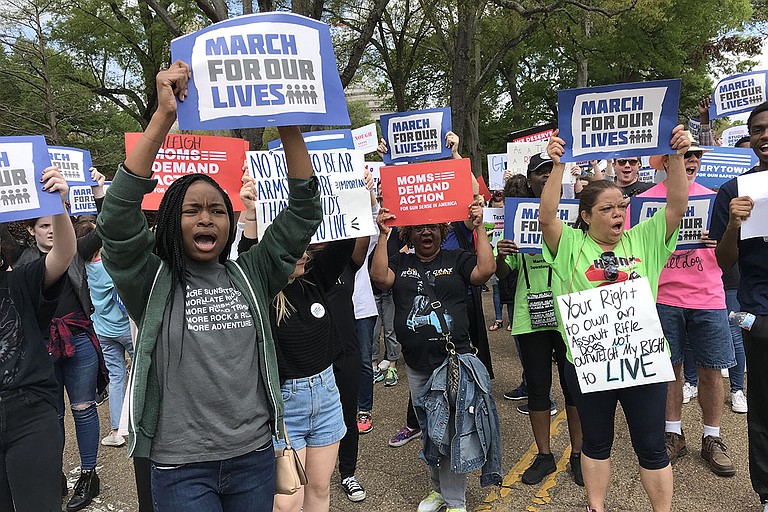 Wednesday, August 1, 2018
JACKSON — UPDATE: The start time for the March For Our Lives rally and cookout has been moved up to 3:30 p.m.
On Feb. 18, a gunman killed 17 students and staff, and injured 17 more at Marjory Stoneman Douglas High School in Parkland, Fla. The students who survived, and then formed the March For Our Lives organization and movement, will be in Jackson on Aug. 2.
As part of the "March For Our Lives: Road to Change" tour, students are traveling across the United States to speak out against gun violence and to register people to vote.
In Jackson, there is a rally and cookout and a town hall meeting hosted by the organization. The rally and cookout starts at 3:30 p.m. at Presidential Hills Park (3971 N. Flag Chapel Road), and the town hall is from 6 p.m. to 7:30 p.m. at Thalia Mara Hall (255 E. Pascagoula St.).
The town hall will feature Parkland students, students from Jackson schools, Mississippi Youth Media Project students and local survivors of gun violence.
"We're going to places where the NRA has strongholds—and we'll be visiting a number of communities that have been affected by gun violence to meet fellow survivors and use our voices to amplify theirs," the March For Our Lives website says.
"At each stop, we'll register young people to vote and talk about how we can stand up to anyone that is a blockade to gun safety—including the NRA and corrupt leaders."
To RSVP for either event, visit https://marchforourlives.com/southerntour/.