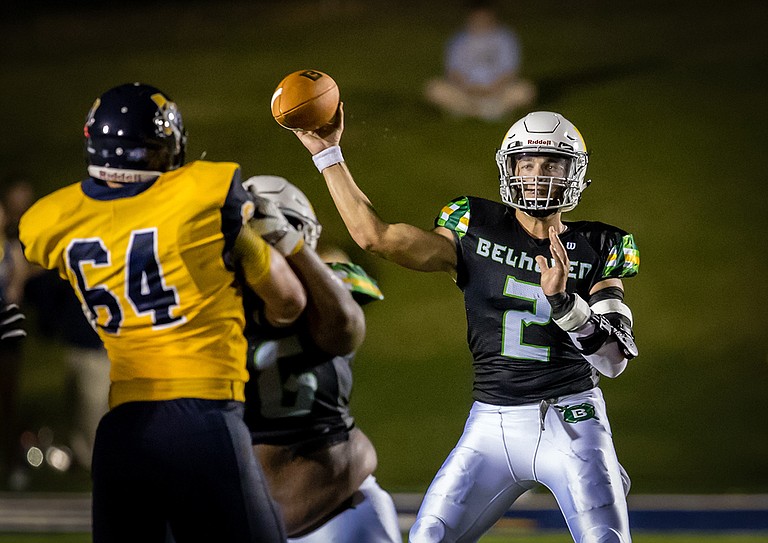 Friday, September 29, 2017
History is full of battles in which the legacy of the defeated lasts far longer than that of the conquering force. The ancient Battle of Thermopylae and the Alamo are just two of the myriad examples contained throughout history.
While nowhere near life or death, sports are another area where individuals or teams are remembered for their deeds in defeat. Fans may not remember Belhaven University quarterback Hunter McEachern's performance against East Texas Baptist University forever, but it was a great effort in a losing cause. McEachern did his best to keep the Blazers in the game against the Tigers on Saturday, Sept. 23.
After an early 7-0 lead, Belhaven quickly fell behind to East Texas Baptist 7-21 in the first quarter. McEachern rallied his squad with 13 points, cutting the deficit to 20-21 in the middle of the second quarter.
The Tigers then answered back with 13 points, extending their lead to 34-20 before another Blazers touchdown brought the score to 26-34 at the break. Unfortunately, East Texas Baptist took full control of the game in the second half, outscoring Belhaven 45-14 to earn a massive 79-40 victory.
In defeat, however, McEachern tied his own school record of six touchdown passes. He finished the day completing 33 of 51 passes for 482 yards and one interception. His efforts against the Tigers earned him the title of American Southwest Conference Offensive Player of the Week.
That honor came just a week after one of his worst games as a Blazer. On Sept. 16, Belhaven faced Texas Lutheran University on the road, and McEachern threw for 310 yards with zero touchdowns, three interceptions and only 40 completions on 69 attempts. The game ended in a 0-37 loss for Belhaven.
The week before that, McEachern opened the season throwing for 263 yards, four touchdowns and two interceptions, and completed 16 of 27 passes in Belhaven's 42-37 win over rival Millsaps College.
In three games this season, the sophomore has thrown for 1,055 yards, 10 touchdowns and six interceptions. He is completing 60.5 percent of his passes and is currently averaging 351.7 yards per game.
The Keller, Texas, native transferred to Belhaven after spending 2014 taking a redshirt season at the University of Texas at El Paso. He left UTEP in the middle of the 2015 season before transferring to Belhaven.
In his first season at Belhaven, McEachern passed for 3,722 yards and 31 touchdowns but threw 22 interceptions. He ran for another 144 yards on 93 carries with three touchdowns. The quarterback even punted 31 times with opponents downing 11 of those inside the 20-yard line.
Last season, he was a finalist for C-Spire Conerly Trophy, which ended up going to University of Mississippi tight end Evan Engram. McEachern started in all 10 games and broke single-season school records for completions, attempts and touchdowns while tying the single-season record for passing yards.
Belhaven returns to action this Saturday, Sept. 30, at 7 p.m. as the Blazers host Howard Payne University for Family Weekend.
More like this story