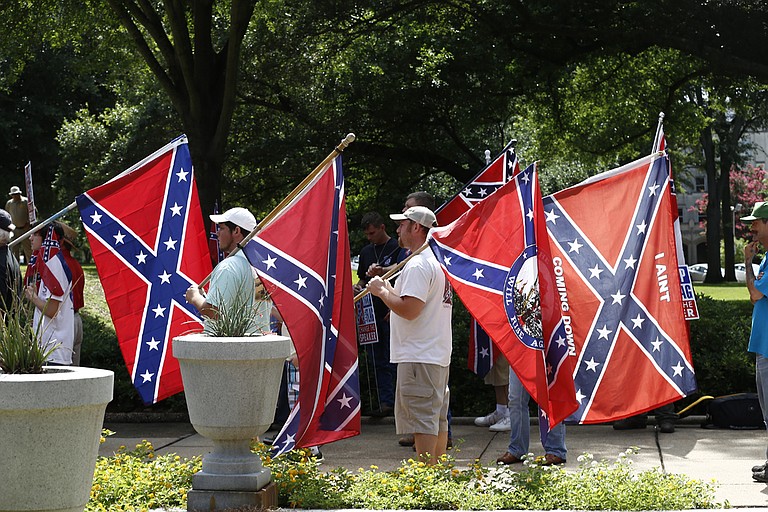 JACKSON, Miss. (AP) — Attorneys say in written arguments to the U.S. Supreme Court that the Confederate battle emblem on the Mississippi flag is "an official endorsement of white supremacy" and lower courts were wrong to block a lawsuit challenging the flag.
The arguments were made in papers filed Friday by lawyers for Carlos Moore, an African-American attorney who sued the state in 2016 seeking to have the flag declared an unconstitutional relic of slavery.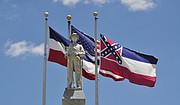 The JFP's archives of historically factual stories about slavery, secession and the Civil War in Mississippi, with lots of links to primary documents.
Mississippi has used the same flag since 1894 and it has the last state banner featuring the Confederate symbol—red field topped by a blue tilted cross dotted by 13 white stars. Critics say the symbol is racist. Supporters say it represents history.
"Mississippi adopted its flag at the same time it vigorously reasserted white control of the state, the flag was intended to be an official endorsement of white supremacy, and by continuing to fly it, Mississippi broadcasts that message on daily basis," Moore's attorneys wrote. "It is the equivalent of the state adopting 'White Supremacy Forever' as its state motto."
A federal district judge and an appeals court ruled against Moore, and his attorneys are trying to revive the case. The Supreme Court accepts a fraction of cases on appeal.
In papers filed Oct. 18, attorneys for Gov. Phil Bryant said the 5th U.S. Circuit Court of Appeals was correct to say that Moore failed to show he suffered harm because of the flag.
Moore's attorneys, led by Michael T. Scott of Philadelphia, responded Friday that "government speech endorsing one race over another" is a violation of the constitutional guarantee of equal protection.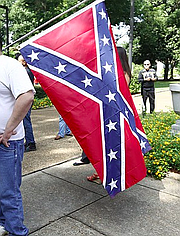 In their own words, Confederate leaders explain secession, the Civil War and their views about black people.
Mississippi residents who voted in a 2001 referendum chose to keep the flag. But the banner and other Confederate symbols have come under increased scrutiny since 2015, when nine black worshippers were gunned down in a church in Charleston, South Carolina. A white man who had posed in photos glorifying the rebel flag was sentenced to death in the fatal shootings, which police contend were racially motivated.
Moore, who became a city judge this year, has received death threats for filing suit over the state flag and for removing the flag from his courtroom in Clarksdale, his attorneys said.
Gov. Bryant has said repeatedly that if the flag design is to be reconsidered, it should be approved by voters. He said this week that he wants the flag to go the 2018 ballot. However, it's not clear if a majority of legislators would agree to put it there or if they would offer an alternate design.
Read JFP's archives of historically factual stories about slavery, secession, the Civil War in Mississippi, Confederate monuments, the state flag and more at jfp.ms/slavery.