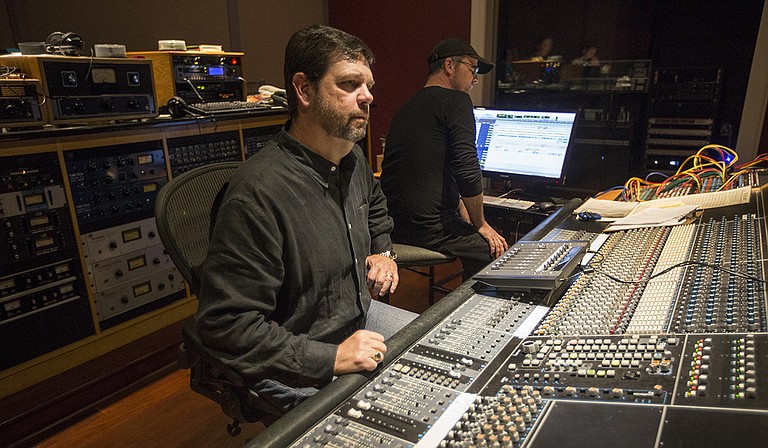 Wednesday, October 18, 2017
The rat-a-tat of a snare drum rings out from the center of South President Street in downtown Jackson. It bounces off the smattering of parked cars and office buildings, but there's no audience in sight.
It is a Sunday afternoon in late September, and Michael Weary, garbed in the signature black T-shirts of local second-line ensemble Epic Funk Brass Band, is practicing his instrument, while music-videographer J.B. Lawrence walks the block and ponders shot ideas. Two other members of the band, bass-drum player Eddie Newton and tuba player Tellis Moaton, stand at the ready nearby, but the remaining musicians have not arrived yet.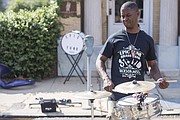 "We were actually wanting to do solo shots, individual shots of them playing from the start," Lawrence says, "so this works out perfectly. We can get rolling now."
He joins Weary in the street and trains his camera on the snare, on the rhythmic rebounding of drumsticks, as the drummer plays along to a pre-recorded track.
With the small budget for the video project, renting a generator to amplify the music was not an option, so Lawrence opted to play the track through a handheld speaker. While the volume is plenty loud for personal listening, the song all but disappears with snare over it, even lightly.
The solution comes in the form of a light-colored sedan, as Lawrence directs Newton to drive his car just out of frame, where he blasts one of Epic Funk's favorite crowd-pleasers, "Doin' My Job," through his car speakers. Newton then moves to the sidewalk behind Weary, where his bass drum is resting on a stand, and begins playing along.
Weary's shoulders relax, and he joins in, bobbing his head as he plays along.
"Got it," Lawrence says with a grin. "OK, next shot."
A Practical Art
It all seems like a lot of work for an art form that many have mistakenly labeled as obsolete.
The popularity of watching music videos on TV channels such as MTV and CMT has waned over the years, but the format has not lost its impact on consumers and the music industry as a whole. Like most forms of entertainment, it just moved to the next platform and adapted to serve different roles.
The video for pop icon Taylor Swift's recent hit, "Look What You Made Me Do," may get its fair share of TV airtime, but online, it has garnered more than 581 million views on video service Vevo since its release on Aug. 27—a sizable number, even stacked against Vevo's 24 billion views per month.
Unlike Vevo, YouTube does not primarily bill itself as a platform for music videos, and yet they make up 95 of its top 100 most-viewed uploads.
The site has also played a role in launching many major players in current music. There are plenty of highly publicized YouTube success stories, including Swift and Justin Bieber, as well as more surprising names, such as The Weeknd and Tori Kelly, who already had more than a million subscribers before her short and supposedly star-making tenure on "American Idol" in 2010.
While it would be nice for local artists to dip into that well of viewers, the members of Epic Funk Brass Band, which also includes trumpeters Phillip Kelly, Terrance Newman and Isaac Anderson, tuba players Andy Johnson and Henry Bryant, trombone players Chris Stewart and Kristian Foreman, and tenor saxophonist and musical director Maurice Hillman, had a more practical purpose for being out in the heat than instant Internet fame.
Newton says the band decided to make the video as a three-song promotional teaser after signing with Peggy Brown and Jenny Mixon, who own Mississippi record label and management company Hit the Road Entertainment. The business partners recently began teaming with Lawrence on various promotional material for their artist lineup, which also includes acts such as Lady L and the River City Band, King Edward Antoine and Eddie Cotton.
"It's good for marketing," Newton says of the video. "I mean, it's a marketing tool, something we can use outside of Facebook and outside of word of mouth. Now, you've got something we can actually send to somebody, or (Hit the Road) can actually show to someone. Plus, it's got all the dramatics in it that make it (exciting)."
"Nothing like a good visual, you know," Weary adds. "You hear about it, you see flyers and stuff, but if I can send you a YouTube link or Facebook link, something to see, a good visual always kicks it up an extra notch."
Having a promotional resource like a music video can be more effective than just recorded music or photos, he says, because it allows viewers to get a better sense of the individual players, their personalities and their musicianship.
Brown says: "For promoters and (talent) buyers, they want to see what the group looks like. Oftentimes, just a homegrown video that somebody does for YouTube on their phone, that's OK, but if you can really hear their sound quality ... and if they've got energy, that's what comes through on (professional) videos."
Mixon says that she enjoys more concept-heavy videos but primarily sees them as a product for the fans rather than promotional material to send to venues. A concept video may even interest a show promoter on a personal level while still not getting across what that person actually needs to know about a performer, she says.
"When a buyer looks at something, is he really going to spend four minutes looking at you tell a story, or does he want to spend two or three minutes looking at this band he's thinking about buying, and try to capture the personality and see if it's what he's looking for?" she asks.
A Personal Expression
While Epic Funk was filming its teaser downtown, Astin Sullivan and Tre Pepper of Jackson electronic-soul act Clouds & Crayons were in midtown, preparing for the debut of an altogether different kind of music video.
Clouds & Crayons falls almost entirely on the opposite side of the spectrum from Epic Funk, and not just because the band plays all original music and has only two members. In many ways, the video project, a visual album titled "Love Soliloquy," is what brought the musicians, whom fans know as Astin Rocks. and Loki Antiphony, respectively, together in the first place in early 2016.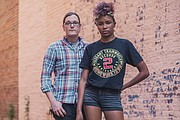 "The film was actually the idea before the band," Sullivan says. "It just so happened that we worked so well together, we wanted to do something like a live project. It was just like, 'Hey, let's take it on the road. And if the visuals can help further our music, that would be even better.'"
After Sullivan finished a short film titled "Letters from a Transient," which was a series of four spoken-word poems set to music and visuals, Sullivan approached Pepper about producing music for a larger follow-up project. Ultimately, they decided to continue writing songs together even after completing the music for the six-song "Love Soliloquy."
Clouds & Crayons released the record, which has one additional song, in September 2016, more than a full year before the visual album, but Sullivan says even the process of making the film helped promote the music. The band built a small community that was rooting for the visual album, between actors such as Demi Franklin and Phillip C. Washington, and filmmakers such as Cat Leatherwood, Johnny Coleman, Phillip Scarborough and Clay Hardwick.
All four filmmakers served as directors of photography on different songs. Since Sullivan, who was the director on the project, allowed them to choose the song they most connected with, each video became, in part, their personal interpretation of the material.
"I used to have a really hard time delegating and asking for help—that fine line of 'How do you do that?'" she says. "So 'Love Soliloquy' was kind of my way of challenging that trait. One thing they tell you ... is that people want to help you when they see you already doing it. When they saw me already doing this, making these contacts, and this, that and the other, that made them want to be a part of it."
Following the visual album's debut screening on Oct. 8 at AND Gallery, Clouds & Crayons has begun releasing one music video on the 16th of each month, starting with the song "Dangerous Crush," to keep fans excited about the project and looking forward to what comes next. The real challenge was not getting supporters excited to see the project, but instead, trying to stand out amongst the mass of other content in the music world, Sullivan says.
"To be completely candid with you, with the videos that we've pushed out so far, ... I don't know that they have garnered as much attention now because there is so much content," she says. "Now, it's almost like you need separate strategies for your visuals and your music."
Making the most of the videos as promotional tools comes with its own challenges and considerations, she says, from researching the best times to share them on social media to selecting effective demographics when promoting those posts. However, visuals can play a pivotal role in helping people connect with a song on an emotional level, and can help consumers better understand and identify with an artist, Pepper says.
"If there is some kind of visual element to it, it helps break that barrier between listening," he says. "You're experiencing more because of the visual and audio. It really depends on the music video, too, but I like the idea of them. Is it really a good, viable marketing tool these days? I'd like to think so, but she's right about the market being kind of saturated."
At the same time, Pepper says an important focus with any music video, as with music, should be making something that the artist can be proud of. Once Clouds & Crayons has released all the pieces of the visual album, the duo is considering selling it for fans who want to support the band, but the purpose of "Love Soliloquy" will always be the project itself.
"It's just like writing music," Pepper says. "When you get together as a band, you want to create something that's amazing and cool. You're not forming a band to say, 'OK, how can we make $1,000 next weekend?' unless you're doing covers. For an artistic project, your end goal is to create an amazing product. If you can make sales off of it, that's great, but it's never your end goal."
An Adaptable Outlet
Although as a product, music videos rarely provide a direct source of income, they can be useful tools in marketing a different kind of product—the artists themselves. In recent months, Jackson record label Malaco Music Group has shown that it is a tool with wide-reaching applications.
Malaco launched its new imprint label, Old Trace Records, in late 2016, and in a short span of time, it has already released albums from Mississippi singer-songwriters and roots acts such as Stace & Cassie, Ron Etheridge and Jason Turner, with several more on the way in the coming months.
Old Trace also announced the signing of modern-rock band Framing the Red in July with a re-release of its 2012 album, "Welcome to the Show," and President Tommy Couch Jr., the son of Malaco co-founder Thomas Couch Sr., says the label is looking to expand into other genres in the future.
"Mississippi, as we've all been hearing and a lot of us know, is just an incredible hotbed for talent—songwriters, poets, writers and all sorts of arts," Couch Jr. says.
"We were fortunately in a position where we could try to provide an avenue or vehicle for more of these songwriters and entertainers to be discovered. ... Malaco is mostly known for blues, gospel and soul, but there's a lot more to the state than just that."
To help spread the word about new signees, Old Trace regularly hires Lawrence to create video content for each act, which Couch Jr. says is still one of the best ways to introduce artists to a wider audience base.
"Radio isn't readily available," he says. "The digital age has been a curse, to a certain degree, for the music business in curving creativity and cutting budgets and that sort of thing. So we really tried to figure out, 'Well, how can we use a negative to our advantage to (make it) a positive?'"
In many ways, the way that the industry works through platforms such as Instagram and YouTube is a new world for Malaco, he says, so the company began building its team with that idea in mind. Lawrence is a part of that strategy because the videos allow listeners all around the world to connect with artists and experience songs in a variety of interpretations.
"We do three or four different kinds of videos," Couch Jr. says. "We have done straight in-studio acoustic—'Here's the song. Listen to the song, and get to see the artist.' Then, we've done kind of one-location videos that we're trying to do several of off each album, and then, we'll also do several concept videos. It's really just about the exposure and finding ways to try to get something going."
More outlets mean more opportunities for people to discover the music and for a release to develop a buzz, he says. The added bonus is that videos are easy to share online, whether it is a promoter using the material to build excitement for an event or just an individual fan looking to tell friends about a new artist they like. Artists also don't necessarily have to break the bank to make an effective video, he says.
"Because of the way social media is now, (fans) want to be more of a part of your life as opposed to you putting on a shiny, perfect show for three minutes," Couch Jr. says. "You'll notice, they want to know, 'What does the artist feel about this, or what does an act feel about that? What are they doing today if they are not practicing?'"
People may even react more to something spur of the moment than they will to an elaborate video shoot, he says. At the same time, Couch Jr. is not a proponent for artists using Facebook Live during performances, as it can hinder interaction with their audience. When done right, though, even an inexpensive video can be the first step for viewers to connect with a new act on a deeply personal level.
"It's just another glance or glimpse into the artists' lives, to where people around the world say, 'Who is this guy, or who is this lady, or who is this group? What are they doing, and what are they about?'
"... It makes them real. I think, where we are now, you kind of want, 'Oh, that's the big star,' every now and then, but you want to identify with people who are real."