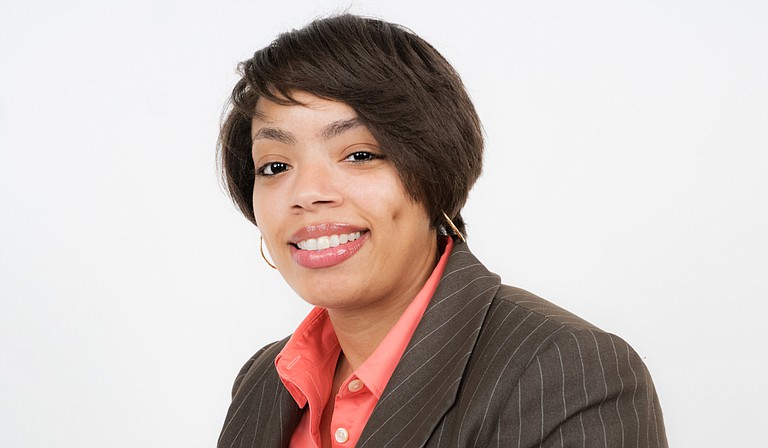 Tuesday, October 10, 2017
Attorney Elizabeth Carr says she didn't think anyone was paying attention to how much time and effort she puts into helping people who come into her firm, Southern Capital Title, so she was excited when she found out that someone anonymously nominated her to be a Tougaloo College "Forty Under 40" honoree.
"It really was an honor," Carr says. "I'm kind of one of those flying-under-the-radar-type people, so it feels good to see people look at you and see what you're doing, and know that they respect you."
Born in Newark, N.J., Carr moved to Kosciusko, Miss., when she was about 4 years old. She graduated from Tougaloo College in 2001 with a bachelor's degree in political science and received her law degree from the Mississippi College School of Law in 2004.
Carr's desire to practice law came early in life. Her father, who raised her and her two siblings by himself, was an air-conditioning repairman with a passion for law, which is what inspired Carr to go into the field.
"It was something I always wanted to do as a child," Carr says. "My dad was interested in law, and if he would have essentially pursued higher education, I know that's what he would have gone into, so I think I just kind of piggybacked off of what he wanted to do."
In 2010, Carr and her business partner, Janessa Blackmon, opened Southern Capital Title, where they specialize in real estate law, representing developers in all phases of the acquisition, development, financing, and disposition of residential and commercial properties. They also co-own litigation firm Blackmon Carr, LLC.
Carr says she enjoys being able to get people better results than they were hoping for when they enter her firm.
"We are one of the only minority firms that specialize in real estate, and a lot of the people that come to us for help look a lot like us, and so I think it brings a sense of comfort to our clients because they feel like we can relate to them a bit," she says. "We just have a love for our community, so it feels good to work with them and watch them show appreciation when we are able to help them, especially when closing on their homes, because that is one of the most common things people will need help with."
Carr says the firm wanted to expand into more states in the region, so after doing some research and looking at different demographics, they ultimately decided that Georgia would be a good fit. She is now licensed to practice law in all courts in both Mississippi and Georgia, and hopes to branch into Texas within the next couple of years.
In the rare instance that she is isn't busy with work, Carr says she enjoys spending time with her Shih Tzu-poodle mix, Bo, and traveling.
"I find that it kind of gives me a new lease on life, and it relaxes me," she says, "because I work very long hours, so there's kind of no day off," she says.
Carr says she hopes she can continue to have a positive impact on the people in the community.