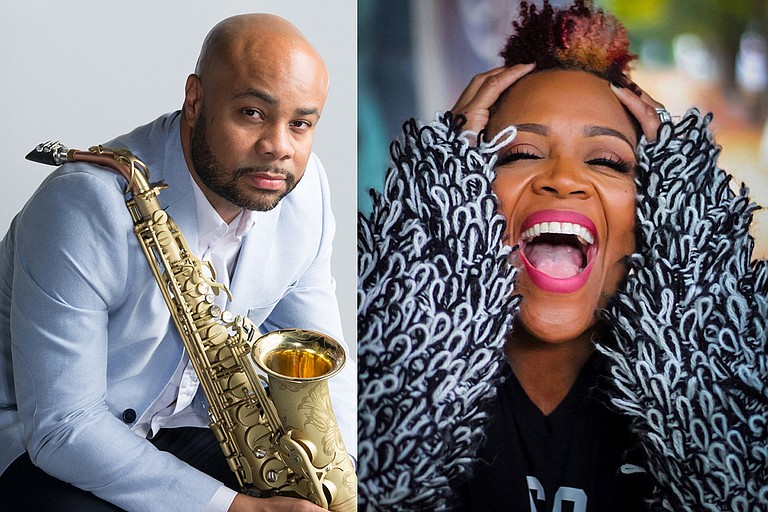 Wednesday, November 29, 2017
The South meets the North for the latest installment of the Mississippi Jazz Foundation's annual "Night of Musical Artistry," an evening of jazz beats and sultry vocals at Duling Hall on Dec. 1. Radio personality and comedian Rita Brent will host the event, which features music from Avery*Sunshine along with Mike Burton and the Good Times Brass Band.
Ann Burton, who is the president of the Mississippi Jazz Foundation and mother of Mike, says that the 14th annual event is both a celebration for jazz lovers in Jackson and beyond, and a way to support the music form in Mississippi.
"I'm aware that jazz is not the music that the world associates with our state, but the Mississippi Jazz Foundation puts the spotlight on jazz with two of the hottest young giants in the field of jazz," she says. "Avery*Sunshine has worldwide acclaim, having worked with the likes of Tyler Perry, Anthony Hamilton and renowned jazzman Roy Ayers, and Michael Burton has made a name for himself, also working with Tyler Perry early on and now has his solo career that has proven to be stellar for a kid from Mississippi."
Sunshine is a Chester, Penn.-native soul and R&B singer-songwriter whose given name is Denise Nicole White. She began playing piano at age 8 and gave her first recital at 13. She later attended Spelman College in Atlanta, graduating with a bachelor's degree in philosophy in 1998, although she also studied piano during college, as well. White adopted the stage name Avery*Sunshine in the early 2000s and released her debut self-titled album in 2010. In April of this year, she released her third album, "Twenty Sixty Four," which peaked at No. 17 on Billboard's Independent Albums chart.
Mike Burton grew up in Jackson and attended the Power Academic & Performing Arts Complex, also known as Power APAC. Today, he lives in Atlanta and is an accomplished jazz, R&B and soul saxophonist who has worked with internationally known artists such as Mary J. Blige, PJ Morton, Jill Scott, Anita Baker, Lecrae and Patti LaBelle. He released his latest album, "Say What?", via Monarch Records in July.
Ann Burton says: "The Night of Musical Artistry is a diverse, family-friendly event, and I expect to see many of our repeat, seasoned fans in the audience. Our goal is to highlight young local jazz-music practitioners who are preserving the genre, paired with historical figures who are the forerunners of the music in the field (who) have state, national and international prominence."
This year, honorees include vocalist Lisa Palmer; Jessie Primer III, a musician and educator at Tougaloo College; musician and retired educator Louis "Jivin'" Jones; music producer and songwriter Stan Jones, who is the co-owner and president of GRAND Recording Studios and Clout Music Group; musician Tevin McGuire, who competed on "America's Got Talent;" and Andrea Montgomery, the dean of humanities at Tougaloo College.
"Night of Musical Artistry" is at 7 p.m., Friday, Dec. 1, at Duling Hall (622 Duling Ave.). Doors open at 6 p.m. Tickets are $40 at ticketmaster.com or call 800-745-3000. For more information, find the Mississippi Jazz Foundation on Facebook.