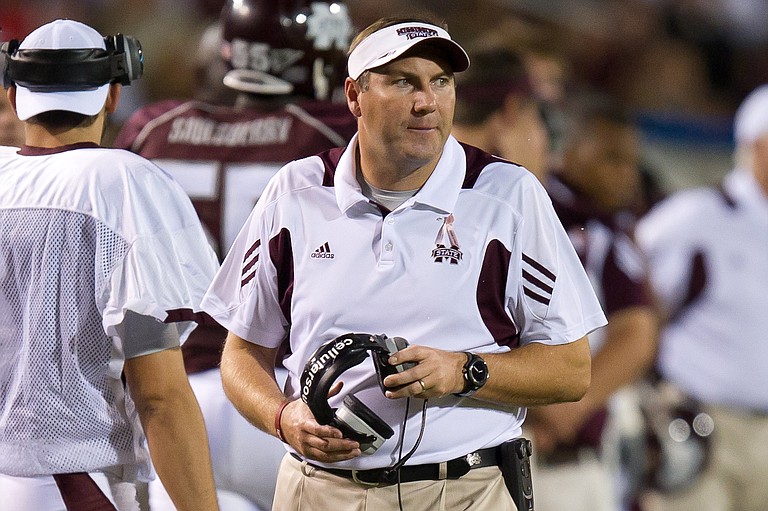 Monday, November 27, 2017
GAINESVILLE, Fla. (AP) — Dan Mullen spent the last 13 years in the Southeastern Conference. He cultivated offenses. He developed quarterbacks. He celebrated two national championships. He turned former league laughing stock Mississippi State into a title contender.
He probably should have been Florida's top target from the start.
Instead, it took Chip Kelly spurning the Gators for athletic director Scott Stricklin to turn to his close friend and former Starkville, Mississippi, neighbor.
Stricklin hired Mullen as Florida's next head coach Sunday, bringing back the guy who helped make Tim Tebow a star. The Gators announced the deal after Mullen told the Bulldogs he was returning to Gainesville.
The move reunites Stricklin and Mullen, who worked together in Starkville from 2009 to 2016. Stricklin was Mullen's AD for seven of those years.
Mullen previously spent four years (2005-08) as Florida's offensive coordinator and won two national titles while guiding Tebow to the top of the school record books. The Gators averaged 36.3 points a game and 7.1 yards a play during Mullen's tenure.
The Gators have mostly sputtered since.
"I have such great memories of the championships we won during our time here and have a love for Florida," Mullen said in a statement. "We will give relentless effort in everything that we do on and off the field. Our commitment will match the passion that the Gator Nation has for this program."
Stricklin vowed to make Florida fun again when he parted ways with coach Jim McElwain last month. It looked like Kelly would be the guy to pacify a frustrated fan base. But Kelly chose UCLA over Florida on Saturday, and Stricklin was left to look elsewhere.
Seemingly unwilling to risk waiting for UCF's Scott Frost to possibly do the same, Stricklin made the safe choice.
Mullen's resume says it could be the smart choice, too. The 45-year-old Mullen knows Florida well, has recruited in the Sunshine State and led the Bulldogs to a bowl game for a school-record eight consecutive years. He is 5-2 in bowls.
"I strongly believe Dan is the most prepared candidate to have immediate and long-term success at the University of Florida," Stricklin said. "Coach Mullen is one of the best offensive minds in all of college football, and has an unbelievable track record in tutoring successful quarterbacks."
Mullen clearly overachieved at Mississippi State, which had lost at least eight games in seven of the eight seasons before his arrival.
Mullen spent nine years in Starkville, posting a 69-46 record that included a 33-39 mark in SEC play. He is second on the school's all-time coaching win list behind Jackie Sherrill.
Mullen is best known for developing quarterbacks. He played a substantial role in the college careers of Alex Smith (Utah), Chris Leak (Florida), Tebow (Florida), Dak Prescott (Mississippi State) and current Mississippi State starter Nick Fitzgerald.
Florida also is counting on Mullen to rebuild a program that regressed in many areas under McElwain.
"Coach Mullen will do a tremendous job in developing accountability and toughness through a well-coordinated strength and conditioning program," Stricklin said. "Dan will work closely with the coaching staff, academic advising staff and administrative team to give every student athlete he coaches the opportunity to grow and excel at a high level athletically, academically and socially."
Mullen's best season was 2014, when the Prescott-led Bulldogs were the No. 1 team in the country for five straight weeks before losing to Alabama. Mississippi State also was the No. 1 team in the inaugural College Football Playoff rankings.
Mullen inherits a Florida team that lacks a capable quarterback and has its worst scoring defense since 1946.
Suspensions and injuries were partly to blame. But poor recruiting and a failure to develop youngsters — quarterback Feleipe Franks being a prime example — also played a role in the team going from two-time Eastern Division champion to missing a bowl game for the second time in 27 years.
Still, Florida (4-7) was one of the more attractive jobs in college football.
The Gators have a fervent fan base, one of the nation's top operating budgets ($125 million in 2017-18) and more than $100 million in facility upgrades planned. Throw in being surrounded by some of the top recruiting strongholds in the country, and Florida seems poised for a quick fix.
"Obviously, with his success at Mississippi State and plus his time here with Urban Meyer and the championships that they had here, he is well prepare to get us back into one of the top-10 programs in the country and competing for SEC championships," former Gators coach and current ambassador Steve Spurrier said in a video message. "Dan, we're happy to have you back at the University of Florida."