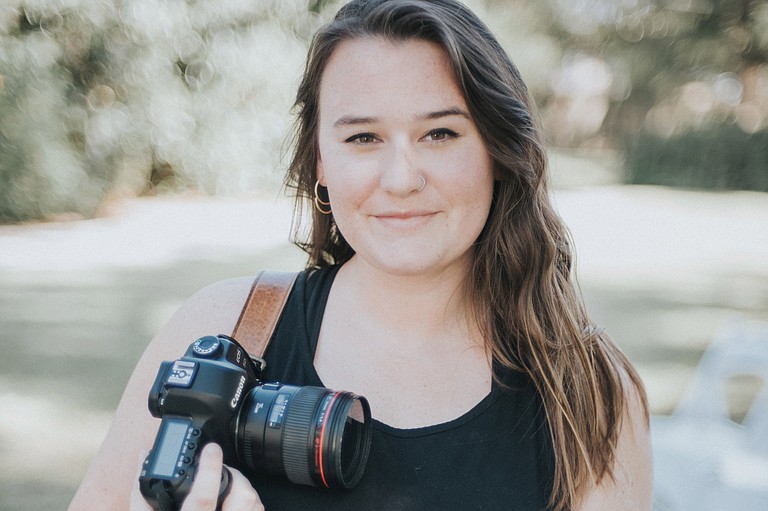 Wednesday, November 15, 2017
Photographer Sara Gatlin's fascination with being behind a camera began with her in front of one. Her father, Cliff Gatlin, was an amateur photographer and would often take pictures of Sara and her sister, Nicki Gatlin, when they were kids. Before long, Sara became interested in taking photos for herself.
"I used to play with his cameras, and he got me just the bottom-of-the-line point-and-shoot when I was younger," the Clinton native says. "Every Christmas, it just kind of morphed into a better camera until I got (a digital single-lens reflex camera). I started doing fine-art stuff. I just posted it on Facebook, so it wasn't anything."
That ended up being her first step toward a career in professional photography. After graduating from Madison Central High School in 2010, Gatlin attended Holmes Community College. While there, a classmate asked her to take headshots, and after that, more and more requests poured into her Facebook. She created a business page for her photography just to keep her personal account separate. Sara Gatlin Photo has been growing ever since.
After two years at Holmes, Gatlin says that she took a year off to consider her major before moving to a four-year university.
"By the time I got to college, my business was thriving, especially after my years at home," she says. "I just didn't feel like I could pay money to have someone teach me what I had already learned. I decided to take graphic design because it kind of goes hand-in-hand, as far as being a creative."
She graduated with a bachelor's degree in graphic design from Mississippi College in May 2016, which she began putting to work over the past three months as a graphic designer for Fresh Ink.
"It's been the best job," she says. "Everyone there is so nice and fun, and we like to have fun, so it's great. I work there part-time and do my photography part-time."
Gatlin, 25, says that when she first began her business at 18, it was a learning process—one that involved lots of Google searches. She would research lenses, portraiture techniques and other topics, developing skills in multiple areas. Today, she focuses mainly on wedding and lifestyle photography, and senior portraits. She says that the latter is her favorite because she enjoys interacting with the clients.
When not working, Gatlin says she enjoys spending time with her boyfriend, Zander Williamson, who is the manager of The Apothecary, entertaining friends at their home in Fondren, kayaking and playing with the rescue dogs that her mother cares for in Madison.