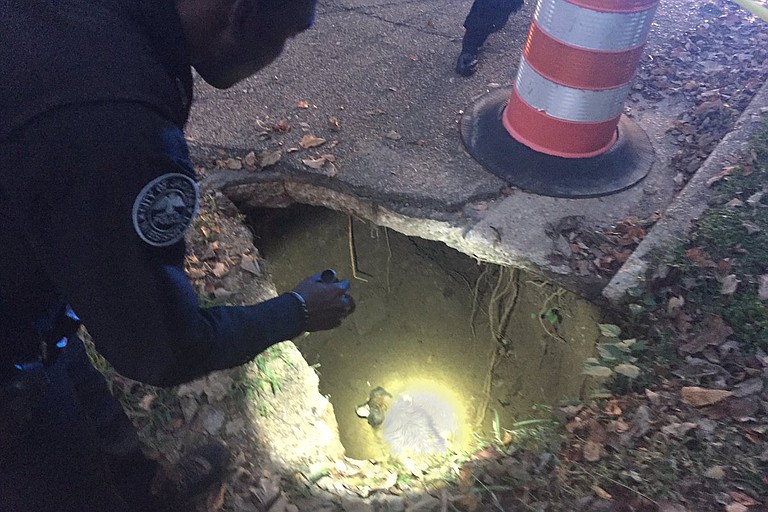 Wednesday, November 15, 2017
A dog fell into a sinkhole this weekend, and that could have just as easily been a child. Apparently, that sinkhole had been uncovered for months, leaving us to wonder what the City is doing immediately about infrastructure problems that present an immediate danger to the citizens (and pets) of Jackson. Sure, there's a pressing, and evident, demand for smoother roads, but beyond that sinkholes threaten Jacksonians' safety.
In an interview with newly elected Public Works Director Bob Miller, we learned about the city's plans to fix potholes on the streets leading up to the Mississippi Civil Rights Museum and Museum of Mississippi History before they open in December. Miller detailed long-term plans based on his past successes in Louisville, Ky., and New Orleans. At press time, Miller could not be reached for comment about the plan for deep, uncovered sinkholes.
Outside of smoothing streets around the museum and discussing a possible new pothole technology at least twice this year, it's not immediately clear to us if this administration is working expeditiously to rectify infrastructure so dilapidated that a dog fell into it and couldn't get out alone. What is the emergency plan?
Just yesterday at a press event where Secretary of State Delbert Hosemann's office presented Hinds County, City of Jackson and state public officials a check for tax sales on local property , Mayor Chokwe Antar Lumumba assured everyone when asked about sinkholes and infrastructure that "it's about continued maintenance but it's also about developing a strategy that will see a larger effort towards infrastructure roles that we're seeing across the city."
Lumumba talked more about leveraging funds, as he's done in the past, citing a $2.5-billion infrastructure problem and the reality that we only receive about $13 million annually plus the 1-percent sales tax. He spoke of turning our "crumbling infrastructure into an economic frontier," but fell short of outlining an immediate action plan for repairing and blocking access to dangers like sinkholes. Instead, he turned to his inspiring messaging about putting citizens first, building infrastructure with us in mind to create more jobs and taxpayers to contribute to the system. While that sounds good, we're also eager to see real-time efforts beyond orange cones and yellow tape to keep children safe.
This summer a viral video circulated of a Jackson resident sitting in a sinkhole filled with water as though he were in a hot tub. While Jacksonians have learned to find humor in our endless infrastructure demands, urgency about safe communities and a responsive, proactive Public Works department will go a long way towards helping city residents breathe easier.