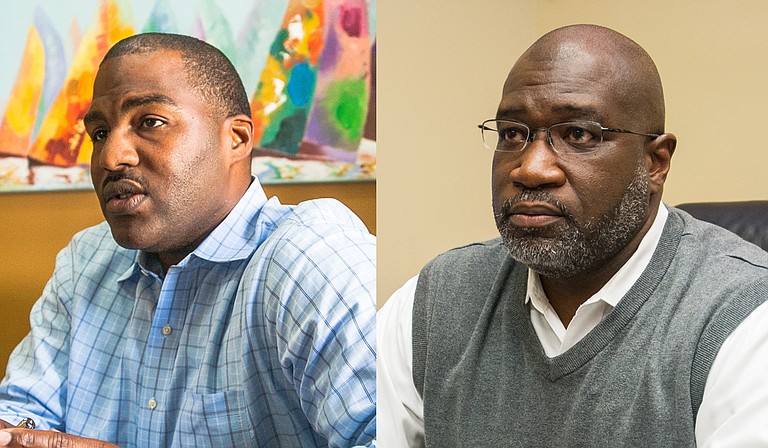 Tuesday, November 7, 2017
JACKSON — Voters will go to the polls today in Hinds County to elect a new county attorney, who serves as the chief prosecutor in youth court and is responsible for prosecuting misdemeanors that occur in the unincorporated areas of Hinds County, such as speeding tickets. The county attorney makes around $55,000 annually for the part-time position.
Three candidates are running in this special election to fill the seat vacated when Sherri Flowers-Billups died of cancer last October. Martin Perkins is the interim county attorney and is on the ballot today, but he could not be reached for an interview ahead of elections.
Gerald Mumford is a Jackson Municipal Court judge hoping to preempt young people from entering the criminal system.
Malcolm Harrison was the Hinds County prosecutor from 1999 until 2009 and currently works at his own law firm specializing in personal injury and criminal law.
The two candidates both have their own law firms and promise to be tough on crime and domestic-violence charges, but they have vastly different thoughts about prosecutorial duties in youth court.
Mumford hopes to become the type of county prosecutor who would seek alternatives for youth through mentorship and developing a pipeline for his assistant prosecutors to be assigned to public schools throughout the county so that they understand law enforcement is there to protect them.
"I believe these young people need to see prosecutors in the classroom before the courtroom. I want to prevent them from coming into the system because we know from experience that if they get in the system they get gobbled up," he said in his interview.
Harrison has different views. He told the Jackson Free Press that youth-court prosecutors' first line of duty is to get an adjudication, and while he can make recommendations in terms of sentencing and diversion programs, he wants to send a message to juveniles that the prosecutor's office is prepared to bring necessary charges against them.
"Our job is to prosecute individuals," Harrison told the Jackson Free Press. "And we understand that, and that's what the people hire us to do. If your home was broken into by a juvenile, you don't want that juvenile just to get off."
Harrison believes his 10 years in the county prosecutor's office make him the most qualified candidate because he could "without any hesitation pick up a file and start on Nov. 8," he said.
Mumford argues that it is time to freshen up the office.
"I would borrow a quote from the current mayor by saying we have to decide what the next 20 years are going to look like in Hinds County," Mumford said. "We can't be focused on who was elected 20 years ago."
"We don't just have to have someone in office who is just sitting in a seat and just doing the regular mundane job. We have to reach higher for what we want from our public officials."
Mumford encourages people to go to the polls so that their voices can be heard.
"Exercise your constitutional vote to go vote," Mumford told the Jackson Free Press on Election Day. "If you don't vote, you don't count."
Polls are open countywide today until 7 p.m.
Email city reporter Ko Bragg at [email protected].