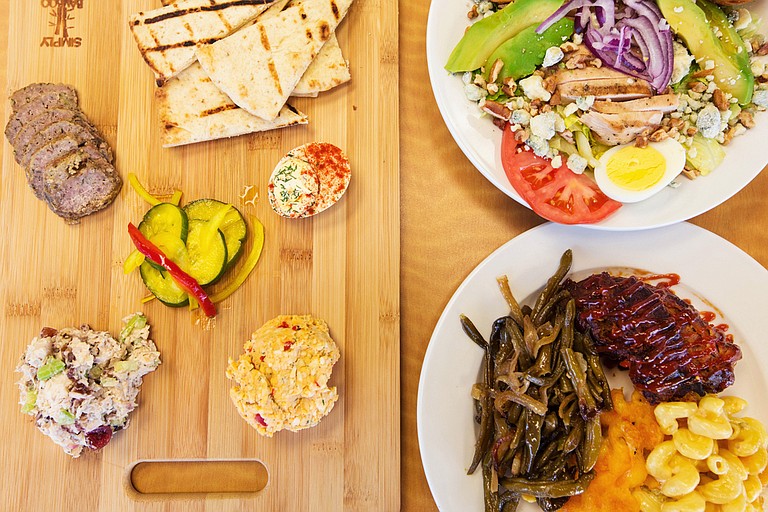 Wednesday, March 22, 2017
When brainstorming names for her new restaurant, Candice Brewster kept coming back to one word: taste. Her reasoning was that if the food doesn't taste good, nothing else matters.
The Flowood native, who is owner and head chef, opened Taste Bistro & Desserts in late October 2016, but this is not her first culinary venture. At 21, she opened Lit'l Gourmet, a catering business, in downtown Jackson. She later opened Candy's Confections, which specialized in desserts and imported candies. After taking a decade-long break from the industry, the time felt right to create what she calls a hybrid of the two.
"Ten years was just long enough to start missing it. It's like having a child: You forget the long hours and all that comes along with it. No matter how long the hours or hard days, it's so worth it because our customers are so amazing," she says.
Her vision for Taste Bistro was to offer a menu that has something for everyone, and that she herself would find appealing.
"A huge pet peeve of mine is when I go to a restaurant, and I open the menu, and there is really nothing that jumps out at me," she says. "Either there's nothing I'm in the mood for, or there's really nothing that I would order. There should be something for everyone, so we do a lot of different things here."
On any given day, patrons can observe Brewster moving between the dining area and the kitchen, greeting most people by name as they enter the restaurant. One recent Friday, she was explaining to diners that the Neapolitan sherbet cake, with strawberry, orange and lime layers inside a clear case was made with all natural ingredients—and no food coloring.
One way she achieves her desired menu diversity is through Taste Bistro's weekly plate lunch specials, which include shrimp and grits, pork tenderloin and caramelized-bacon meatloaf. While the specials change weekly, the restaurant has staples such as chicken and pasta salads, along with sides, and homemade desserts that Kim Niskala, Brewster's baby sister, makes in-house. Niskala's carrot cake won the best dessert award at the Mississippi Burn Foundation's Fire and Ice benefit last year.
Brewster says all the dishes and dessert have one thing in common: "Every single thing we make here, whether it's a chicken salad or a special dish, is completely from scratch. If we make something with a chicken stock, we make the chicken stock."
Taste Bistro & Desserts (5419 Highway 25, Suite L, Flowood, 769-235-6232) is open Monday through Friday from 10:30 a.m. to 6 p.m. and Sunday from 10:30 a.m. to 2:30 p.m. For more information, visit tastebistroanddesserts.com.