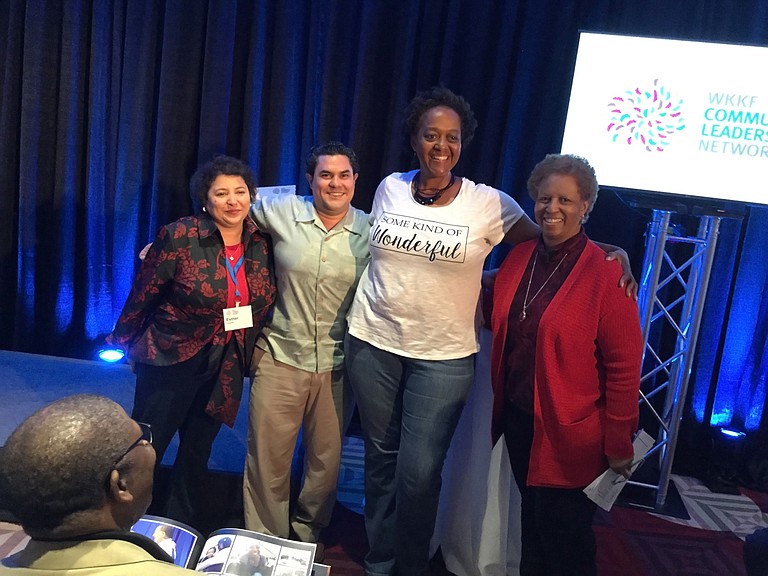 TUPELO, Miss. (AP) — Chewing-gum magnate William Wrigley Jr. supposedly once said, "When two men in business agree on everything, one of them is unnecessary."
By Wrigley's logic, if you get a roomful of people together and they all agree, all of them but one are unnecessary.
That won't be a problem for Shelia Nabors and Tony Caldwell, since they're partners in a project built around intentionally putting people together who are sure to disagree on some things — especially the issue of race.
"It's a pilot program," Nabors said.
"Yeah, we're the guinea pigs," Tony Caldwell added with a laugh.
Nabors and Caldwell are both advocates for racial reconciliation in North Mississippi. Nabors is a social worker in Tupelo who says her work around race issues is "a way to give back some love to Tupelo."
Caldwell teaches social work at the Ole Miss campus in Tupelo and has a private counseling practice in Oxford, where he lives. He was one of the organizers of the "Together Tupelo" event last July.
Nabors and Caldwell are co-moderators for a seven-week-long project funded by the Kellogg Foundation. Cereal czar W.K. Kellogg established the foundation in 1930 with $66 million of company money.
The Kellogg Foundation is now the seventh wealthiest philanthropic organization in the country, with assets in excess of $7 billion. Most of the foundation's work is centered in Michigan, Mississippi, New Mexico and New Orleans — areas where, according to the foundation, "the most severe inequities and the highest barriers to success are faced by children."
According to the foundation's website, "Children of color experience many disadvantages, but disparities in family income, health care and access to quality education are exacerbated — and potentially extended into subsequent generations — by vast inequities in neighborhood and school environments. When coupled with higher incarceration rates, lower healthy birth outcomes, and higher rates of obesity, asthma, school failure, poverty and disability, the need for . community empowerment and revitalization strategies becomes clear."
The project focuses on three Mississippi communities: Natchez, Jackson, and Tupelo. The goal is to create healthy race-based dialogues that go beyond surface civility. The Kellogg Foundation will use data collected from the project to fine-tune its understanding of race issues, and to improve outcomes for Mississippi's "most vulnerable citizens."
The 'group' is actually two groups — one white, one black — made up of people of all ages and from diverse backgrounds. The two "affinity groups" — one moderated by Nabors, the other by Caldwell — meet four weeks before coming together for the first time for interracial dialogue.
Nabors said that while participants are encouraged to speak freely, the meetings are carefully structured.
"It's a guided, intentional discussion centered around race. What I'm finding so far is the reason why people are not embracing each other is because we've never had a conversation about it," she said.
Caldwell said the meetings are built around questions that delve deep into cultural biases and have a way of exposing latent issues.
"The tone of the meetings has been friendly enough to feel safe, but just tense enough to be authentic and not just 'playing nice,'" he said.
Nabors, a Tupelo-based social worker, said the project "woke" her to the realities of racial inequities, but also reminded her of commonalities. "Our stories are so similar. Pain has no color," she said.
Nabors said the project forced all participants to open themselves up in ways that were often uncomfortable.
"This group was willing to be vulnerable, and we had some tense moments," she said. "No one wants to talk about race. They're afraid someone will get mad, but these deep, intentional conversations are so important."
Nabors said the work has even forced her to recognize some 'blind spots' in her own perceptions.
"There were some judgments I had made, and I'm a trained professional. I had to acknowledge that I had some implicit biases. They just come up," she said.
Both Nabors and Caldwell acknowledge the limits of the group's work.
"One of the ground rules is, you don't fix it; you just put it out there and listen to understand," Nabors said.
Both agreed the real test will be what happens after the meetings end next week.
"These affinity partners have laughed and cried together and built relationships. We've learned that our stories are so similar. But the real test will come when nobody's watching," she said. "The question is, are you going to stand with me when nobody's watching?"
Nabors and Caldwell said reaching out is key.
"One of the best ways to create change is to connect with people who are different from you. We can't live in an echo chamber where everyone agrees. We have to intentionally forge relationships with people that are different. It feels awkward at first, but it becomes organic so quickly," Caldwell said.
Nabors agreed.
"You have to do something. You can't just talk about it. It's just one connection at a time."