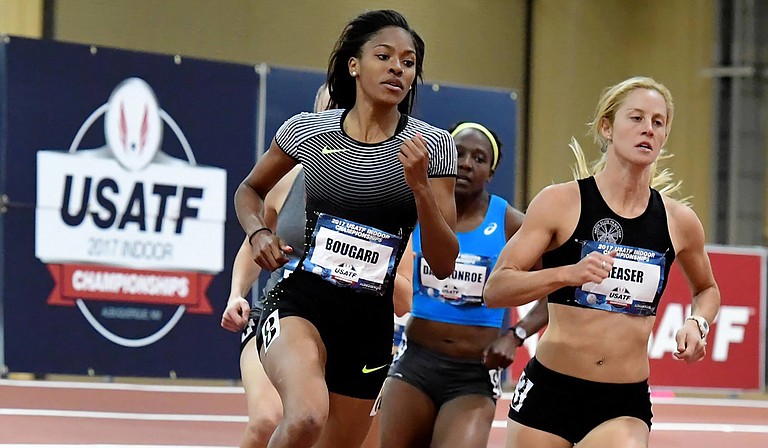 ALBUQUERQUE, N.M. (AP) — Erica Bougard won the pentathlon Friday at USA Track & Field Indoor Championships, taking advantage of defending champion Barbara Nwaba's knee injury that forced her to withdraw after the third event.
Bougard won three of the five events and finished with 4,558 points for her first indoor national championship. Four-time winner Sharon Day-Monroe was second, 154 points back.
"Today has been a great day for me overall," Bougard said. "I've been feeling good all day. I came in and I was confident."
Although Nwaba's injury somewhat tarnished the victory, beating Day-Monroe was noteworthy, Bougard said.
"I've been competing with her for so long and I've always been third place, fourth, fifth, all the time," she said. "This year, I really wanted it. I wanted to make a change. The results showed that I've actually been working to be the best."
Having the time to focus on track after graduating from Mississippi State helped significantly.
"I had to focus on going to school," Bougard said. "Going to class and all of that. This year was my first year out. The only thing I had to focus on was track and taking care of my body. I think that helped a lot.'
For Day-Monroe, the results were not what she hoped to see.
"I always like to go for the win in every competition I do," she said. "This is not exactly where I want to be but this was only my third event of the year, first pentathlon. So, I'm working things out, trying to tune up for outdoor."
With three events remaining Saturday in the men's heptathlon, Japheth Cato had a 40-point lead over Austin Bahner, with Thomas Hopkins 90 points off the pace.
"With (defending champion) Curtis Beach dropping out, it's opened up the field," Cato said. "It really has. The top five is really anybody's game right now. It's nice."