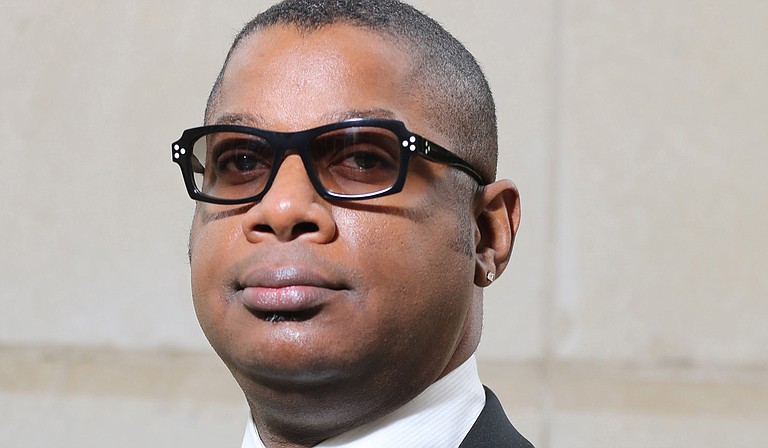 Kenyatta Stewart, who is a curator at the Smith Robertson Museum & Cultural Center and a graphic-design professor at Jackson State University, says that he discovered his love for art as a child growing up in West Point, Miss. He and his older brother enjoyed watching cartoons, and would draw the characters and superheroes. His parents began to notice and decided to nurture their talents with private art lessons from artist Diane Poe.
"I believe I was 11 years old when our lessons stopped, but I never lost the love," Stewart says.
He attended Morehouse College in Atlanta in the early '90s but transferred to Jackson State due to financial issues. He received is bachelor's degree in graphic design from JSU in 1997. He then earned one master's degree for graphic design 2002 and another for motion graphics in 2005, both from Savannah College of Art and Design.
While in Georgia for graduate school, he worked at an advertising agency as a producer. After receiving his second degree, Stewart accepted a job at an advertising agency here in Jackson, which is what brought him back to the state. He became a graphic designer for the Smith Robertson Museum in 2008 and later took on the role of museum curator.
The museum's latest exhibit, "Sit-in for Change: Woolworth, 1963," is a new permanent attraction at Smith Robertson. Stewart says that he was inspired to create the exhibit after researching the Woolworth's sit-in in 1963, during which Tougaloo College professor John Salter and three black students, Anne Moody, Pearlena Lewis and Memphis Norman, sat at the "Whites Only" counter at the Woolworth's in Jackson.
After employees refused to serve them, they stayed in place at the counter for hours. Crowds of angry onlookers and policemen gathered outside. White protestors tried to pull the demonstrators from the counter, striking both Norman and Salter, and police did little to keep the peace. Eventually, the manager closed the store down, but the sit-in was a catalyst that inspired many more people to take part in Jackson's fight for civil rights.
"The exhibit provides a sense of realism that engages the viewer by appealing them to on the aesthetics," he says. "Not only is this exhibit meant to educate the viewer, but also take them back in time."
He says that the exhibit has a lot of original artifacts and signage such as a portion of the counter, stools, plates and silverware.
"Sit-in for Change: Woolworth, 1963" is at the Smith Robertson Museum & Cultural Center (528 Bloom St., 601-960-1457). The museum is open Monday through Friday from 9 a.m. to 5 p.m., and Saturday from 10 a.m. to 1 p.m. For more information, visit jacksonms.gov.