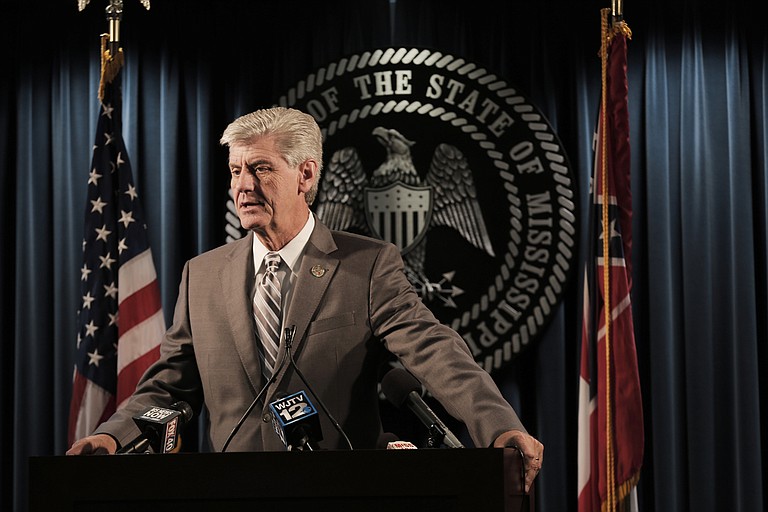 PHILADELPHIA, Miss. (AP) — Republican Gov. Phil Bryant said Thursday that employees at the Nissan Motor Co. plant in Mississippi should reject unionization because he believes labor unions have hurt the automotive industry in Detroit and other places.
Workers at the manufacturing plant in Canton will vote Aug. 3 and 4 on whether to affiliate with the United Auto Workers. The union is trying to win its first vote at an entire plant in the South.
Bryant spoke to several hundred people Thursday at the Neshoba County Fair, an annual event known as "Mississippi's Giant Houseparty." He said the Nissan plant in Canton, which opened 14 years ago, is making some of the most advanced vehicles in the world.
"I don't think we need a union to come in there and tell us how to make a better automobile," Bryant said to applause from the audience "They can get back on the Bernie Sanders bus and go back to New York, and I'll pay their way."
Sanders, a Vermont senator, unsuccessfully sought the Democratic presidential nomination in 2016. He traveled to Mississippi in March to speak at a pro-union rally near the Nissan plant, saying union membership could bring workers better pay and benefits.
Bryant also responded to remarks made Wednesday at the fair by Mississippi Attorney General Jim Hood, the only Democrat in statewide office. Hood said Republicans have hurt the state budget by "giving away money to large corporations" through tax breaks and development incentives.
Bryant said incentives have helped attract and retain manufacturers such as Ingalls Shipbuilding in Pascagoula, Nissan and Toyota Motor Manufacturing, which has a plant near Blue Springs in northern Mississippi.
"Those people that are working there, those wonderful Mississippians, are able to live the American dream," Bryant said.
The governor is limited to two terms and said that during his remaining 2 1/2 years in office, he wants Mississippi to improve early education offerings in child care centers and to expand public school choice. He said details are not yet set.
House Speaker Philip Gunn spoke in broad terms Thursday about how he and other Republicans have tried to rein in spending and reduce the size of state government. He said government should protect private property rights, and people should resist Socialism.
"Government policy should encourage self-sufficiency and promote a strong work ethic among its citizens," Gunn said. "And, public funds should not be used to support people who are capable but are simply unwilling to work."
The Neshoba County Fair is an annual gathering in the red clay hills of east central Mississippi. Hundreds of extended families live in brightly painted cabins for more than a week in the heat of summer. In addition to country concerts and politicians' speeches, the fair has a small midway, horse racing on a dirt track and agricultural shows, including a pretty cow contest.