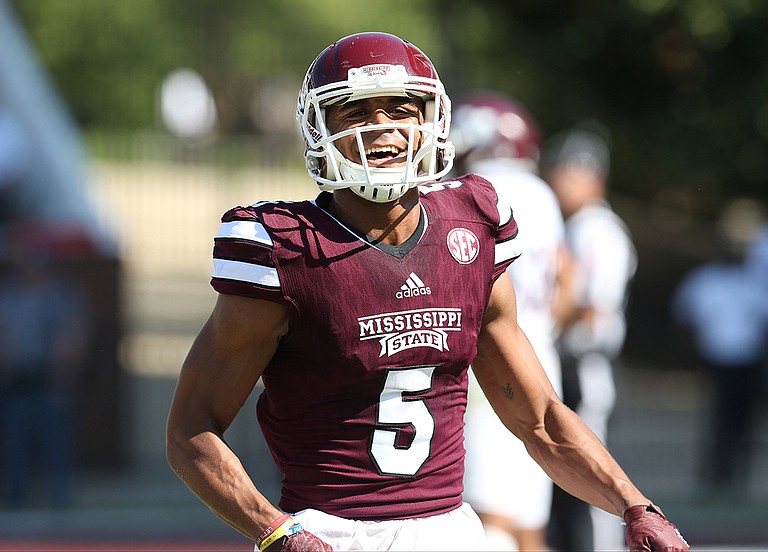 Lists are a major part of college football as teams get ready to hit the practice field. Watch lists for all the major awards in the sport let fans learn about the top players at nearly every position.
There are lists for potential winners of the Heisman Trophy, which goes to outstanding college-football players, and the Ray Guy Award, which goes to the best punter. However, there is another list that doesn't get the same media attention as the others.
The Wuerffel Trophy goes to college football's top community servant. This award acknowledges those players who give back to their communities in addition to their academic and athletic achievements.
Mississippi State University wide receiver Gabe Myles is one athlete on the watch list for the Wuerffel Trophy. The Starkville, Miss., native played offense as a quarterback and defense as a defensive back at Starkville High School. ESPN.com, Scout.com, Rivals.com and other sites rated him as a three-star prospect.
He redshirted his first year with the Bulldogs in 2013 and played in all 13 games that year with three starts. He made 22 catches for 178 yards and four rushes for 35 yards, and completed one pass for 11 yards.
The receiver continued his do-everything role on offense in his sophomore season in 2014. He saw action in only 10 games with no starts but scored two receiving touchdowns and a rushing touchdown.
Last season, he made four starts and played in all 13 games. He made just eight catches for 63 yards during the season. The 2017 season will be his final run with the Bulldogs.
In his college career to this point, Myles has made 42 catches for 416 yards with two receiving touchdowns and one rushing touchdown. He has played in 36 games with seven starts and has been a major part of MSU's special teams.
Myles is a three-time member of the SEC Academic Honor Roll and is majoring in kinesiology. People also know him for his community service in his limited time off the field between class and football activities. Read Across America is just one of the programs that Myles has donated his time to. He is also a member of Phi Beta Sigma, a social, service and professional fraternity.
The Wuerffel Trophy committee isn't the only organization to notice his community service, either. The Bulldog has also been nominated to the 2017 Allstate American Football Coaches Association Good Works Team.
University of Mississippi offensive tackle Javon Patterson and Mississippi College defensive back Chris Manning are on the Good Works Team, as well. Patterson has given his time to Reading with the Rebels, the Marks Project, Caps for Kids and other various community-service programs in Mississippi and across the country. Manning is the only player from the Gulf South Conference to make the Good Works Team. He helped raise $17,000 for the Make-A-Wish foundation and volunteered at Blair E. Batson Children's Hospital, among other community-service projects.
Semifinalists for the Wuerffel Trophy will be announced on Nov. 2, and the finalist will be named on Nov. 22. The player will receive the award on Dec. 5. Winners of the Allstate AFCA Good Hands Team will be announced in September. Fans can vote for the AFCA Good Works Team Captain on ESPN.com.