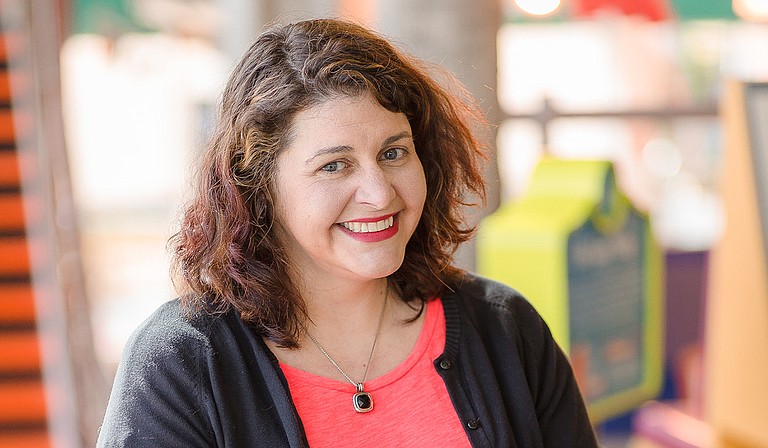 During the Christmas holidays in 2012, then-teacher Patti Reiss met the Mississippi Children's Museum Chief Executive Officer and President Susan Garrard at Mistletoe Marketplace. Having previously taken her third-grade class on a field trip to the museum, Reiss says she had already started to think that it was a place she could see herself working at in the future.
"(Susan) told me to send her my resume ... that night, and that's exactly what I did," Reiss says. "I got an interview scheduled and then came on in."
After teaching for nine years in Forest Municipal School District, Jackson Public Schools and St. Anthony Catholic School in Madison, the Jackson native began her time at the Mississippi Children's Museum in December 2012 as a part-time visitor assistant.
"(I would) engage with guests who are experiencing elements of our exhibits," Reiss says. "We're the ones reading the stories, weighing the catfish and building the sandcastles. I did that because that's what was open at the time, and within a few weeks, a full-time position came up."
After looking over the qualifications for the open position of the front-desk coordinator position, Reiss says she told her boss, "I can do everything on this job description but one thing, and I am willing to learn that one (the company's financial software)."
As the new front-desk coordinator, Reiss greeted guests, managed membership files and answered questions that the museum guests had. Though she didn't know how to run the company financial software at first, she picked up on it quickly.
Reiss became the museum's assistant director of programs in 2015. "I had conquered a lot of stuff up here (as the front desk coordinator)," she says. "I had solved issues that any new business would have, let alone us who have a multiple million-dollar budget and see over 300,000 people a year. And if I wanted to get back into the education side, this was that chance."
Along with her other duties, including coordinating with schools for field trips and summer camps, Reiss, 35, says her current major project is working on the Mississippi Science Fest on Sept. 23, which the museum is doing in conjunction with the Mississippi Museum of Natural Science, the Mississippi Agriculture and Forestry Museum, and the Mississippi Sports Hall of Fame & Museum.
"It makes me happy that we're fostering that here in the city of Jackson," she says, "because we've never done a large-scale four-museum project like this before."