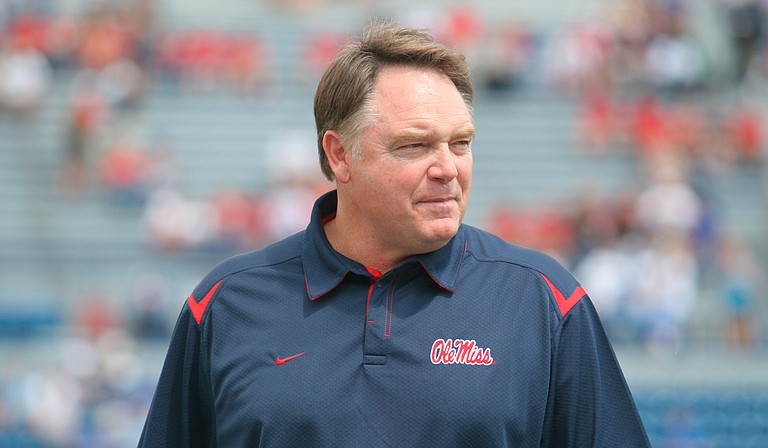 HOOVER, Ala. (AP) — Former Mississippi coach Houston Nutt has filed a civil lawsuit against the university and its athletics foundation, alleging a breach of his severance agreement because of false statements he says school officials made during an ongoing NCAA investigation.
The lawsuit seeking compensatory and punitive damages for lost wages, emotional distress, embarrassment and attorney's fees was filed Wednesday in federal court in Mississippi. It alleges that coach Hugh Freeze and other school officials created a "false narrative" in an effort to place primary blame on Nutt for the NCAA investigation instead of Freeze.
Nutt was the Ole Miss football coach from 2008 to '11. Freeze has led the Rebels the past five seasons.
Ole Miss has been under investigation by the NCAA for nearly five years. The Rebels — including Freeze — are scheduled to speak at SEC media days on Thursday.
Ole Miss released a statement from general counsel Lee Tyner that said the school has not yet been served with the lawsuit.
"We are aware it has been filed," Tyner said. "We were provided a copy a short time ago. We will carefully review Coach Nutt's claims and respond in due course."
Nutt's lawyer, Walter Morrison, said he didn't want to "try the case in the media."
The lawsuit alleges that Freeze, athletic director Ross Bjork and others were "determined to deflect and delay the potential damage" from the NCAA investigation while the program was trying to maintain momentum and recruit at a high level.
Ole Miss received a Notice of Allegations from the NCAA in 2016 that alleged 13 rules violations, including nine that happened during Freeze's tenure. The school received another NOA in 2017 that added eight more violations, bringing the total to 21, including 17 that happened under Freeze.