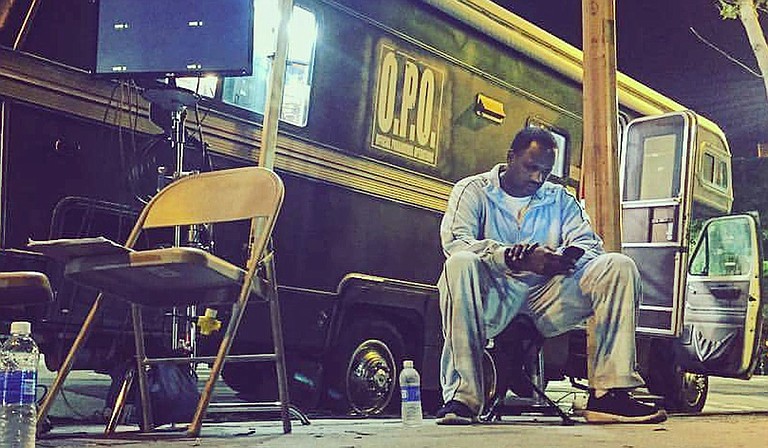 For Defecio Stoglin, ghost hunting began as a way to get his mind off things.
His first experience exploring the world of paranormal was in 2014 in Port Gibson with the Vicksburg-based group Lost History Paranormal. After about 30 minutes of the lead investigator explaining the history of the haunted house they were at, Stoglin says he thought to himself, "Damn, this is pretty dope."
"I fell in love with it from there," he told the Jackson Free Press. "I would literally just go to the library and get books on ghost hunting and just read. Then I would go to my neighbor's house and ask, 'Can I do some ghost hunting in your garage?' They'd look at me strange, but would usually say, 'Yeah.'"
Through all this, he kept up his relationship with Lost History Paranormal.
"They took me under their wing and allowed me to see how they do it," he said. "I got the chance to see how things like mediums and EVPs (electronic voice phenomena) work."
He says an EVP "is when you go into a room, and you use an electronic recorder to ask questions. You space them out 10 to 15 seconds apart so you can give the spirit enough time to respond. You can't hear it with your ears," he continued, "but with this you can pinpoint voices, and sometimes you can hear words like 'help,' 'red,' and sometimes you can hear names."
Later in 2014, Stoglin decided to move back to Los Angeles, and his native state of California. While in L.A., he began to assemble a team to continue his ghost-hunting adventures. He met his technical guy, Dave Purdy, at Stu-Con, a paranormal convention in L.A., who got onboard right away. Later, Purdy introduced Stoglin to Jasmine Oprilla, who would eventually become the team's medium.
"She didn't just jump on the idea," Stoglin said. "She doesn't do it just for the glitz and glamour, but she liked us so much that she made an exception."
One day while eating at Roscoe's Chicken and Waffle in downtown L.A., "Duck Dynasty" creators Todd Lurbin and Michael O'Dair overheard Stoglin discussing ghost hunting, and the duo struck up a conversation with him. The discussion ended up lasting around four and a half hours, culminating with Stoglin and the producers exchanging information. He kept in touch with them for months discussing a ghost-hunting project, and eventually Lurbin and O'Dair said, "Let's try this for TV."
But the process of getting the show green-lit was easier said than done.
"We went from network to network, and every year it was the same thing: 'We changed our mind,'" Stoglin said. "I was bouncing around from job to job, broke, fired; it was crazy."
Eventually, WE TV picked up the show.
The studio pitched him multiple names for the program, but Stoglin was dead-set on "Ghost in the Hood."
"That needs to be the name of the show," he said. "I literally go in the hood, and I hunt ghosts."
But unlike most shows in that vein, "Ghost in the Hood" takes some interesting and unexpected twists.
"In some of the neighborhoods we go into, we're not just dealing with spiritual activity," Stoglin said. "We're also dealing with gangsters."
"We ran into some of the Crips in the Compton area, and one of us had the wrong color on; we had to switch it out really quick," Stoglin said. "They were pretty cool about it, though."
Stoglin says he wants to break down stereotypes, and what's typically seen in a ghost hunting show, both with where they venture and how the crew looks.
"I want people to see a multicultural ghost-hunting group," he said, "and one that goes in the hood, that's just so different. And it's so funny," he said. "I just didn't realize it was funny at the time because that's what I actually did, and going in the hood just isn't something other ghost hunters are doing."
He also says that the circumstances, and the group itself, inject humor into the show. One of these comedic elements is Stoglin's cousin, Matt Richards, a stand-up comic at the New York Comedy Club in Manhattan.
"I wanted for us to just be ourselves," Stoglin says. "That's why I thought adding Matt to the group was a good idea. The monotony of ghost hunting can be very draining and very boring at times, and he just adds that humor element to it."
Stoglin certainly did not expect that his hobby would lead him to star in his own ghost-hunting reality show.
"The only thing I wanted was for this to be a hobby, to be known for it, have a Facebook page, maybe get a write-up in a paper, but I had no idea it'd turn into a national television show," he said.
But there's one thing Stoglin isn't forgetting any time soon: where all this started.
"We want to take this thing on the road," Stoglin said, "and I plan on brining the second season here to Mississippi."
"Ghost in the Hood" airs each Thursday on WE tv.