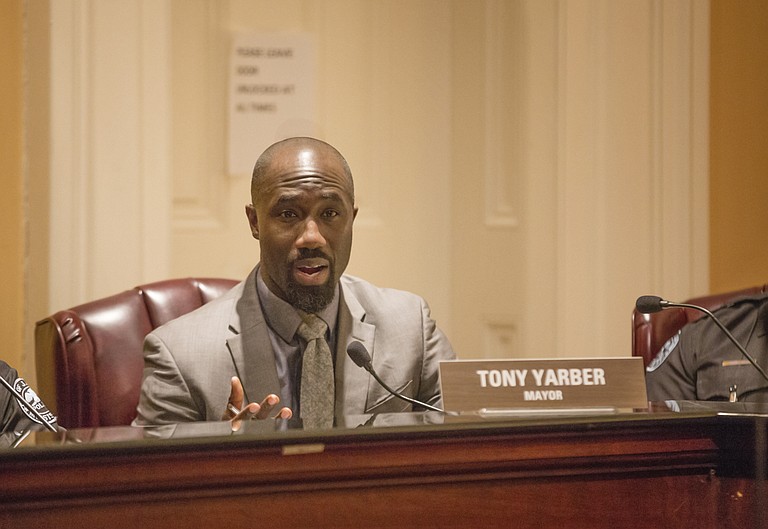 Friday, February 24, 2017
JACKSON — The City of Jackson wants to borrow $90 million for infrastructure repair. Mayor Tony Yarber told the city council at its meeting Tuesday night that the plan is to borrow against future 1-percent sales-tax revenues.
The funds would come through the Mississippi Development Bank, an independent organization that issues bonds statewide with proceeds going to local governments. The city council would need to approve the loan before the bank board meets on March 8 so that appropriate documentation would be ready for the MDB's consideration.
Yarber clarified at the meeting that the City itself controls how it spends money from the sales tax, not the 1-percent sales-tax commission. "The purpose of this particular transaction is to give the City an opportunity to do what everybody's been asking and that's to leverage the 1-percent sales-tax money to maximize the opportunity to see more work done at a faster rate. That does not have to go through the commission," he said.
"Whether this works or not, I think we're moving in the right direction," Ward 3 Councilman Kenneth Stokes said. "Ninety million dollars is not going to be the cure-all for our street situation, but it's gonna put a hell of a dent in these bad streets."
Ward 5 Councilman Charles Tillman showed concern about fundraising for future projects. "After this $90 million, what would be the next step in leveraging money to keep the projects moving?" Tillman asked.
Ward 2 Councilman Melvin Priester Jr. expressed his support for the loan on his Facebook page. In a long post, he wrote, "At the end of the day, this deal makes a lot of sense for the City. We need to finance a few big-ticket purchases. The interest rate is top-notch. I like the fact that JP Morgan will be providing oversight on the spending when we make requests to use this line of credit."
Email story tips to [email protected] and follow @jxnfreepress on Twitter for breaking city and state news.