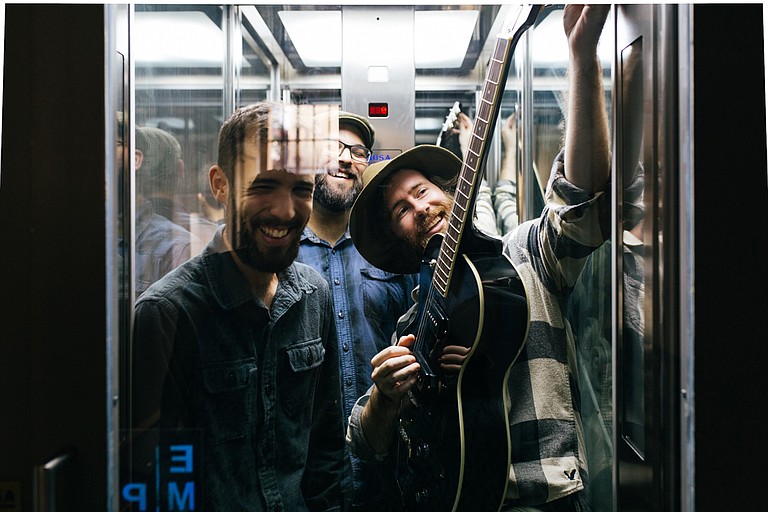 Thursday, February 9, 2017
When New Orleans-born, Mississippi-raised singer-songwriter Josh Brister watched the documentary series "Making a Murderer" about a year and a half ago, it affected his life a bit more than the average viewer.
"It was the first time where I got like super angry," he says of the show. "I'm a really laidback person; it was the first time where something socially really impacted me."
Brister says the show inspired to create his current music project, Burt Byler & the Bearded Souls, as a way to write about the injustices facing the world. He started researching corruption in other social and political areas, and writing songs to deal with his feelings on what he found. This also had an effect on the sound of Brister's music, which he says transitioned from folk to Americana.
"I had been doing a lot of laidback, fun, kind of Mississippi folk music—like real carefree and just singing songs about the South and whatnot," he says. "It's got some edge to it, but it's still got that singer-songwriter from Mississippi kind of vibe to it. I can't get away from that. ... I just feel like there's a lot more responsibility to it. For the other stuff, it was just no pressure. I didn't really think it was that important either."
One thing that sets Burt Byler and the Bearded Souls apart is that the band consists of multiple musicians from multiple continents, as Brister splits his time between Mississippi and Madrid, Spain, where he currently lives. For the band's Mississippi iteration, Brister performs alongside bassist Ty Garvey, guitarist Brennan Michael White and drummer Anna Raye, and while in Spain, the band consists of bassist Pablo Delgado, drummer Jonatan Temprano and guitarist Moses Rubin. Of course, navigating and booking stateside shows can be difficult with the distance, Brister says.
"It's just so hard because these pub bookers get so many emails every day," he says. "It's all about luck and getting the timing right."
Still, he says that he enjoys the complexities of the business side of Burt Byler & the Bearded Souls, as well.
"For me, which is going to sound weird, all of the administrative and management stuff, booking shows, press releases, stuff like that I love," he says. "I freak out about it, and I spend way too much time on that spectrum of it."
The band is currently performing to promote its latest release, the "Castle of Corruption" EP, which comes out Friday, Feb. 10. Though the sound has changed from Brister's previous style, it certainly hasn't settled, he says.
"I'd like to get more (full band) and more rock in, and stuff like that," he says. "But I think this CD was like a transition for me to go in that direction. The next CD, I want it to be like real rock and real bluesy and real dirty. I think this is a step in the direction of where I want to go, but I think you can still hear a lot of singer-songwriter acoustic kind of stuff in it, too."
Burt Byler & the Bearded Souls' "Castle of Corruption" EP release show is at 6 p.m., Friday, Feb. 10, at Hal & Mal's (200 Commerce St.). For more information, find the band on Facebook.