Tuesday, February 7, 2017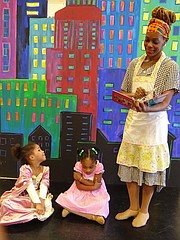 JACKSON — Montage Theatre of Dance Artistic Director Tiffany Jefferson smiles at the small boy turning cartwheels during a rehearsal break for "The Dance of the Princess and the Frog."
"Children bring a spirit that adults can't capture anymore, even if they are great actors and performers," she says. " … And my seasoned dancers—the ones that are in their 40s and plus—bring a seasoned quality to the table that the 20-year-olds don't have yet."
Jefferson says the troupe calls itself "a huge pot of gumbo," and diversity in aspects such as age, ethnicity and walks of life is key for the company.
The production, which goes from Feb. 7 to Feb. 9 on the Hinds Community College Raymond campus and Feb. 12 at Thalia Mara Hall in Jackson, has nearly 50 dancers, 12 band members and 15 singers. The show also hits many celebration notes: Hinds' centennial anniversary, Black History Month and Mardi Gras.
With inspiration from Disney's animated musical "The Princess and the Frog" and "The Frog Prince" story, "The Dance of the Princess and the Frog" also stirs in some contemporary hits, New Orleans classics and a range of dance, including ballet, ballroom, modern, African, Caribbean, acrobatic dance, circus arts, hip-hop, tap and jazz. The production also has an ethnic, age and background mix that reflects community and campus.
Dance styles tap into a host of different tastes as the performers frolic along the narrative thread. Scenes careen from one to the next, from city bustle to backwoods fun. "What really keeps this show from being such a mishmash of craziness is the storyline," Leslie Pitts Johnson, rehearsal director, says.
Montage started in 2003, as Jefferson was pursuing her master's degree at Wichita State University in Kansas. She wanted a dance company that embraced diversity in many different ways. She graduated from WSU with a master's degree in dance education in 2004.
"I love ballet, I love modern. Just deciding in and of itself didn't cut it for me," she says. "Hip-hop's a great art form. And tap dance is simply awesome."
She says one style provides only one perspective. "Stories can come from many, many different perspectives. And if you broaden it up to different genres, then it'll outlive you," Jefferson says.
She has been at Hinds since 2006. "I'm at a great place," she says. "It's very well-received here. The community college is that, by definition. It's for the community."
Montage has grown tremendously, she says, from six or seven students to a company that really could be two. "I can't clone myself just yet," she says.
The mix includes Hinds students, dance veterans and kids from Byram Dance Works Studios. Montage alumni return and contribute, too, such as Cirque du Soleil performer Johnny Burgess.
"It connects with the people," Jefferson says of performances that meet the masses wherever they are on the dance appreciation spectrum. "If you don't like one scene, wait five minutes. You'll like the next. You don't like hip-hop? That's OK. You'll see the ballet; you'll like that."
Montage members have traveled to places such as Carnegie Hall, Lincoln Center, London and Edinburgh.
Member Shannon Price has stuck with Montage since its start at Hinds. "Obviously, I'm never leaving," she says.
Chiquila Pearson, 49, teaches dance at Gary Road Intermediate; Montage means she can keep active as a dancer, too, plus wrap in her youngest, Zuri, 5.
Hinds Community College's Montage Theatre of Dance performs "The Dance of the Princess and the Frog" at 7 p.m. from Feb. 7-9 at Cain-Cochran Hall at Hinds Community College in Raymond (501 E. Main St., Raymond), and 3 p.m. on Feb. 12 at Thalia Mara Hall (255 E. Pascagoula St.) in Jackson. For tickets to the Hinds shows, call 601-857-3266. For tickets to the show at Thalia Mara, visit ticketmaster.com.