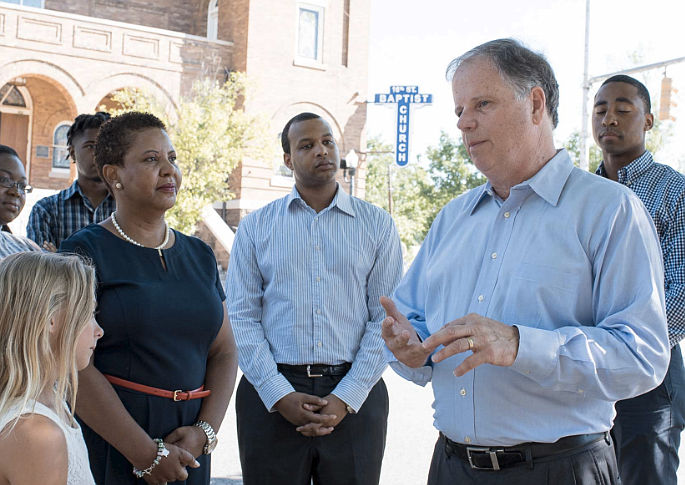 Thursday, December 28, 2017
MONTGOMERY, Ala. (AP) — Democrat Doug Jones' historic victory over Republican Roy Moore was declared official Thursday as Alabama election officials certified him the winner of the special Senate election, despite Moore's last-minute lawsuit claiming voter fraud.
Jones defeated Moore on Dec. 12 by 21,924 votes in a stunning victory in a traditionally red state, becoming the first Alabama Democrat elected to the Senate victory in a quarter-century. The win came after Moore, best known for stands against gay marriage and the public display of the Ten Commandments, was dogged by accusations of sexual misconduct involving teenage girls that occurred decades ago.
Jones said in a statement that he looked forward to going to work for the people of Alabama in the new year.
"As I said on election night, our victory marks a new chapter for our state and the nation," he said. "I will be an independent voice and work to find common ground with my colleagues on both sides of the aisle to get Washington back on track and fight to make our country a better place for all."
Jones will be sworn in on Jan. 3, narrowing the GOP's advantage in the U.S. Senate to 51-49. He takes over the seat previously held by Attorney General Jeff Sessions.
In a brief meeting Thursday at the Alabama Capitol, the governor, attorney general and secretary of state signed paperwork certifying the final ballot numbers. It was a quiet punctuation mark to a tumultuous election marked by the misconduct accusations and Moore's eleventh-hour legal fight.
Moore had refused to concede his loss to Jones and filed a last-ditch lawsuit hours before the certification, saying he believed there were voting irregularities that should be investigated. A judge denied his request to stop the election certification. Alabama Secretary of State John Merrill said his office has so far found no evidence of fraud.
In a brief statement, Moore stood by his claims that the election was fraudulent and said he had to fight Democrats and over $50 million in opposition spending from the Washington establishment. He said he had no regrets.
"I have stood for the truth about God and the Constitution for the people of Alabama," he said.
On election night, Moore had pegged his hopes on votes from military serviceman and provisional ballots. The official numbers certified Thursday showed that Jones slightly expanded his lead over Moore. Jones had a lead of 20,715 in the unofficial returns and was ahead 21,924 in the certified result. In all, more than 1.3 million people voted in the special election, including 22,850 write-in votes.
Jones is a former U.S. attorney best known for prosecuting two Ku Klux Klansmen responsible for Birmingham's infamous 1963 church bombing.
As he launched his campaign, he said he saw an opening for a rare Democratic win against Moore, a polarizing figure in the state. Moore was a twice removed from the position of chief justice of the Alabama Supreme Court. Once was for defying a federal court order to remove a Ten Commandments monument from the state judicial building. And he was permanently suspended last year for urging probate judges to deny marriage licenses to same-sex couples in defiance of federal court rulings.
Moore's campaign was deeply wounded by the sexual misconduct accusations. Moore denied the accusations and said in the lawsuit that he had passed a polygraph test to prove they are false.
Moore's attorney wrote in the wide-ranging complaint that he believed there were irregularities during the election, including that voters may have been brought in from other states. He attached a statement from a poll worker that she had noticed licenses from Georgia and North Carolina as people signed in to vote. The complaint also noted the higher-than-expected turnout in the race, particularly in Jefferson County.
"This is not a Republican or Democrat issue as election integrity should matter to everyone," Moore said in a statement Wednesday.
Rick Hasen, an election law expert and professor at the University of California, Irvine, said Moore's complaint did not raise the sort of issues that lead courts to overturn an election. He said Moore's complaint might just be a way for him to fundraise and throw "red meat to his loyal supporters."
Merrill said Moore has a few options left, such as offering to pay for a recount within 48 hours.
"I can say this. I don't think there is any doubt from the minds of anybody that's in the room that if there was ever a question about whether Alabama conducts honest, fair election safe and secure elections, that question has been eliminated," Merrill said.