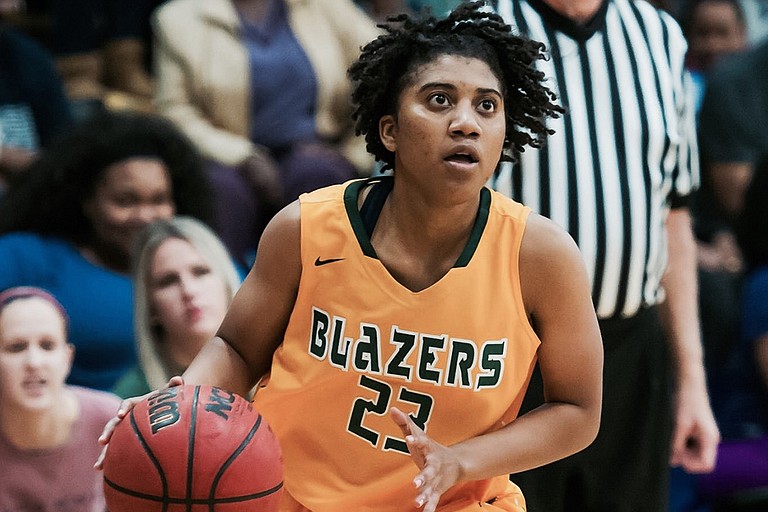 Tuesday, December 26, 2017
During a preseason workout earlier this year, Belhaven University senior guard Ke'Asia Gray landed awkwardly while going up for a layup. When the former Magee High School star landed, she twisted her ankle and delayed the start of her final year on the basketball court.
The guard, who was named to the Preseason American Southwest Conference Watch List this year and was expected to be the leader on the court, is struggling with missing time due to injury.
"I have been playing basketball since I was little, and this is my final year," she says. "I want to be playing so badly."
The 5-foot, 3-inch guard has missed nearly six weeks this season.
"I miss my teammates but missing games (during) my final season might hurt worse," she says.
Last season, Gray saw action in all 25 of the Blazers' games with one start. She averaged 6.7 points per game while playing 17 minutes per contest. She shot 78 percent from the foul line while grabbing 39 rebounds and handing out 21 assists. Her play helped Belhaven finish with a 14-11 overall record and a 9-9 mark in conference play.
Gray says that basketball came naturally to her.
"It was the only thing that kept my mind occupied," she says.
At Magee High School, Gray was named Freshman of the Year, twice to the All-Region team, All-District as a senior and a Mississippi Scholar. She lettered three times while playing for the Trojans.
Before joining the Blazers, the guard saw action at Southwest Mississippi Community College, where she averaged 3.2 points per game, collected 45 rebounds, dished out 37 assists, made 21 steals and one block while appearing in 37 games with 22 starts.
Her decision to attend Belhaven out of junior college was an easy one for the guard.
"I loved the small environment and small classes," Gray says. "That way, I am able to have a better relationship with my teachers."
Gray was named to the ASC All-Academic Team in her first season at Belhaven University.
When Gray isn't playing basketball, the Mississippi native enjoys binge watching TV shows such as "Martin."
She will graduate this spring with a bachelor's degree in business administration. For her career, she wants to go into marketing.