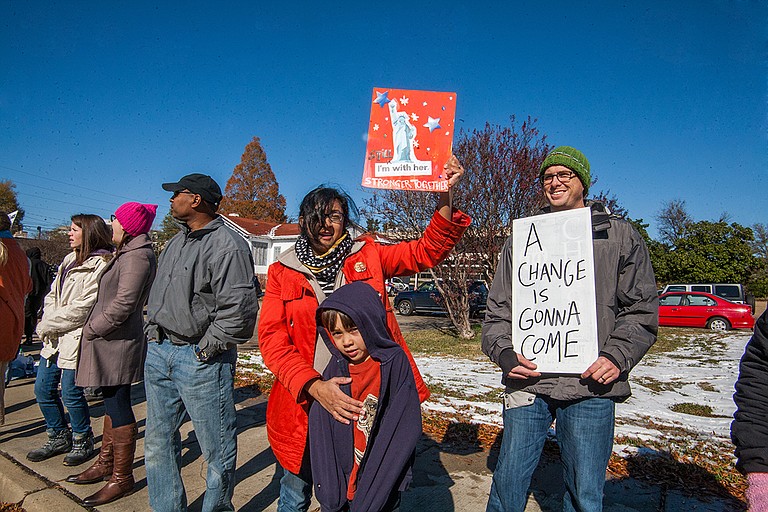 Wednesday, December 13, 2017
Charlie Davis, a 9-year-old from West Point, Miss., read the panel outside an Emmett Till exhibit not long after the doors of the Mississippi Civil Rights Museum opened Saturday, Dec. 9, 2017.
When he got to the details of Till's death, he stopped, looked at his aunt, and said, "What?"
"That little boy right there," Lakenshia Davis said, pointing to Till's photo. "They found his corpse in the river."
Nearby, Charlie's grandmother, Willie Davis, studied a photo taken inside the all-white West Point High School. Post-integration, she taught at the school for 31 years.
When she was in seventh grade, Willie was one of about 20 black students to integrate the old Terry High School. "I went to class, and the first thing that the teacher would do was move my chair away from everybody else's. But one day I went Rosa Parks on her. I was like, 'I'm not moving,'" she said.
Willie spent the rest of that day in the principal's office. But her recollection is a metaphor of opening day of the first state-funded civil-rights museum in the United States—survivors recounting stories, fighters taking principled stands.
Shining a Light
As the outdoor opening ceremony of the state's 2 Museums—the Museum of Mississippi History and the Mississippi Civil Rights Museum—drew to a close about a half hour behind schedule, the band on the big stage in Entergy Plaza played to about a dozen people and 2,500 empty chairs. The museum itself bustled as people with the first tickets streamed through the doors.
Volunteers shepherded visitors through the starburst interior—rooms showcasing different eras of the state's black oppression, spiraling out from a ribbon sculpture called "This Little Light of Mine," in honor of activist Fannie Lou Hamer. (It was the former sharecropper's favorite song even before she became a major figure in Mississippi's civil-rights battle in the 1960s.)
By then, President Donald Trump was back in the air headed to Florida after appearing briefly behind closed doors in the civil-rights museum's small auditorium. He had spoken to a mostly white audience that included Republican leaders, as well as Myrlie Evers, the widow of slain activist Medgar Evers, and a few other civil-rights veterans.
The real excitement happened when the doors of the museums opened to an excited and curious public. Many of the visitors to the civil-rights museum—most of them black—had driven hours, from all corners of Mississippi. And the educating and reminiscing began immediately.
'This Is Our State'
Flonzie Brown-Wright, 75, attended the public opening ceremony, even though she was angry that the governor had invited Trump. Brown-Wright is featured in the new museum. In 1968, when she won the position of Madison County election commissioner, she became the first black woman to hold office in Mississippi since Reconstruction ended black people's short-term ability to run for and serve public office in the state. Brown-Wright views the museum as "a validation of our struggle," she said at the ceremony. "I've been to jail, been tear-gassed, been shot at, had my life threatened, the lives of my children threatened just for the right to vote. ... And some didn't live through it."
The summer Emmett Till died, two of her cousins were dragged to death behind a truck.
"Quantico" actress and native Mississippian Aunjanue Ellis first learned of the museum in 2013, when the Jackson Free Press published pictures of the ground-breaking.
"While Mrs. Evers was speaking, they had Confederate flags all over," Ellis said at the museum opening. "So that immediately set the standard for what the people behind the museum were trying to achieve." A Mississippi flag, with the Confederate battle emblem in its canton, flew next to the stage then, but this day no state flags were visible on the museum grounds.
The new civil-rights museum immediately drew skepticism after plans for the $90-million museum duo were announced in 2013. Myrlie Evers addressed her initial doubts when she spoke at the opening ceremony before the doors officially opened.
"When I first heard of the concept of two museums, I immediately thought, are we going back to our old practices? Are we having two separate but possibly equal museums?"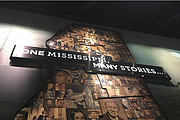 A collection of stories about the Mississippi Civil Rights Museum and the Museum of Mississippi History opening in December 2017.
But, still, Evers had already decided to trust the Mississippi Department of Archives and History with her late husband Medgar Evers' papers. This lent legitimacy to the museum, and many Mississippians were hopeful that the official state narrative would be truthful.
Then came Trump, whose visit went public five days before the opening, sending organizers scrambling amid strong outcry against his speaking.
"I guess he was invited by our governor, so he can come, but at the same time, we realize things that he's done have not demonstrated a love for our people. ... He's not a real advocate," Mary Ann Hudson of Prentiss, who had worked with Medgar Evers on voting registration, said Saturday.
Laurie Bertram Roberts, the African American head of Mississippi Reproductive Freedom Fund, only sees sinister motives in Phil Bryant's surprise invitation. "It's so odd to me that our government can't see that these people are family members, are people's friends and aunties and uncles. ... These are our elders. To invite Donald Trump to a sacred place honoring people who protested people like Donald Trump?"
It's a bully move, Jacqueline Amos-Norris, chairwoman of the Mississippi Association of County Democrats, said. "I honestly think that was (Bryant's) way of reminding us that he has the power. ... But we let him know that we do 'know our place.' This is our state. This is the state of the people."
'He's a Peace-breaker'
A day after the announcement, a coalition of groups—among them Mississippi Pantsuit Nation, Mississippi Reproductive Freedom Fund and Indivisible Jackson—organized a protest along what they expected to be the presidential motorcade. In the end, Trump managed to evade the protestors, but national media took notice.
Civil-rights leaders and Democratic politicians, such as Reps. John Lewis and Bennie Thompson and former Gov. Ray Mabus boycotted the state-sponsored event, and Mayor Chokwe Lumumba scheduled an alternative event featuring NAACP leaders.
Ellis started a hashtag, #theSameMen, to call attention to the fact that the same men who funded the Mississippi Civil Rights Museum—state legislators—are the ones who refuse to remove Confederate symbols from the state flag.
"It's not just a symbol of violence, it's an instruction to commit violence," Ellis said Saturday.
When officials learned of the protest, the president's speech was shuffled from outside to in, accessible only to donors, politicians and civil-rights veterans (some of whom, like Attorney General Jim Hood and the family of Klan-murdered voters' rights activist Vernon Dahmer, chose not to attend).
A public event to celebrate unity became divisive, exclusive and fractured. Throughout the morning, about 200 protesters lined High Street, holding handmade signs. They included black and white people, able-bodied and disabled-bodied people, a brain-cancer patient, a health-care advocate from Los Angeles and a Jewish scholar from New Jersey.
"Yesterday he gives a whole speech about Roy Moore again, and now he's coming here? He's got to be kidding. I'm angry as hell, so here I am," Steven Goldstein, 55, said.
Taxi drivers, fire trucks and garbage collectors honked in solidarity as they passed the group.
"He's not a peacemaker, he's a peace-breaker," protester Marietta Carter, 61, of Clinton said, standing next to High Street.
True Trump Supporter
At the official ceremony, Myrlie Evers spoke, not mentioning Trump's name but warning that the climate of hate is similar today as when her husband was gunned down.
"Today we are being challenged almost as most as we were when Medgar Evers was alive," she said to applause.
Former Gov. William Winter, a white Democrat who has led racial reconciliation and education reform in the state, said he wanted the facilities to bring people together in healing.
"These two museums will challenge all of us to have a better understanding of where we've come from," he said.
Gov. Bryant spoke twice, sounding like a true friend of civil rights, despite his track record of angering black Mississippians. "I am certain we would not celebrate this momentous occasion today without the contributions of everyone recognized in these historic exhibits—the men and women, white and black, who poured themselves into making Mississippi a better place for our people," Bryant said—his phrasing seeming to betray a bias.
Some African Americans defended Bryant's decision to invite Trump.
"Governor Bryant is a true supporter of Trump. Although we don't agree with all of his ideas, we just have to say that he is the president of the U.S., and if he comes to Mississippi and brings more energy to this overall goal, then that's fine," local businessman Leroy Walker, 67, said.
It was not fine to Amos-Norris.
"President Trump's whole agenda, the only people that he does not hate, are white males in leadership," she said. "As far as he's concerned, we don't exist—women, people of color."
After the official ceremony, the Mississippi Reproductive Freedom Fund sponsored a unity event with food and music at The Iron Horse Grill in downtown Jackson.
Lori Gregory, a white protest organizer originally from the Mississippi Delta town of Panther Burn, tried to process the day and its place in her personal journey, which included earning a master's in social work at the historically black Jackson State University. "I directly contradict the GOP narrative," Gregory said.
"If I can grow up on a cotton plantation, and at 22, JSU can shoot me out, and I'm an activist? That's education. That's understanding what white supremacy is, and that's understanding that I have a part in it, and therefore a part in cleaning it up."
"Sunday will be a new day," Roberts said. "Phil Bryant will go back to his office, and he'll probably never show his face at the museum again. And Donald Trump will go on back to Mar-a-Lago and golf. And we'll still be here, on the ground, taking our kids and our grandkids to the museum."