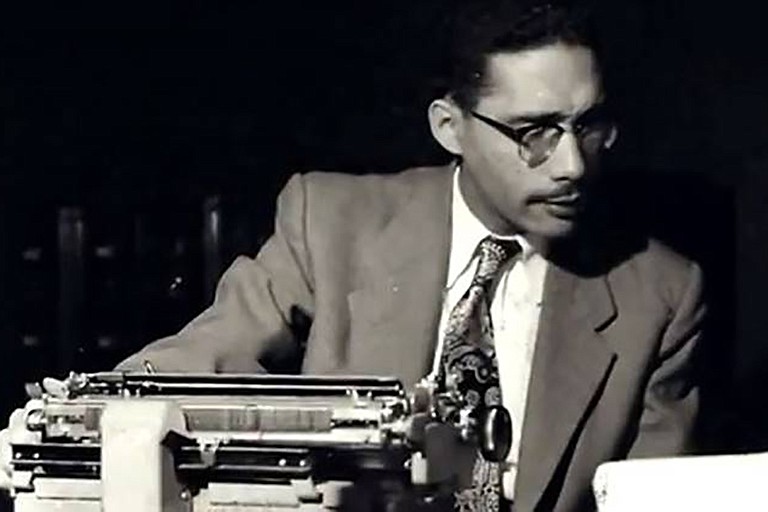 Monday, December 11, 2017
WASHINGTON (AP) — Simeon Booker, a trail-blazing African-American journalist and the first full-time black reporter at The Washington Post, died Sunday at the age of 99.
Booker died at an assisted-living community in Solomons, Maryland, according to a Post obituary, citing his wife Carol. He had recently been hospitalized for pneumonia.
Booker served for decades as the Washington bureau chief for the iconic African-American publications Jet, a weekly, and Ebony, a monthly. He is credited with bringing to national prominence the 1955 death of Emmett Till, the 14-year old African-American boy whose brutal murder in Mississippi became a galvanizing point for the nascent civil rights movement. Booker's article included an open-casket picture of Till's mangled face that shocked the nation.
In a 2013 video tribute upon Booker's induction into the National Association for Black Journalists Hall of Fame, former Jet reporter Roy Betts said that Booker's coverage of the civil rights movement, "catapulted the movement onto the world stage."
His reporting from the Deep South placed him in near-constant danger. Tributes to him mention that he sometimes dressed as a minister (complete with Bible) or a farmer to escape detection and one frequently-told tale had Booker escaping from an angry mob in the back of a hearse. He rode in one of the buses to cover the 1961 Freedom Rides, when black activists rode from Washington to New Orleans to challenge a ban on segregated interstate transportation facilities.
Booker was born in Baltimore and raised in Youngstown, Ohio. He started his journalistic career working for a string of African-American publications. He joined the Post in 1952, but moved on two years later to found the Washington bureau for Johnson Publishing, the parent company for Jet and Ebony.
He served in that position for more than 50 years, authoring the widely-read Ticker Tape column, chronicling Washington's inner workings for a national black readership before retiring in 2007. He covered 10 different presidents and also traveled abroad to report on the Vietnam War.
Booker authored or co-authored four books, including a 2013 memoir co-written with his wife Carol McCabe Booker and entitled, "Shocking the Conscience: A Reporter's Account of the Civil Rights Movement."
Booker was inducted into the National Association of Black Journalists' Hall of Fame in 2013 and received a career George Polk Award for lifetime achievements in journalism and the National Press Club's Fourth Estate Award.
He is survived by the wife Carol and three children.