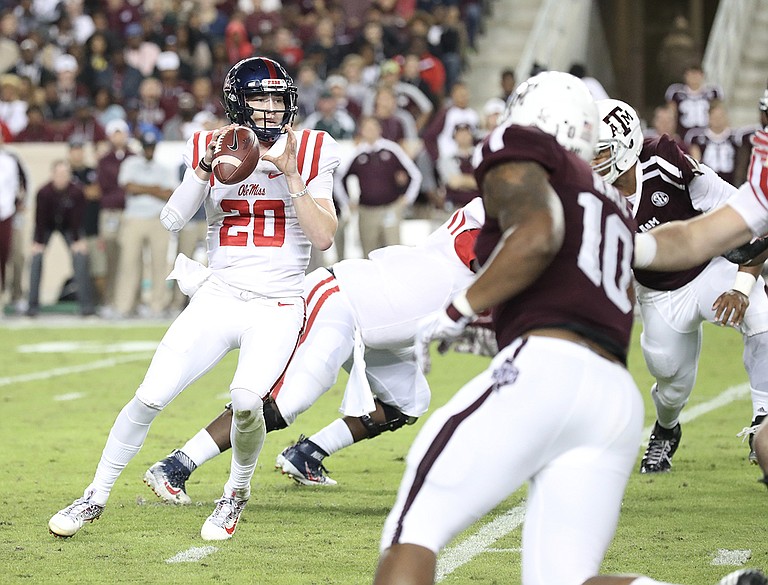 Shea Patterson by Bryan Flynn
After the NCAA hit the University of Mississippi football program with more sanctions, the natural question became which players might leave the school. One athlete who looks to be a lock to return, however, is the 2017 Conerly Trophy winner, sophomore wide-receiver A.J. Brown.
Brown took to Twitter to leave no doubt on whether or not he would stay or go, tweeting a clip from the film "The Wolf of Wall Street" in which Leonardo DiCaprio's character proclaims, "I'm not f*ing leaving!"
On the other hand, quarterback Shea Patterson, who threw to Brown for the first seven games of this past season, might not be returning to the Rebels. Patterson has been granted permission to go other programs, the Ole Miss Spirit reported.
Currently, it looks like the University of Michigan is in the driver's seat to land Patterson. ESPN reported that he, along with two teammates, wideout Van Jefferson and safety Deontay Anderson, are scheduled to visit Michigan over the weekend. All three players have permission to contact other schools.
Patterson was the top dual-threat quarterback in the nation before he committed to the Rebels in 2016. When then-starting quarterback Chad Kelly went down with an injury, Patterson had to step into the starting role as a true freshman in the final three games.
In 2016, he threw for 880 yards while completing 72 passes on 132 attempts with six touchdowns and three interceptions. He also rushed for 169 yards on 41 carries.
This season, the Shreveport, La., native threw for 2,259 yards after completing 166 passes on 260 attempts with 17 touchdowns and nine interceptions. He struggled running the ball, rushing for minus-16 yards on 47 carries with one score.
Patterson's sophomore season came to an end after suffering a knee injury against the Louisiana State University on Oct. 21. Junior-college transfer Jordan Ta'amu then took over at quarterback.
Michigan could become a title contender next season if Patterson decides to join the Wolverines, and the quarterback would have a few familiar faces beside him.
Current Wolverines recruiting coordinator Matt Dudek tried to recruit Patterson at the University of Arizona back in 2012, and Michigan offensive lineman Cesar Ruiz was the center for Patterson at IMG Academy in Florida. Those ties might help the Wolverines land the quarterback, but Patterson will need a waiver to start next season, or he could be forced to take a redshirt season.
Meanwhile, Rebels Athletic Director Ross Bjork has released some strongly worded statements trying to discourage other schools from tampering with current players who have multiple years of eligibility left.However, schools can free-contact players who will be seniors next season to see about their interest in transferring.
Patterson and others could be gone next season with or without other schools poaching players from the Rebels' program.