Wednesday, December 6, 2017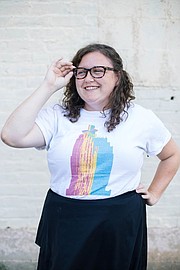 I almost majored in history during college, but since my memory for facts and dates has always been a little shoddy, I decided not to go that route. I ended up choosing journalism because even if I can't remember facts, I know how to tell a good story, and journalism is a good opportunity to always learn something new.
But my love for history remains. I have a minor obsession with shipwrecks, especially the Titanic and the shipwrecks at the bottom of the Great Lakes. And two of my favorite museums will always be the Mississippi Museum of Natural Science and the "Mississippi Music Experience" on the second floor of The Iron Horse Grill.
Any time I tour a new city or town, I always make a point to go to something historic. In Hattiesburg, I toured Veterans Memorial Park. When I went to Ocean Springs, I toured the Walter Anderson Museum of Art, which is as much a picture of the city's history as it is an art museum.
Needless to say, when I heard that the Museum of Mississippi History and Mississippi Civil Rights Museum would be opening this year, I was excited that we would have two more museums. Cue glasses emoji.
A couple of weeks ago, I finally got to take a peek inside both of them. As a history nerd, I loved how the history museum told the state's story, and also how it incorporated stories directly from Mississippians. The "Reflections" gallery gives visitors a chance to tell their own stories through video, and when you stand on the balcony near the end, you can see this giant map-like sign of Mississippi with the phrase "One Mississippi, Many Stories" written across it. It's why they call the balcony the designated "selfie spot," besides the fact that it overlooks the whole bottom floor, clock towers and all. The coolest part about the map is that the people in the photos are mostly from the areas their photos are located in.
I loved the history museum because it's Nirvana for history nerds, but the civil-rights museum was a different experience. The tour started with a walk through a hall that had a timeline of slavery to freedom, with other gallery branches on the side. All galleries in the museum connect at one point in an atrium, a spaced called "This Little Light of Mine" where guests can stand under this large, looping, lighted sculpture that gets brighter and moves faster as visitors gather in the space. On the walls are photos of Mississippi's civil-rights icons such as Emmett Till and Fannie Lou Hamer.
When I went to the National Civil Rights Museum in Memphis earlier this year, it was a powerful experience. The most surreal part was standing in Martin Luther King Jr.'s room at the Lorraine Motel. But to me, the Mississippi Civil Rights Museum was more surreal. The museum in Memphis told the story of the movement from a national perspective, but our civil-rights museum tells stories from Mississippi. It portrays an ugly and brutal past, one that we all need to face.
The sculpture is my favorite part of the museum, not just because it's a really cool piece of art, but also because of what it does. You start off with one or two people, and it moves and glows a little, but the more people who gather beneath it, the faster it gets, and the brighter it gets.
Managing Editor Amber Helsel is a Gemini, feminist, writer, artist and otaku. Email story ideas to [email protected].