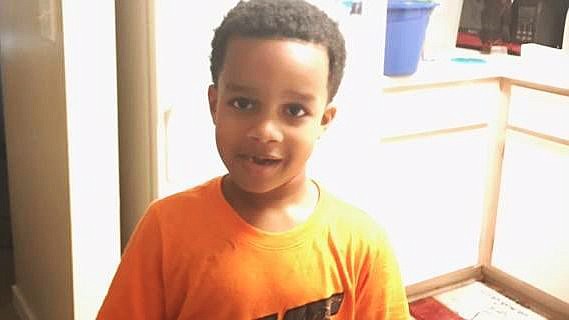 BRANDON, Miss. (AP) — A Mississippi teen could face the death penalty in the slaying of a 6-year-old boy who authorities said was inside a car stolen from a supermarket parking lot.
Grand jurors returned indictments Wednesday against Byron McBride and a second teen accused of aiding him, Madison County District Attorney Michael Guest said Thursday. A third teen faces youth charges that prosecutors want upgraded to adult charges.
Kingston Frazier was sleeping inside a Toyota Camry in May when his mother left the car running in Jackson. Authorities say McBride got out of a car, leaving behind Dwan Wakefield and D'Allen Washington, and stole the Camry. Miles away, police say McBride later shot Frazier, abandoning the car in muddy ditch with Frazier's body inside.
Investigators don't believe Washington or Wakefield was present when the child was killed, citing cell phone records, surveillance video and gunshot residue tests. However, Guest said evidence shows the two, both then 17, picked up McBride after the shooting, meriting accessory charges.
McBride, 19 at the time of the slaying, was indicted for capital murder and possessing the stolen car. Washington was indicted for accessory after the fact to murder, kidnapping and motor vehicle theft. Madison County grand jurors called on the county Youth Court to send Wakefield for trial as an adult on charges identical to Washington.
A lawyer for Washington, though, says prosecutors can't prove Washington knew McBride had killed Frazier when Wakefield drove Washington to pick up McBride.
"I think in this case it's going to be difficult to prove my client's involvement," Warren Martin said.
State Public Defender Andre de Gruy, whose office is representing McBride, said the indictments are "only the very beginning" of the case. He predicted it could be as long as two years before McBride came to trial, although Guest said he's hoping for trial dates this summer. Wakefield's lawyer didn't immediately return a phone call.
The district attorney said he would consult with Frazier's parents before deciding whether he will seek the death penalty. Guest said he thought the case merited capital punishment, but said McBride's youth could be among mitigating factors against seeking execution.
Wakefield and Washington could each face up to 45 years in prison if convicted of all charges.
McBride and Washington could be arraigned before a circuit judge as early as next week, Guest said.
He said agents of the Mississippi Bureau of Investigation will meet with Youth Court officials Monday to seek adult certification for Wakefield.
The jurors wrote that having Wakefield charged as an adult would be "in the best interest of justice." If Wakefield's case is not removed to adult court, the outcome of proceedings against him in Youth Court would be sealed under Mississippi law.
Guest said that although Washington was also 17 at the time, his charges didn't go to Youth Court because he had already been charged as an adult in an unrelated armed robbery. That's also why he's stuck in jail without bail, because his previous bond was revoked. McBride is also jailed without bail, while Wakefield is free on $275,000 bail.
Read more stories about the case at jfp.ms/kingstonfrazier.