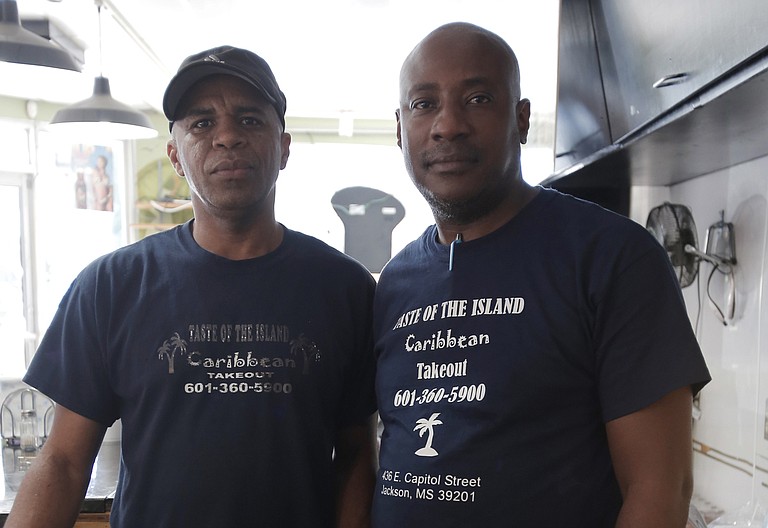 Wednesday, November 23, 2016
A vibrant palm tree stands on an East Capitol Street business' sign, sticking out among the gray office buildings and collection of mile-high windows. As soon as people see the tree, they know they have arrived somewhere a little different: Taste of the Island.
The restaurant is the creation of Kingston, Jamaica, native Richard Higgins, and serves the Caribbean food that he enjoyed while growing up in Jamaica.
"When you're growing up in Jamaica, everybody cooks," he says, "you watch your parents and ... especially if you grew up in a poor part, country part, that's where you learn how to cook.
"[B]ack home, we have something we call 'boat.' Everybody (would) put money together, and we just cook ... outside—wood fires, stuff like that."
Higgins was passing through Jackson in 2006 to visit a friend, and it was at his friend's house that he met his now-wife, Chandra. The couple married in 2007. He and Chandra opened the Caribbean restaurant in the Jackson area in June 2009.
In the early phases of the business plan, Higgins knew his central Jackson location downtown could be a major factor for the restaurant's success because it's a neutral location, he says.
He says that though all of the food is popular at Taste of the Island, some of the most popular are jerk chicken, oxtail, goat and ribs.
The establishment has not only been a staple of the downtown Jackson culinary scene, but has helped weave together the community through lessons Higgins learned in Jamaica. That includes highlighting the importance of seeing the community as a large family, cooking to please customers and never wasting food while someone else is going 
hungry.
If the restaurant has any leftovers, it gives them to homeless, Higgins says, and if they can't find homeless people, they give food away to family members. 
 He also donates food to Stewpot Community Services and the Mississippi Food Network.
Higgins says it is important for the restaurant to give back to the community. Besides, in the restaurant industry, a lot of food goes to waste, which he believes is wrong.
"(There are) people who don't even know where their next meal is coming from," Higgins says. "It's not the right thing to do."
Higgins likes being able to add to the Jackson metro area's melting pot of cuisines, as well as the city, and he says it is customers who are building a place for him. "We've got to give thanks to God that everything is working the way it's supposed to work. ... We just keep on going," Higgins says. "Our goal is to make sure our customers (are) happy when they leave out of Taste of the Island."
Taste of the Island (436 E. Capitol St.) is open Monday-Friday from 11 a.m. to 4 p.m. For more information, call 601-360-5900.