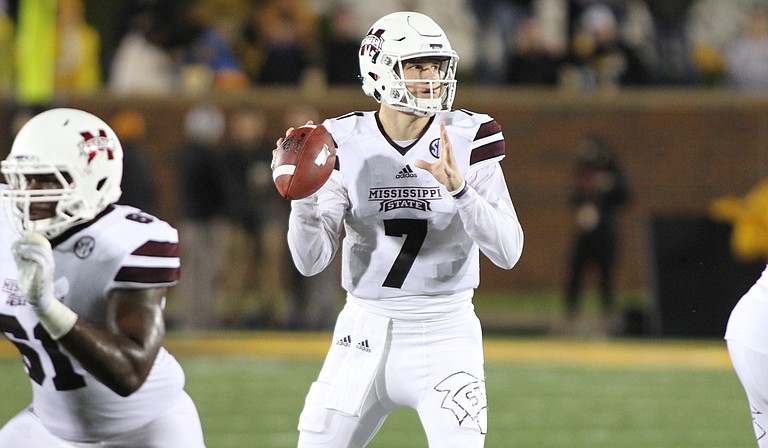 Tuesday, November 1, 2016
STARKVILLE, Miss. (AP) — Mississippi State coach Dan Mullen has run some variation of the spread offense since he arrived at the school eight years ago.
This year's version could be described in two words: Nick Fitzgerald.
The 6-foot-5, 230-pound sophomore has been a one-man show for much of the season, including last Saturday when he threw for 417 yards and five touchdowns and also ran for 119 yards and two touchdowns in the Bulldogs' 56-41 victory over Samford .
The numbers are undeniably impressive. Even Dak Prescott—the Bulldogs' former quarterback who is now an NFL phenom with the Dallas Cowboys—never had a college game with more than 400 yards passing and 100 yards rushing. There are only two QBs in SEC history who have accomplished that feat: Johnny Manziel and Archie Manning.
But it remains to be seen whether Fitzgerald's version of hero ball can lead the Bulldogs to a Southeastern Conference victory during a difficult November that includes games against Texas A&M, Alabama, Arkansas and Mississippi.
Mississippi State (3-5, 1-3 SEC) hosts No. 7 Texas A&M (7-1, 4-1) on Saturday. I
"If your quarterback is playing really well, you've got a chance to win," Mullen said. "You go watch football on Friday night, Saturday or Sunday and it's going to be the exact some deal."
Fitzgerald—a first-year starter—has been a pleasant surprise for the Bulldogs in an otherwise lackluster season. He's fourth in the SEC in total offense and leads all of the league's quarterbacks with 657 yards rushing.
He's been a little inconsistent in the passing game, completing 56 percent of his passes for 1,496 yards, 14 touchdowns and seven interceptions, but his performance against Samford was an encouraging sign.
"Guys were getting open and I was just able to find a way to get it to them and they did the rest," Fitzgerald said on Saturday.
The problem for Mississippi State is if Fitzgerald isn't putting up record-breaking numbers, the offense isn't very successful. Auburn, LSU and Kentucky were all able to hold Fitzgerald to reasonable numbers and the Bulldogs lost all three games.
Texas A&M's defense figures to be a tough challenge for Fitzgerald. The Aggies have some of the league's most talented defensive linemen, including Daeshon Hall and Myles Garrett, who have combined for 19 tackles for loss this season.
That means Fitzgerald will need some help. Where it comes from is uncertain.
Receiver Donald Gray had a breakout performance against Samford, catching four passes for 207 yards and three touchdowns. But a crowded backfield that includes Ashton Shumpert, Brandon Holloway, Keith Mixon, Nick Gibson and Aeris Williams hasn't produced a consistent performer.
Fitzgerald's 657 yards rushing this season are more than the team's top three running backs—Shumpert (231), Holloway (208) and Williams (206)—combined.
Mullen knows one thing: Since Texas A&M is second in the SEC with 38.4 points per game, the Bulldogs probably aren't going to get locked into a defensive showdown. Fitzgerald—and hopefully some other offensive players—will have to produce.
"Obviously, when you're playing a team as explosive as Texas A&M, in the back of your mind, you're thinking you're going to have to score a lot of points," Mullen said.