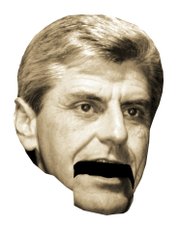 "Mississippi should disregard the so-called guidance the Obama administration has issued regarding public schools' restroom policies.'"
—Gov. Phil Bryant on Twitter
Why it stinks: After President Obama issued a directive to school districts on curbing sex-based discrimination, specifically against students who do not identify with the gender commonly linked to their biological sex, Gov. Phil Bryant told the Mississippi Department of Education that it should disregard the president's calls. "The directive is nonbinding, and does not carry the force of law. Because these decisions are better left to the states, and not made at the point of a federal bayonet, Mississippi's public schools should not participate in the president's social experiment," Bryant said in a Twitter statement. Too bad MDE had already released a statement saying it would adhere to Title IX. A May 13 press release from the department says, "The Mississippi Department of Education will adhere to Title IX of the Education Amendments of 1972, as well as the joint guidance issued today by the U.S. Department of Education and the U.S. Department of Justice."