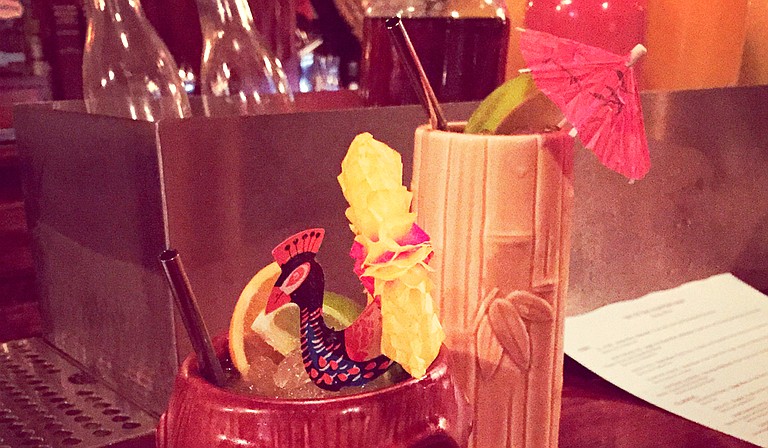 Wednesday, March 16, 2016
Not too long ago, a friend shared an article with me that longed for the resurgence of the in-house cocktail party. Why, it asked, do we always seem to suggest meeting at a bar or restaurant, rather than inviting people over to our homes? I wondered, too.
Luckily, I have some friends who are ready to prove this article wrong. When I received a text from my friend Mary Sanders Ferris asking if I'd be in town on a coming Saturday because her friend Sarah Gayden Hammond was planning a surprise party for her husband, I happily replied in the affirmative, because those gals are super fun, and I knew it would be a good time.
And then, the Facebook page happened. The two creative forces that are these hostesses with the mostest took over. The theme, the page announced, would be Tiki, and the ladies went Tiki-tastic. Photos appeared of vintage Tiki clothes, decor, glassware and kitsch scoured from local thrift and secondhand stores and Etsy. (God bless the Internet for such). It became clear that this would be a fully immersive experience.
On the day of the party, I somewhat regretted not having shopped for a vintage Tiki ensemble for myself and my man, but we made do, with me in a bright floral print jumpsuit and him in a purple shirt and white jeans to look tropical. Though I'd never been to the Hammond residence, the flaming TIKI torches lighting the driveway made it easy to identify.
Walking into the sunroom, I swear it felt like stepping into the set of "Mad Men." Tiki had taken over; Sarah Gayden and Mary Sanders had transformed the room into a Tiki lounge of epic proportions.
They built a Tiki bar. They brought in '60s-era furniture and lamps. They bought Tiki barware. Some sort of amazing centerpiece they had resembled a fountain, but instead of water, ribbons of hair drooped down from tiers. The party had Tiki cocktails, which they'd pre-made as a punch, and a vintage Tiki cocktail book, should guests want to mix their own. It had pork and tropical fruit (supplemented with some hummus and guacamole from Babalu Tacos & Tapas, which though perhaps not Tiki, is always welcome at a gathering).
Impressed doesn't begin to cover my reaction to this remarkable party. What I enjoyed most, though, was not just the liveliness and fun vibe of the Tiki theme, but the lively and colorful conversation from the eclectic mix of guests.
The following week, I debriefed Mary Sanders because I still couldn't put together how everyone there even knew each other. And that's kind of what makes a party fun, right? Some folks you know, others you don't, so you mix them together and see what happens.
As we debriefed (this time, out and about, at CAET Wine Bar, 3100 N. State St. #102, 601-321-9169), Mary Sanders suggested that she and Sarah Gayden thought perhaps given the good time and all the supplies they'd acquired, this fete could become an annual event. I am all for bringing a taste of Tiki into my world, so I fully support that idea. But she also suggested that the fun of hosting an event at home to gather friends to mix and mingle could become a monthly endeavor.
I think it's a grand idea; some years ago, a group of friends and I had a monthly supper club with a theme, and it was something I always looked forward to.
While I enjoy going out and about, there's something to this idea of inviting folks in, too. Who knows? Maybe a cocktail party will happen at our house soon, too. I'm delving into some books and vintage-inspired websites for ideas.
If not a hostess, I can at least be an enthusiastic attendee, after all.