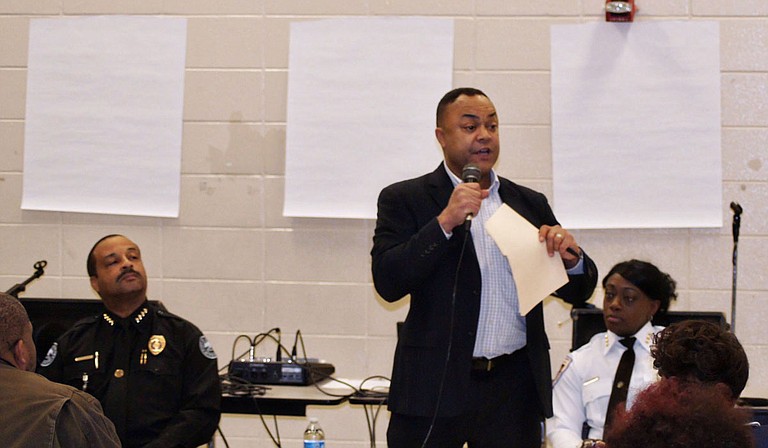 JACKSON — The air of secrecy continues around the case against Hinds County District Attorney Robert Shuler Smith Wednesday, as Hinds County Judge Larita Cooper-Stokes recused herself during a closed meeting with attorneys, and the Mississippi Bar Association filed a complaint, including judicial complaints about "odd and improper" attempts by Smith and his mother to communicate with Judge Tomie Green.
After the short meeting in Cooper-Stokes' chambers adjacent to the courtroom, visible only through frosted glass, Tupelo attorney Jim Waide said the only way reporters could get any information from the meeting would be from the transcript from the court reporter, which would be available Thursday.
"I tell you what, one of the charges made against Robert is improperly talking to the press," Waide said as an explanation for why he could not make comment about the hearing. He suggested answers will be in the transcript.
This new charge, "improperly talking to the press," is just one more strange piece to the puzzle that continues to emerge from the web of secrecy woven around a case that spans from the Hinds County Courthouse to the Supreme Court with several sealed and redacted court documents obfuscating a thorough and clear explanation.
On July 26 the Mississippi Bar filed a formal complaint against him in the Mississippi Supreme Court that includes two counts of improper behavior under their rules of conduct.
Adam B. Kilgore, general counsel of the Mississippi Bar, filed the complaint based on information two Hinds County judges, Melvin Priester Sr. and Circuit Court Judge Tomie Green, provided.
The first count, from Priester, originates in the March 3 preliminary hearing in the case against Christopher Butler, the same one mentioned in the affidavit that led to Smith's arrest back in June. Attorney General Jim Hood's office was prosecuting Butler, and Smith appeared in the courtroom.
"Mr. Smith interrupted the proceedings and accused the attorney general's office of misconduct in an unrelated investigation," the formal complaint states. "Judge Priester ultimately postponed the preliminary hearing in the Butler matter due to Mr. Smith's conduct."
The affidavit against Smith accuses him of allegedly aiding Butler in his defense against the charges the attorney general leveled against him; yet in this instance Smith interrupted to complain about the Hood "in an unrelated investigation."
Priester also recused himself from Smith's case earlier this month.
The second count in the Mississippi Bar's formal complaint also involves the attorney general's office. The complaint states that Hood's office appeared before Hinds County Circuit Judge Tomie Green to "quash certain grand jury subpoenas issued by Smith."
Green pushed the matter over to "special master" Amy Whitten. Smith then allegedly attempted to contact Whitten "ex parte," or outside the court, forcing Green to issue an order "clarifying that ex parte communication with the special master was prohibitied."
In response, on Feb. 12, Smith "conducted a press conference during which he alleged that Judge Green had improper ex-parte communications with other lawyers, improperly set bond and dismissed criminal cases 'behind his back.'"
This final action by Smith, during which the Bar alleges that he broke the rule that "prohibits a lawyer from making extrajudicial statements that a reasonable person would expect to be disseminated by public communication if the lawyer knows or reasonable (sic) should know that it will have a substantial likelihood of materially prejudicing an adjudicative proceeding."
The Bar's complaint included a letter from Judge Tomie Green detailing what she called an "odd and improper" request from the district attorney on Feb. 9, 2016. "DA slipped a handwritten note under my office door trying to get me to meet with his mother," the judge wrote. The next day, the letter says, "his mom left a voicemail at my office. She said it was left in response to me, but I never talked to her. She was a bit irate and demanded respect and said she knew 'what to do.'"
Included in the documents was a copy of the district attorney's note dated Feb. 9 addressed to Judge Green: "I am trying to set an appointment for my mother, Alice Smith. She would like to speak to you about some matters." The note was signed Robert Smith.
Reached at her home this morning, Alice Smith asked a reporter to read her the sections that mention her. When then asked if she could explain why she was asking Judge Green for an appointment, she responded, "I'd rather not." When then asked about the voicemail left for Judge Green when she alleged "demanded request," she responded, "I would rather not talk about it. I'd rather not discuss any of that."
Email city reporter Tim Summers Jr. at [email protected]. See more local news at jfp.ms/localnews.