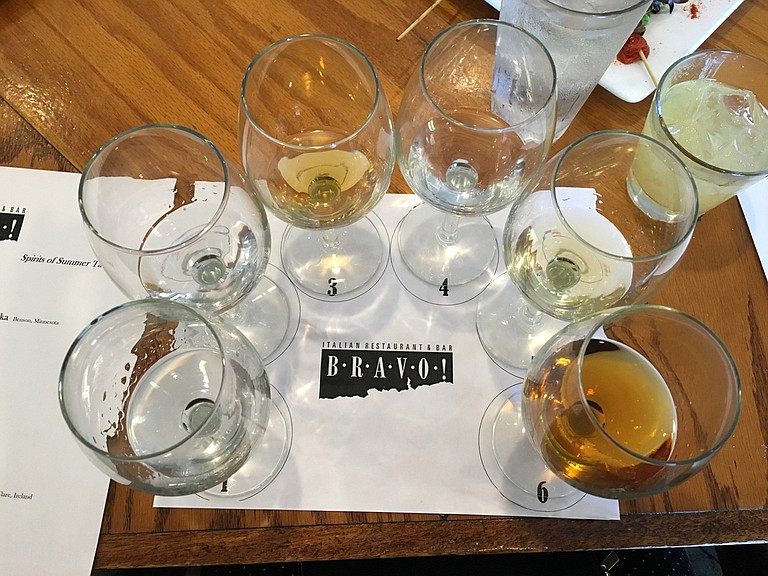 In June, a group of people—some strangers, some not—gathered together at BRAVO! Italian Restaurant & Bar for drinks and fellowship. For this summer tasting, Assistant Manager and Bar Master Chris Robertson wanted to feature something a little lighter, resulting in the Spirits of Summer tasting on Saturday, June 18.
We started off with a John Daly cocktail, which is the alcoholic version of an Arnold Palmer. Robertson said that while Palmer was known for being wholesome and family-oriented, Daly was the opposite. The golfer has struggled with alcoholism and other issues throughout his life and career.
At first, Daly, who is now sober, wasn't OK with the cocktail being named after him, accusing some restaurants of trademark infringement. In 2012, he released the Original John Daly Cocktail. The cocktail is an Arnold Palmer (sweet tea and lemonade) with a shot of vodka.
The first spirit on the menu was Prairie Organic Cucumber Vodka. Robertson said he normally doesn't like flavored vodka, but the Prairie vodka was an exception. James Conway, who is a former BRAVO! employee and current bar director at City Pork Brasserie in Baton Rouge, and Robertson talked about the distillery's care in making sure its farm is organic (for example, the families that own the farms rely on native bats and birds to get rid of pests and use prairie fires to kill unwanted weeds), which comes out in the vodka's flavor. The vodka was fresh and almost tasted like actual cucumbers.
The next spirit was Bobby's Schiedam Dry Gin from the Netherlands. Sebastiaan von Bokkel, who owns the company, has called it "Dutch courage with Indonesian spirit." The spirit comes from his grandfather Bobby Alfons' recipe and blends old-world Dutch jenever (malt-wine gin) with Indonesian spices. It smelled a bit like a mixture Froot Loops, butter and flowers. It's cool going down, though it burned a little.
The next spirit was Calvados Morin, which is essentially a French apple brandy. If it's made in the U.S., it's called applejack (Laird's is the most popular brand). Calvados Morin began in France in 1945. Conway said the spirit has some earthiness that is absent from many New World spirits, and the flavor note comes from the French oak that it's aged in. He said it imparts a smoother taste than American oak.
The next spirit we tried is a small-batch tequila called AMBHAR Plata Tequila. To go along with this spirit, Robertson told the story of the company's name, AMBHAR, which is a reference to an old-world goddess. "As most goddesses do, at least the pretty ones, they unfortunately fall in love with mortals," he said. "Now, the thing this, other gods hate this. They really don't like it. So the other gods all went over to Ambhar and basically ripped her to shreds. ... The stars in the sky, they didn't like this. ... so they went to Earth, and they picked up the pieces of Ambhar. They brought them back into the heavens, and then, to signify the love that she had for mortal men, they sprinkled them across Mexico. Now, each of these little tears of Ambhar became the agave fruit, which looks like a star. ... The gods are still very petulant, very emotional; they get angry. ... They take lightning, and they rain lightning down all over Mexico, hitting all of these little starred fruits. From cooking the agave, out pours a nectar. Mortals, fearing more wrath from the gods, took this, distilled it and then took it to the gods and said, 'Here is this gift we give you. We call it tequila.' The gods said, 'OK, we're good.'"
After the tequila, we tasted Knappogue Castle 12 Year Old Irish whiskey. Robertson said Irish whiskey is inherently sweeter. The brand takes its name from Knappogue Castle in Quin, County Clare, Ireland. It tasted smoky and sweet, with hints of burnt caramel and vanilla.
The last liquor we tried was Plantation Pineapple Rum Stiggins' Fancy, which some of the tasters recognized from last year's Plantation rum tasting (see jfp.ms/plantationrum).
It wasn't overly sweet like some flavored rums are, and it tasted of caramel and pineapple.
The next tasting is "Bar 103," where Robertson will teach participants how to make cocktails for a large party. It takes place at 3 p.m., Saturday, July 30, at BRAVO! I(4500 Interstate 55 N., Suite 244). Tickets are $35. For more information, call 601-982-8111 or visit bravobuzz.com.