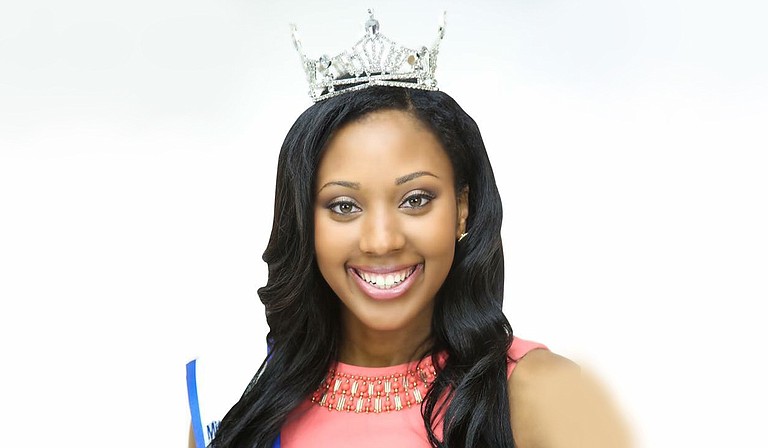 Jackson native Crystal James is the winner of the 2016 Miss Black Mississippi Scholarship Pageant. James, 22, was crowned Miss Black Mississippi in Tupelo on September 2015. Miss Black Mississippi Scholarship Pageant is a competition based in central Mississippi for young African American women. The judges score participants in five categories: personal interview, question and answer, personal fitness, talent and evening gown.
James' interest in the arts started at the age of 5 when she attended a dance school in Clinton. She joined Jackson ballet company Ballet Magnificat! in 2000. From 2003 to 2007, she attended the Power Academic and Performing Arts Complex, where she experienced a variety of dance styles, including modern and jazz. James currently attends the University of Southern Mississippi, where she will graduate with a bachelor's degree in recreation with an emphasis in therapeutic recreation and a minor in dance education in December 2016.
As Miss Black Mississippi 2016, James serves as a motivational speaker for younger children who admire her position.
"I've had the honor of going around to different schools and different cities throughout Mississippi speaking to young kids, particularly young girls, to inspire them and to possibly motivate and encourage them to really believe in themselves and to dream," she says.
Her personal platform is "Young Girls and Women: Fitness and Health through Dance," which she says incorporates her love for dance while advocating healthy lifestyle choices.
James' mother, Pauline Almeida, encouraged her to apply to the Miss Black Mississippi pageant.
"My mom called me, and she brought it to my attention because she saw a flyer," James says. "I was like, 'Yeah, I'm not going to do that. I'm not a pageant girl.'"
Her mother signed her up for the competition anyway. James expressed her hatred for makeup and the unreachable standards that the media portrays for women. Now that she holds her title, she wants to use it to inspire women with her story and urge them to achieve their personal dreams, despite those standards set against them.
James said she is elated at the opportunity to speak to young African American girls because in the past, other children bullied her for the color of her skin.
"The first time I really remembered being bullied was in fourth grade," she says. "I was teased because of my hair color, my eye color and my skin color because I'm light skinned, and I have colored eyes. I never really understood it because I was the kind of person that wanted to be friends with everyone."
Even then, James says, she did not see the point of colorism because she understood that she and her bullies were both African American girls.
After receiving the title of Miss Black Mississippi, she says she reflected on the events of her life and decided that bullying was a topic that she could talk about with the young girls.
"Thank God there wasn't Instagram and all that back when I was in middle school and high school," she says. "We have enough shaming for our black girls now; we don't need interracial shaming."
Her title also allows her to explain to young girls that she too never thought she was pretty enough or good enough for the critical outside world. Certain people even deemed her voice and her annunciation as "not black enough." However, James says she now knows that she is indeed pretty enough and black enough by her own standards, and it's good to be her authentic self.
Blackness was always excluded from ordinary beauty pageants, she says.
"There's a higher ratio of whites to blacks in the Miss America pageants," James says. "You'll have two to three black girls in those pageants. You know, just being realistic, there's not as high of chances for us to be in those pageants as there are for white girls."
She says this crowning as an opportunity to be an honest role model for girls interested in who entering beauty competitions in the future, as well as a way to inspire African American women and girls everywhere.
James will compete in the Miss Black America Pageant in August.