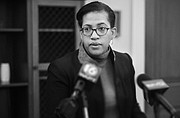 The city of Jackson issued the following statement following a report from the state health department:
The Mississippi Department of Health (MSDH) on Thursday, Jan. 28, reported to the City of Jackson the results of random water samples taken by the state agency from residences in the City in June 2015. Of the samples taken at 58 residences, 13 showed lead above the actionable levels of 0.015. Within an hour of notification from MSDH, the City dispatched water sample kits to those 13 locations for immediate re-sampling. The results are expected back within two weeks.
The City is in compliance with state and federal regulations and the City's drinking water is safe.
"As part of the Environmental Protection Agency's Safe Drinking Water Act, lead and copper samples are randomly tested every three years," MSDH Communications Director Liz Sharlot said. "Some of the lead samples came back at levels which EPA mandates further examination. The lead samples came from 58 homes and were collected by individual homeowners. It is important to note that these are home dependent samples and do not indicate a problem with lead in the water at the treatment facility. Lead typically comes from plumbing materials in the home that may contain lead."
Sharlot adds, "MSDH is working with the City of Jackson in resolving this problem and is immediately retesting the sites of concern. The City of Jackson has no prior history of being out of compliance. However, in the past, other water systems have dealt with similar issues with lead."
Sharlot says, "The level of concern – or action level – is not indicative of a threat to human health."
"The City exercises a daily sampling routine for our source water, treated water leaving the plants and throughout the distribution system to ensure our drinking water meets state and federal regulations; however, events such as this underscore the importance of protecting the public drinking water system and the health of our citizens through investment in our water infrastructure," said City of Jackson Director of Public Works Kishia Powell.
Actions Taken:
The City is taking the following actions to ensure citizens are made aware of the MSDH findings and to make clear to the public that the City's drinking water is safe:
· Immediately provided sampling kits to 13 residences for retesting.
· Sampling additional residences.
· Sending a "Consumer Notice Regarding Your Drinking Water" to all customers of our public drinking water system.
· Placing a U.S. Environmental Protection Agency "Lead in Drinking Water" pamphlet on the City's website for additional information.
· Proactively increasing the number of samples taken during routine testing.
· The City will continue to work with the MSDH to assess all available data to ensure the continued safety of the City's drinking water supply.