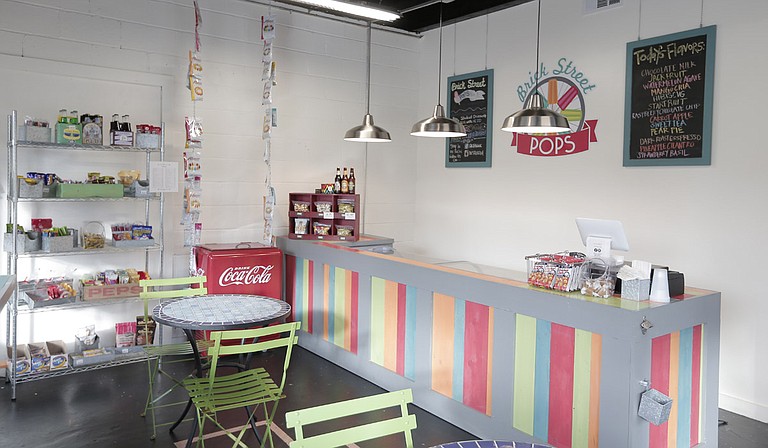 Wednesday, January 6, 2016
Brick Street Pops, which is at the intersection of Monroe and West Leake streets in Clinton, is reminiscent of an ice cream parlor without ice cream. Its freezer is filled with an upgraded version of another frozen treat—popsicles. Brick Street's pops aren't the sticky, artificially flavored treats that stained your T-shirt when you were a kid; these are made with fresh fruits and organic cane sugar.
The small, brightly painted storefront opened for business Aug. 27, 2015, in time for "Back to the Bricks," the annual festival for Mississippi College freshmen and returning students.
The newest addition to the cobblestone streets of Clinton's Olde Towne district evokes a retro-Americana vibe. The shop has a vintage bicycle theme from the logo—a colorful wheel with popsicles for spokes—to the three full-sized bikes permanently installed on the outside wall.
Owner Clay Mansell, who graduated from nearby Mississippi College, owns two other businesses on the same block, advertising agency Mansell Media and bi-weekly newspaper The Clinton Courier. When the storefront next door became available, he saw a chance to expand. Main Street Clinton Inc., the neighborhood association steering revitalization of the Olde Towne district, had a different idea.
"I wanted to rent it as more office space, but Main Street said they would really love to see us keep the corner as retail. 'Well OK,' I said, 'What do you all want me to do?' Gourmet popsicles was their answer," he says.
It has more than a dozen intriguing flavors to choose from, such as daily flavors that include chocolate milk, mango chia, watermelon agave, pineapple cilantro and dark roast espresso.
"People like to come in and talk about flavors like pear pie; they like to give us their two cents about pineapple cilantro; they'll ask what jack fruit is," Mansell says.
"After a 10-minute conversation, they'll order strawberry. It's important that we have unique, weird flavors, but we always have something familiar as well."
Brick Street pops are low-calorie. With the exception of flavors such as cookies-n-cream, chocolate milk, and dark roast espresso, many are dairy-free.
"If you stick with the fruit flavors, you'll be good to go. Watermelon agave is very low sugar and has around 40 calories. A friend who is diabetic comes in and gets it," Mansell says.
A set of shelves on the far wall is stocked with old-school candy favorites such as Bit-O-Honey, Long Boys, Chuckles, Neco Wafers and Moon Pies. Next to the freezer, a refrigerator case filled with a variety of bottled sodas adds to the retro feel of Brick Street.
"We look for new and unique sodas, anything that you can't buy in a gas station. The root beer and cream sodas, the Cheerwine (a cherry-flavored, fire-engine red soft drink), most of the sodas we sell people haven't seen before," Mansell says.
With the exception of cookies-n-cream, all Brick Street's popsicles cost $3.25 each with tax. The popular pop with a whole Oreo cookie in the middle is $3.50. Daily flavors are listed on their Facebook page along with specials like a soda and popsicle for $4.99. Winter hours are 1 p.m. to 7 p.m., Monday through Saturday.
"I used to own a bunch of restaurants. I've also owned Snow Biz franchises," Mansell says. "I never intended to get back into it. Delis and catfish restaurants are very intense with lots of moving parts. This is just fun."
For more information on Brick Street Pops (400 Monroe St., Clinton), visit brickstreetpops.com.