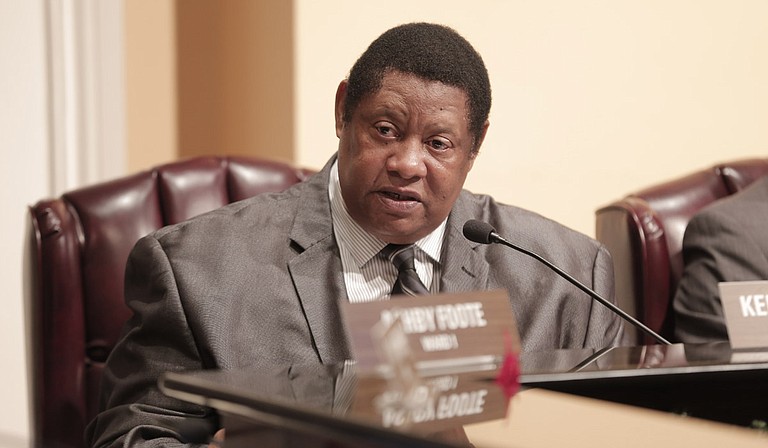 Madison County Sheriff Randy Tucker seems to be making the most of his ongoing feud with a Jackson city councilman.
The beef started last week when Ward 3 Councilman Kenneth Stokes raised concerns about suburban police agencies chasing misdemeanor suspects into Jackson. Stokes said he believes the chases unnecessarily put the lives of Jacksonians in danger. He suggested that the practice would stop if local residents hurled bricks, rocks and bottles at encroaching police cars.
At the state level, Stokes' comments drew bipartisan criticism from Republican Gov. Phil Bryant and Democratic Attorney General Jim Hood. Local officials, including members of the Jackson City Council and sheriffs of Rankin and Madison Counties, also condemned Stokes.
After dueling press conferences this weekend, Tucker said that he filed an official complaint with Hood's office this morning. "If I can find a criminal charge for what he's done, I'm going to see him put in jail," Tucker told reporters Sunday evening.
Tucker's Facebook page has also become a clearinghouse for news clippings about the controversy and anti-Stokes sentiment. In addition, a fundraising campaign to sell T-shirts and bumper stickers bearing the slogan "I'm your Huckleberry"—which Tucker posted online shortly after the controversy began and has become a rallying cry for his supporters—is also under way. Organizers say 100 percent of the proceeds from the sale will go to the Madison County Sheriff's Explorer's Club, which educates kids about public service.
Tucker was attending a county board of supervisors meeting this morning and was not immediately available for comment. Jackson Mayor Tony Yarber, who tweeted over the weekend about the need to respect jurisdictional boundaries, said he did not condone violence against officers.
"This administration has worked tirelessly to create a seamless city where race and class work as partners and not as antagonists. We have made great strides in our efforts to build political bridges inside and outside of the city. An integral part of this task has included the many joint efforts by the Jackson Police Department collaborating with outside law enforcement agencies," Yarber said through a statement released this morning.
"This approach has resulted in the development of a family relationship that is formidable and cohesive in its goal of serving and protecting all citizens. Any challenges that we face in this area will continue to be resolved in an honorable and peaceful manner. We refuse to be sidetracked by comments that do not represent the heartbeat of the Capital City nor its respect and honor to those who serve and protect us all."
Jackson officials have been very vocal in recent years about neighboring law enforcement agencies leading high-speed chases into Jackson. Jackson Police Chief Lee Vance, who criticized an April chase that started in Richland over suspected shoplifting, echoed these concerns in a separate statement today.
Vance said: "Retaliation against law enforcement is an action that I vehemently disagree with. I do not agree with throwing rocks, bottles and bricks at police officers. I also do not agree with the high-speed vehicle pursuits conducted by outside agencies into the City of Jackson. It is my belief that any high-speed chase has the potential to destroy property and place the lives and safety of innocent citizens at an unnecessary risk during attempts to capture misdemeanor suspects."
The Jackson City Council also rebuked Stokes and called for increased cooperation between area law enforcement agencies even though the Madison County Sheriff's Office does not list the City of Jackson as one of its partners in fighting crime on the agency's website.
"Moving forward, it is imperative that we renew our efforts to work with surrounding communities to find common ground regarding regional pursuits and the safety concerns posed by high speed chases in the metro area" said city council President Melvin Priester Jr. in a statement.
"I hope that Councilman Stokes' unfortunate and unacceptable words do not prevent us from achieving an effective regional pursuit policy throughout the metro area. The safety of the citizens of Jackson and the safety of those who work tirelessly to serve and protect is of utmost importance. While concern may be voiced over high-speed pursuits within city limits and the legitimate danger they pose to innocent by-standers, such concerns do not justify calling for violence against law enforcement."
Read the JFP Editorial Board's 2014 statement against high-speed chases here.
Email comments to [email protected].