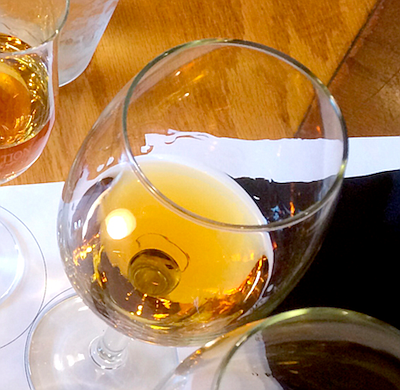 Wednesday, September 16, 2015
On a Saturday in July, many people gathered in the BRAVO! Italian Restaurant & Bar dining area. Some sat at tables with friends, but some ended up at tables with strangers. They chatted as a server passed around opaque white drinks to everyone, which served as a preview to the main event: BRAVO!'s second annual rum tasting, where the guests tried Plantation Rum, a series of craft rums from Cognac Ferrand.
The preview drink was an original daiquiri (not the frozen kind) that featured Plantation 3 Star White Rum. The daiquiri, which supposedly U.S. Congressman William Chanler of New York introduced to the U.S., was named for a beach and an iron mine near Santiago de Cuba. The original drink was served in a tall glass with cracked ice. The bartender or drink mixer would add a teaspoon of sugar, the juice of a couple of limes and three ounces of white rum.
Because of wartime rationing in the 1940s, whiskey and vodka were hard to find, but President Franklin D. Roosevelt's Good Neighbor Policy, which opened up trade and travel relations with Latin America, Cuba and the Caribbean, helped make rum-based and tropical drinks (among them a frozen daiquiri), popular.
The Cognac Ferrand website says co-owner and master distiller Alexandre Gabriel's intention for the company was to breathe new life into it while keeping the craft-based production methods. Today, Cognac Ferrand distributes its rums, gins and other liquors in more than 40 countries, and Mississippi now has a distributor for its rums. BRAVO! Bar Manager Chris Robertson said that before now, you didn't see many craft rums such as Plantation because of problems such as liquor laws and taxes. Once Mississippi began to get such rums, he said it introduced a new problem. "Nobody knew about it because it was something new, it was something unsafe," he told the tasters. "If you've been drinking Crown Royal all your life, and now you see a shelf of 10 different bourbons that you've never even heard of from states you didn't even think made bourbon, how are you going to trust that?"
That's why he and Nathan McHardy, who co-owns Briarwood Wine and Spirits with his wife, Leslie, decided to start doing rum tastings. "(The tastings) mainly started out as an educational thing, but now it's a lot of fun," he said.
After the daiquiri, Robertson and McHardy introduced the first rum, Plantation Trinidad 2001. Each Plantation Rum is distilled and aged on an island in the Caribbean, which Robertson said gives certain notes to each. The Trinidad rum has cinnamon, tropical fruit, molasses and smoke notes. If you swish it around your mouth, you can taste the spice, the vanilla, the molasses and other flavors. McHardy said that the lengths Cognac Ferrand goes through to produce different flavors in the rum is evident when you taste it.
The tasters at BRAVO! tried four vintages, including the Trinidad, Barbados 2001, Jamaica 2001 and Guyana 2005, and each had different flavor profiles because of their island roots. The Barbados, my personal favorite, was distilled in a column and traditional pot still, and then aged nine years in bourbon and sherry casks and three years in cognac casks. You could taste the different flavors—the exotic fruit, the vanilla, the sherry, the cognac.
The third was interesting because in addition to smoky notes, it also had a slightly meaty tone, possibly from Jamaicans roasting meat on the island. Tasters also tried Plantation's 20th Anniversary rum, which is a blend of the company's oldest reserves. The cellar master at Chateau de Bonbonnet blends selected Caribbean-aged rums, and then the mixture matures in French oak casks for 12 to 18 months. Double-aging gives the rum a more refined flavor. The last rum tasters tried was Plantation Rum's pineapple rum. Instead of being sweet like many may expect flavored rums to be, the pineapple combined with the rum to create a beverage with many layers.
While Plantation Rum isn't cheap, it's affordable for a craft rum. It runs anywhere from $40 to $80, depending on which one you get. And if you're used to brands such as Bacardi or Malibu, trying a craft rum may seem intimidating, but once you experience it, you may never look at spirits like that the same ever again.
For information on future tastings at BRAVO! Italian Restaurant & Bar (4500 Interstate 55 N., Suite 244, 601-982-8111), visit bravobuzz.com.
BRAVO! Plantation Rum Daiquiri
1-1/2 ounces Plantation 3 Star White Rum
1/2 ounce fresh lime
1/2 ounce simple syrup
Rose-Colored Glasses
by Amber Helsel
In the food issue of BOOM Jackson magazine (September-October 2015), we did an article on the Wine Spectator Award. Each year, Wine Spectator does the contest to honor the best wine lists in the country. We mentioned that CAET Wine Bar, Char Restaurant, Ruth's Chris Steak House, Shapley's Restaurant and Walker's Drive-In earned spots in the Award of Excellence category; however, we didn't mention that BRAVO! Italian Restaurant & Bar also made the list. The restaurant is actually Jackson's record holder and the longest consecutive winner in the category. It was an oversight on our part, and we apologize to all the good folks at BRAVO! and Mangia Bene.